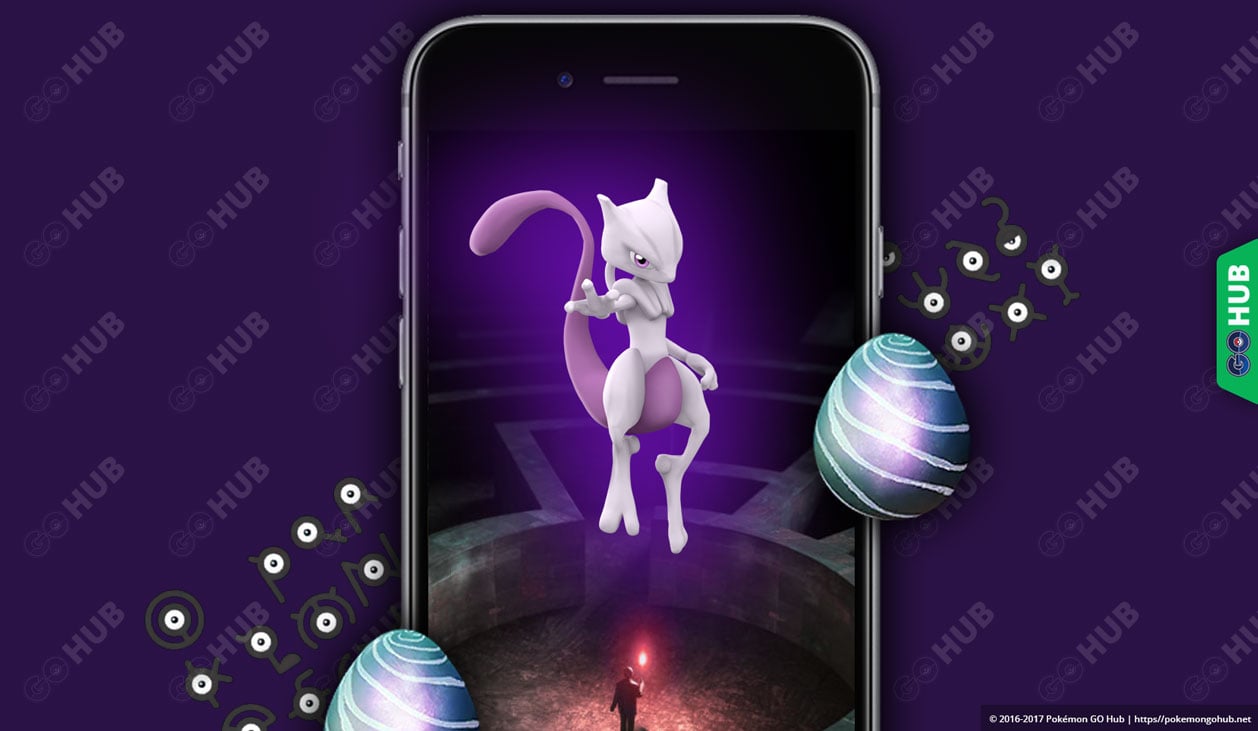 Mewtwo raid is the only EX Raid Boss in Pokemon GO, with a boss CP of 49340 and is considered to be the strongest Pokemon in the game. This guide goes over the best Mewtwo counters, weather influence and moveset difficulty. Overall, the best Pokemon to use against Mewtwo are Tyranitar, Houndoom, Gyarados and. another Mewtwo
Mewtwo is a pure psychic type. A minimum of 6 players is required to beat a Mewtwo raid with no major problems – provided they are using proper counters.
Mewtwo has the following raid capture combat power values:
2275 CP (no weather perfect IV Mewtwo combat power)
2844 CP (windy weather perfect IV Mewtwo combat power)
Mewtwo's moves are boosted by Windy, Foggy and Cloudy weather. If your area still didn't host an EX Raid, check out our comprehensive guide on how to trigger EX Raids and let the summoning begin.
Mewtwo Raid Counters
Mewtwo is weak to Dark, Ghost and Bug. Although there are viable generalists outside this typing, we're heavily focusing on counters that utilize type advantage.
Mewtwo weaknesses and weather boost
Mewtwo
Weakness 

Dark




Bug




Ghost

Boosted by 

Windy

Best Pokémon vs Mewtwo
Tyranitar
Bite 

Dark

Crunch

Dark

Mewtwo
Psycho Cut

Psychic

Shadow Ball

Ghost

Gengar
Shadow Claw 

Ghost

Hex Ghost

Shadow Ball

Ghost

Gyarados
Bite

Dark

Crunch

Dark

Dragonite
Dragon Tail

Dragon

Outrage

Dragon

Houndoom
Snarl

Dark

Foul Play

Dark

Scizor
Fury Cutter

Bug

X-Scissor

Bug

Shiftry
Feint Attack 

Dark

Foul Play

Dark

Crawdaunt
Snarl 

Dark

Night Slash

Dark

Pinsir
Fury Cutter

Bug

X-Scissor

Bug
The best Pokemon to fight Mewtwo is Tyranitar with incredibly strong dark type moves, resistance to Psychic and elite stats. However, Mewtwo can have Focus Blast fighting (140 power) as it's charge move, which will OHKO Tyranitar if it's hit without dodge.
Following Tyranitar, additional good counters include:
Mewtwo

Mewtwo is the strongest generalist in game and is also SE over another Mewtwo. In truth, Mewtwo will deal more damage than a Tyranitar, but we demoted it to second place due to it's rarity.

Houndoom

second best

Dark

type in the game, very high DPS, second only to Gengar, but too still very squishy. Your perfect

Dark

glass cannon.

Gyarados

great Bite / Crunch filler that lasts surprisingly long and deals a lot of damage over the entire fight. If you don't have access to any of the higher ranked counters, Gyrados will not disappoint you

Dragonite

A bulky, high DPS generalist that fits well with this and any other team (except Articuno raiding parties). Put one in your team and don't think too much about it

Gengar

A super high DPS glass cannon that won't last short, but will deal a lot of damage. It's all about damage with Gengar – don't dodge, just tap and weave to maximize TDO

Scizor and other counters

In general, these are your "rejoin team" options, nothing much to say besides the fact that they can easily be replaced with other Legendary Pokemon with high DPS: Raikou, Kyogre, Zapdos, etc…
Mewtwo weather considerations
Helpful weather: Rainy and Fog
Rainy =>

Bug

counters do extra damage
Fog =>

Dark

counters do extra damage
Harmful weather: Cloudy and Partly Cloudy
Cloudy will boost M2's Focus Blast and none of it's counters' moves
Partly Cloudy will boost M2's Hyper Beam and none of it's counters' moves
Mewtwo moveset difficulty
According to our simulator and actual player reports, Mewtwo's most difficult moveset is Hyper Beam, or Focus Blast if you're Tyranitar heavy. Although neither benefits from STAB, Mewtwo's damage output is so high that it will OHKO almost every counter.
Hyper Beam

Normal

– difficult for non-Tyranitar, challenging for Tyranitar
Focus Blast

Fighting

– deadly for Tyranitar, difficult for everything else
Shadow Ball

Ghost

– two bar, high DPS, but most counters take reduced damage
Shadow Ball is not as dangerous as it deals reduced damage to Dark and Normal types.
Mewtwo catch chance
Mewtwo's base catch rate is 6%, which results in a high capture chances for all other throw and berry combinations. Mewtwo's high capture rate is due to it being available only via the EX Raid system.
Mewtwo Raid IV and CP Chart
ATK
DEF
STA
MAX CP
Normal
Weather
15
15
15
2275
2844
15
15
14
2270
2837
15
15
13
2264
2831
15
15
12
2259
2824
15
15
11
2253
2817
15
15
10
2248
2810
15
14
15
2269
2837
15
13
15
2264
2830
15
12
15
2258
2822
15
11
15
2252
2815
15
10
15
2246
2808
14
15
15
2268
2835
13
15
15
2261
2826
12
15
15
2253
2817
11
15
15
2246
2808
10
15
15
2239
2799
14
14
14
2257
2821
14
14
13
2251
2814
14
14
12
2246
2808
14
14
11
2240
2801
14
14
10
2235
2794
14
13
14
2251
2814
14
12
14
2245
2807
14
11
14
2239
2800
14
10
14
2234
2792
13
14
14
2250
2812
12
14
14
2242
2803
11
14
14
2235
2794
10
14
14
2228
2785
13
13
13
2238
2798
13
13
12
2233
2791
13
13
11
2227
2785
13
13
10
2222
2778
13
12
13
2233
2791
13
11
13
2227
2784
13
10
13
2221
2777
12
13
13
2231
2789
11
13
13
2224
2780
10
13
13
2217
2771
12
12
12
2220
2775
12
12
11
2215
2769
12
12
10
2209
2762
12
11
12
2214
2768
12
10
12
2209
2761
11
12
12
2213
2766
10
12
12
2206
2758
11
11
11
2202
2753
11
11
10
2196
2746
11
10
11
2196
2745
10
11
11
2195
2744
10
10
10
2184
2730