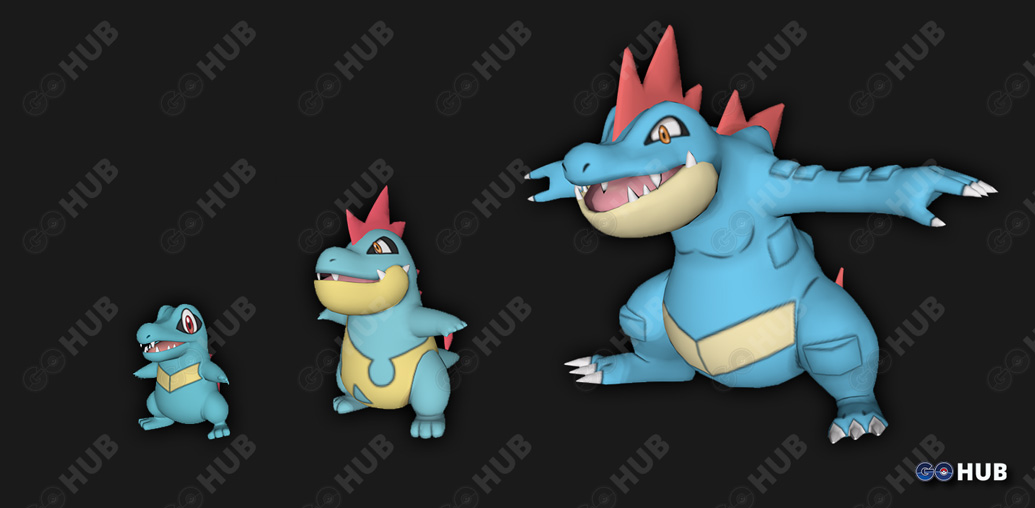 Pokémon GO Gen 2 Evolution Multipliers
This chart shows predicted values for all evolution multipliers coming in Generation 2. All of the values at the moment are predicted, not confirmed and are likely to change as new data comes in. Includes Cross Generation Evolutions and Baby Pokémon added in Gen 2.
There's also some obvious problems, marked red in the table. We'll be updating this chart when Gen 2 becomes available.
| Pokémon | Max CP | Multiplier |
| --- | --- | --- |
| Chikorita | 1024 | 1.52 |
| Bayleef | 1554 | 1.6 |
| Meganium | 2484 | Final |
| Cyndaquil | 955 | 1.63 |
| Quilava | 1557 | 1.67 |
| Typhlosion | 2602 | Final |
| Totodile | 1066 | 1.55 |
| Croconaw | 1651 | 1.62 |
| Feraligatr | 2678 | Final |
| Sentret | 613 | 2.59 |
| Furret | 1586 | Final |
| Hoothoot | 726 | 2.56 |
| Noctowl | 1856 | Final |
| Ledyba | 596 | 1.91 |
| Ledian | 1136 | Final |
| Spinarak | 767 | 2.22 |
| Ariados | 1705 | Final |
| Golbat | 1830 | 1.28 |
| Crobat | 2348 | Final |
| Chinchou | 1094 | 1.97 |
| Lanturn | 2154 | Final |
| Pichu | 426 | 1.85 |
| Pikachu | 787 | Final |
| Cleffa | 599 | 1.81 |
| Clefairy | 1085 | Final |
| Igglybuff | 612 | 1.17 |
| Jigglypuff | 713 | Final |
| Togepi | 576 | 2.52 |
| Togetic | 1450 | Final |
| Natu | 1011 | 2 |
| Xatu | 2019 | Final |
| Mareep | 949 | 1.58 |
| Flaaffy | 1497 | 1.75 |
| Ampharos | 2618 | Final |
| Gloom | 1512 | 1.58 |
| Bellossom | 2394 | Final |
| Marill | 587 | 2.98 |
| Azumarill | 1750 | Final |
| Sudowoodo | 1480 | N/A |
| Poliwhirl | 1313 | 1.87 |
| Politoed | 2460 | Final |
| Hoppip | 632 | 1.65 |
| Skiploom | 1041 | 1.54 |
| Jumpluff | 1607 | Final |
| Aipom | 1160 | N/A |
| Sunkern | 423 | 4.91 |
| Sunflora | 2079 | Final |
| Yanma | 1471 | N/A |
| Wooper | 586 | 3.53 |
| Quagsire | 2070 | Final |
| Eevee | 969 | 2.32 |
| Espeon | 2252 | Final |
| Eevee | 969 | 2.38 |
| Umbreon | 2311 | Final |
| Murkrow | 1622 | N/A |
| Slowbro | 2482 | 1.05 |
| Slowking | 2597 | Final |
| Misdreavus | 1708 | N/A |
| Unown | 1272 | N/A |
| Wobbuffet | 1380 | N/A |
| Girafarig | 2015 | N/A |
| Pineco | 926 | 2.2 |
| Forretress | 2039 | Final |
| Dunsparce | 1905 | N/A |
| Gligar | 1432 | N/A |
| Onix | 1002 | 2.08 |
| Steelix | 2080 | Final |
| Snubbull | 1081 | 2.05 |
| Granbull | 2215 | Final |
| Qwilfish | 1708 | N/A |
| Scyther | 2464 | 0.92 |
| Scizor | 2270 | N/A |
| Shuckle | 395 | N/A |
| Heracross | 2060 | N/A |
| Sneasel | 1354 | N/A |
| Teddiursa | 1267 | 2.09 |
| Ursaring | 2648 | Final |
| Slugma | 796 | 1.91 |
| Magcargo | 1523 | Final |
| Swinub | 713 | 3.07 |
| Piloswine | 2189 | Final |
| Corsola | 1440 | N/A |
| Remoraid | 931 | N/A |
| Octillery | 2565 | N/A |
| Delibird | 1071 | N/A |
| Mantine | 1650 | N/A |
| Skarmory | 1650 | N/A |
| Houndour | 1129 | 2.1 |
| Houndoom | 2371 | Final |
| Seadra | 1979 | 1.35 |
| Kingdra | 2671 | Final |
| Phanpy | 1218 | 2.01 |
| Donphan | 2448 | Final |
| Porygon | 1567 | 1.69 |
| Porygon2 | 2653 | Final |
| Stantler | 2141 | N/A |
| Smeargle | 537 | N/A |
| Tyrogue | 550 | 2.75 |
| Hitmontop | 1515 | Final |
| Smoochum | 820 | Final |
| Elekid | 1166 | 1.88 |
| Electabuzz | 2196 | Final |
| Magby | 1270 | 1.77 |
| Magmar | 2254 | Final |
| Miltank | 1917 | N/A |
| Blissey | 1234 | Final |
| Raikou | 2963 | N/A |
| Entei | 3262 | N/A |
| Suicune | 2925 | N/A |
| Larvitar | 1018 | 1.76 |
| Pupitar | 1789 | 2.04 |
| Tyranitar | 3653 | Final |
| Lugia | 3613 | N/A |
| Ho-Oh | 4213 | N/A |
| Celebi | 3299 | N/A |