Pokémon GO Fest 2019 is right around the corner, so we are here to help you with a comprehensive guide on how to prepare as well as get the most out of the day.
What to Pack and/or Purchase
Niantic has outlined a list of things to take during your adventure. However, we decided to include some additional things that we highly suggest you bring, including:
Things to Pack
Extra charging cables

Battery pack(s)

Backup phone (just in case!)

Shoes and clothing suitable for walking in

Clothes for warm and cool weather. Highs are forecasted to be around 70° F/21° C with lows in the upper 50° F/10° C.
Extra Socks

Hat

Clear backpack
Reusable Water Bottle (to refill at the filling stations throughout the day)
– Last year water ran out, so frozen bottles of water might not be a bad idea
Sealed sunscreen lotion (no aerosol containers)
Poncho or Collapsable Umbrella
Water resistant pouch/protection for your phone
Things to Purchase in Chicago
Snacks (food truck lines were TERRIBLE last year)
Cash (some food trucks accept credit/debit cards, some don't)
For more information on what you can and cannot bring, and event information in general, check out the official site: Pokémon Go Fest 2019.
User u/RavenAstra, on Reddit, has a great compilation of tips in their Go Fest Travel Tips Post, including:
Learn how to hotspot in case you or a friend crashes and crashes hard.
Light travel items: Packs of Kleenex, wet wipes (don't flush em), waterproof phone pouch.
Toilet paper seems to have been an issue, a big one, so bringing or buying your own toilet paper could be a good idea.
This user also has an extensive transit suggestion, so go check them out.
Your Day at Pokémon GO Fest!
Wake up bright and early so that you aren't late to the event. GO Fest will not be gated; you will have to check in at your ticketed entrance in order to get access to the spawns within the park.
GO Fest is June 13th – 16th from 9am – 7pm or 11am – 7pm (depending on your ticket access), so be sure to get there on time. There will be a line to get in! You can enter the park any day since it is not gated, but you can only check in to the event for the day you bought your ticket. The event is taking place at beautiful Grant Park off the coast of Lake Michigan.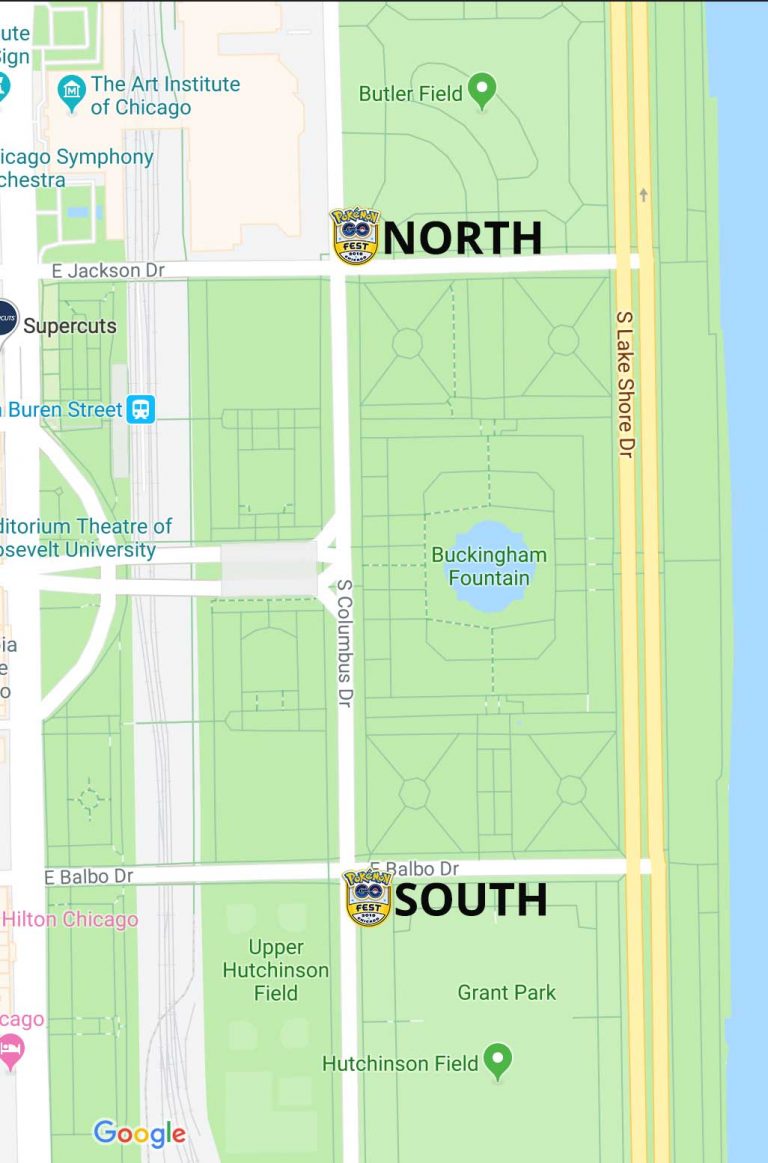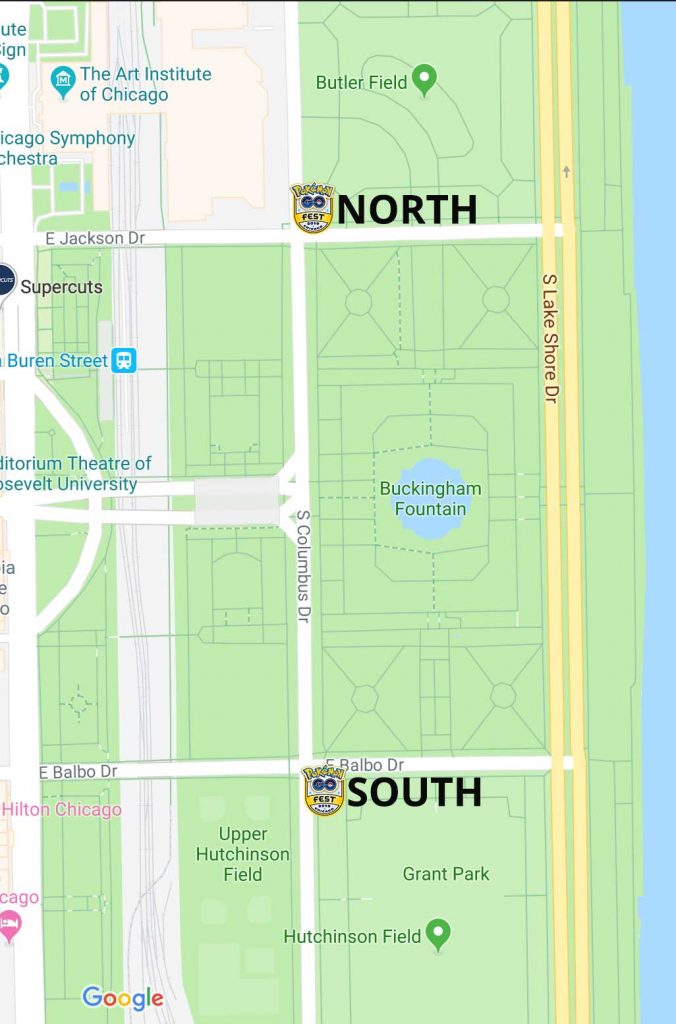 The North Entrance is located at Butler Field, and the South Entrance is located at Hutchinson Field.
There will be team lounges where you can charge your phone with a cable that you bring. There will also be 'photo ops,' perhaps in the form of, or similar to, the biomes that were available last year. There will also be special research (Jirachi according to leaks), and challenges for the attendees, and the world, to complete.
If you are a fan or follow any particular YouTubers or other Pokémon Go influencers, be on the lookout! You never know who you may run into and what kinda fun swag they may have to hand out. cough GO Hub cough 
Go Fest Map
The following map has been leaked by data miners! NONE of the content within it has been confirmed by Niantic, take everything you see in this graphic with a grain of salt until it is! If what is stated here turns out to be true, increased special trades at a reduced stardust cost will be available at the Trading Post within Grant Park!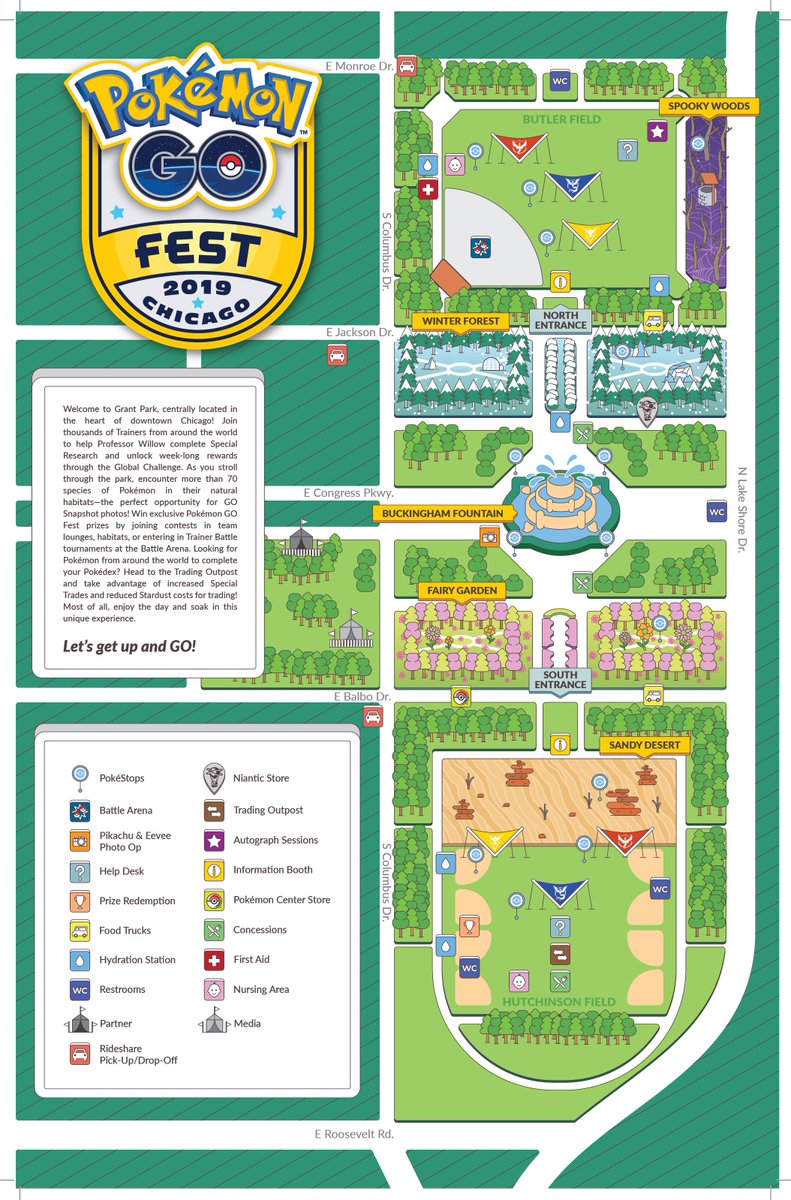 Outside of GO Fest
Chicago is a city full of exciting places to go, things to do, and food to eat! Within Grant Park itself, there is the Shedd Aquarium, Alder Planetarium, The Art Institute of Chicago, and much more to explore. Foodwise, Chicago is famous for its pizza, and there are plenty of places around Grant Park to get some pizza, including Giordano's, Pizano's Pizza and Pasta, and Aurelio's Pizza. If you look on any map, you will notice that there are many, many, places to get pizza and other food near Grant Park.
DTC has put together an amazing Visitor's Guide that covers just about anything and everything you need to know AND MORE!