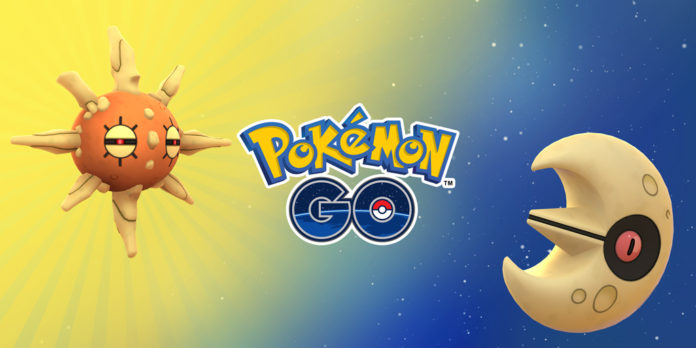 Pokémon GO Solstice Event 2020 is now live! We've created a quick guide that lists Solstice boosted spawns, raid bosses and field research.
Event highlights:
Shiny Clefairy released in the wild
2x Catch Stardust during the event
Lunatone and Solrock available in the wild on different hemispheres
Throughout the event, Lunatone and Solrock will both be appearing in three-star raids and hatching from 5 km Eggs, regardless of your location.
The event lasts from June 19, 8:00 a.m. local time until June 24, 10:00 p.m. local time. Information listed below is based on TheSilphRoad's mega thread.
Shiny Clefairy in the wild
Shiny Clefairy is now available in the wild! The only way you could previously obtain a shiny Clefairy was by hatching a shiny Cleffa and evolving it.
Shiny Clefairy family

| Pokemon | Shiny form |
| --- | --- |
| Cleffa | |
| Clefairy | |
| Clefable | |
---
Sunrock and Lunatone rotations
As you may have read earlier, Solrock and Lunatone will be making rounds across the Southern and Northern hemisphere during the event.
From the start of the event until Saturday, June 20, at 11:59 p.m. local time, Lunatone and Solrock will appear more frequently in the wild in their usual hemispheres.
All of Sunday and Monday (June 21-22) local time, Lunatone and Solrock will be appearing in the wild in both hemispheres.
On Tuesday, June 23, at 12:00 a.m. local time Lunatone and Solrock switch places, where they will remain after the event is over.
Solrock and Lunatone rotations during the Solstice event
Hemisphere and Date
June 19 – 20
June 21 – 22
June 23 – 24
Eastern hemisphere

Lunatone

Both spawn more frequently everywhere

Solrock

Western hemisphere

Solrock

Lunatone
---
Boosted Spawns
---
Field Research
Event specific field research features some interesting rewards, well aside from Sunkern. Potentially shiny Solrock, Lunatone and Clefairy are all great rewards for shiny collectors.
| Task Text | Reward |
| --- | --- |
| Catch 3 Fire-type Pokemon | Solrock |
| Catch 3 Dark-type Pokemon | Lunatone |
| Catch 7 different species of Pokemon | Vulpix (Alola) |
| Give your buddy a treat | Clefairy |
| Earn a candy walking with your buddy | Sunkern |
| Use 4 berries to help catch Pokemon | 1000 Stardust |
---
Raid Bosses
The raid bosses during the Solstice Event feature a variety of Pokémon that haven't been in raids for a while. In addition to these returning Pokémon, we have Solrock and Lunatone Tier 3 raids, plus the almighty Zekrom in Tier 5.
OrangeHeart prepared a simple infographic to cover all of the new raid bosses, and you can find guides for these Pokémon on GO Hub (Use the search, Luke). The most notable boss is, of course, Zekrom, and we're linking that guide here: Zekrom Counters Guide.