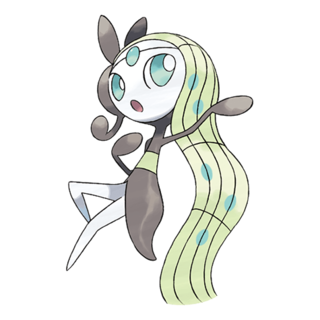 Meloetta
Trainers, Niantic has confirmed that Meloetta will be the featured Mythical Pokémon at the global GO Fest 2021 event. Recent data mines have been hinting at it for a while now – 0.211.0 APK Breakdown: New raid achievements, a new loading screen, and more! – but we finally have official confirmation.
Curiously, Meloetta is known as the Melody Pokémon, which perfectly fits the GO Fest 2021 theme. Pokémon GO Fest 2021 is a music festival, and you're the show director! Do note that special music created by Pokémon music producer Junichi Masuda will be playing in the app throughout the event.
If you want to learn more about Meloetta, we suggest you read up on the Bulbapedia page, but we found this bit very intriguing:
Meloetta is able to change forms when it uses the move Relic Song, which changes its form from Aria Forme to its Pirouette Forme, or vice versa. In its Aria Forme, Meloetta can sing beautiful songs. While in its Pirouette Forme, Meloetta can perform graceful dances. In its Aria Forme, it is a dual-type Normal/Psychic-type Pokémon; in its Pirouette Forme, it is a dual-type Normal/Fighting-type Pokémon. It reverts to Aria Forme when switched out or when the battle ends. Like many other Legendary and Mythical Pokémon, Meloetta is capable of becoming invisible.
Official tweet
Niantic's official tweet also contains a clip of the special music composed for GO Fest 2021. Check out the video below, be sure to turn up the volume.
We're excited to announce that the Mythical Pokémon that will be taking center stage during #PokemonGOFest2021 is…
🥁
🥁
🥁
🥁
🥁
Meloetta, the Melody Pokémon! 🎵🎶🤩 pic.twitter.com/BvBnk5beVZ

— Pokémon GO (@PokemonGoApp) June 14, 2021