Hello Trainers! Version 0.205.0 of Pokémon GO is rolling out now through the app stores. This update includes a lot more details on routes, Rainy lure assets, and more!
NOTE: This version has changed the way assets are handled, which means all assets in the game will need to be re-downloaded again when you update.  So if you don't have an unlimited data plan, we suggest that you download the update on WiFi. 
You can read the Pokéminers breakdown here.  Go give them an upvote!
Everything in this article is datamined, and therefore subject to be changed or not even being released at all.
---
Asset Updates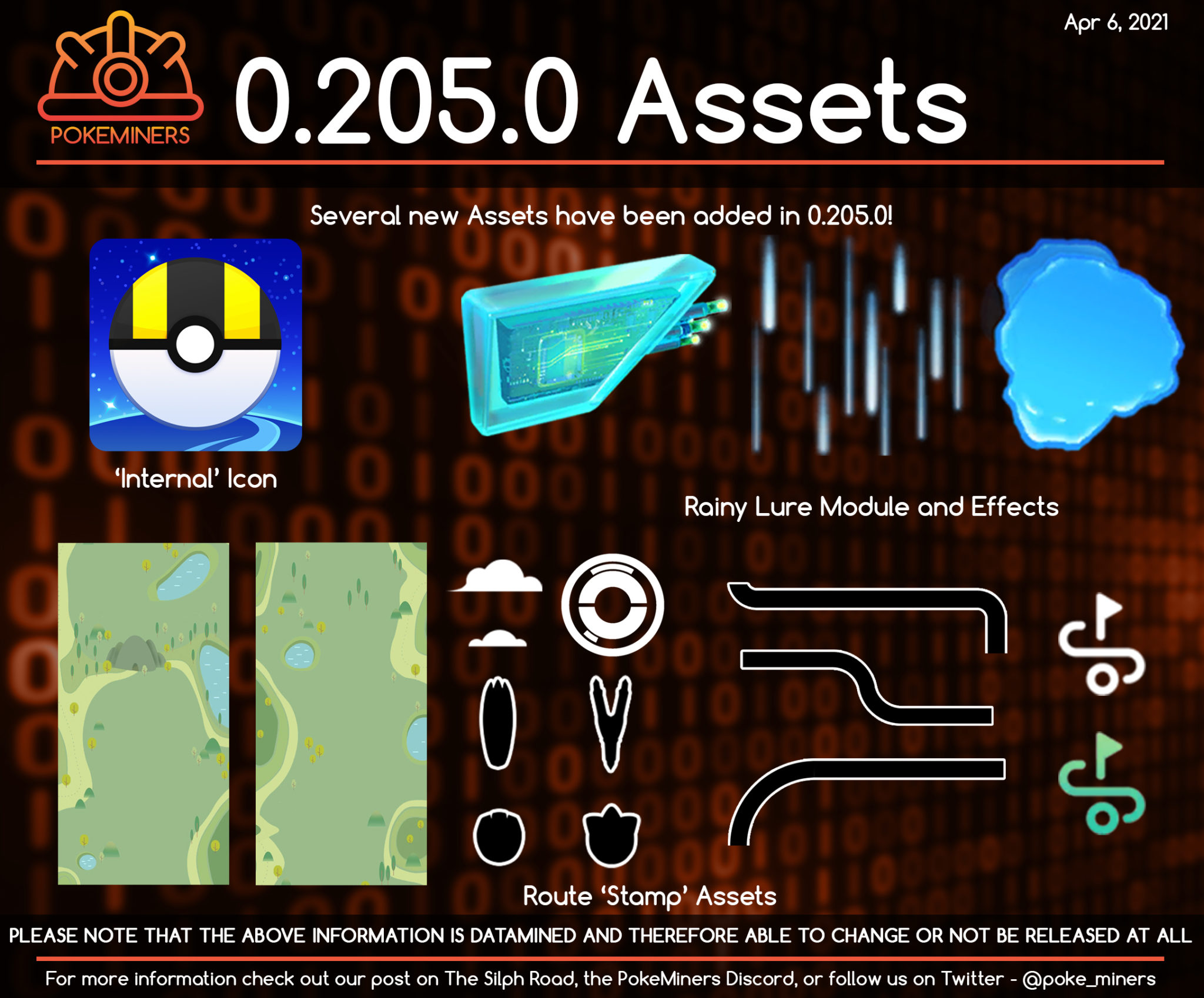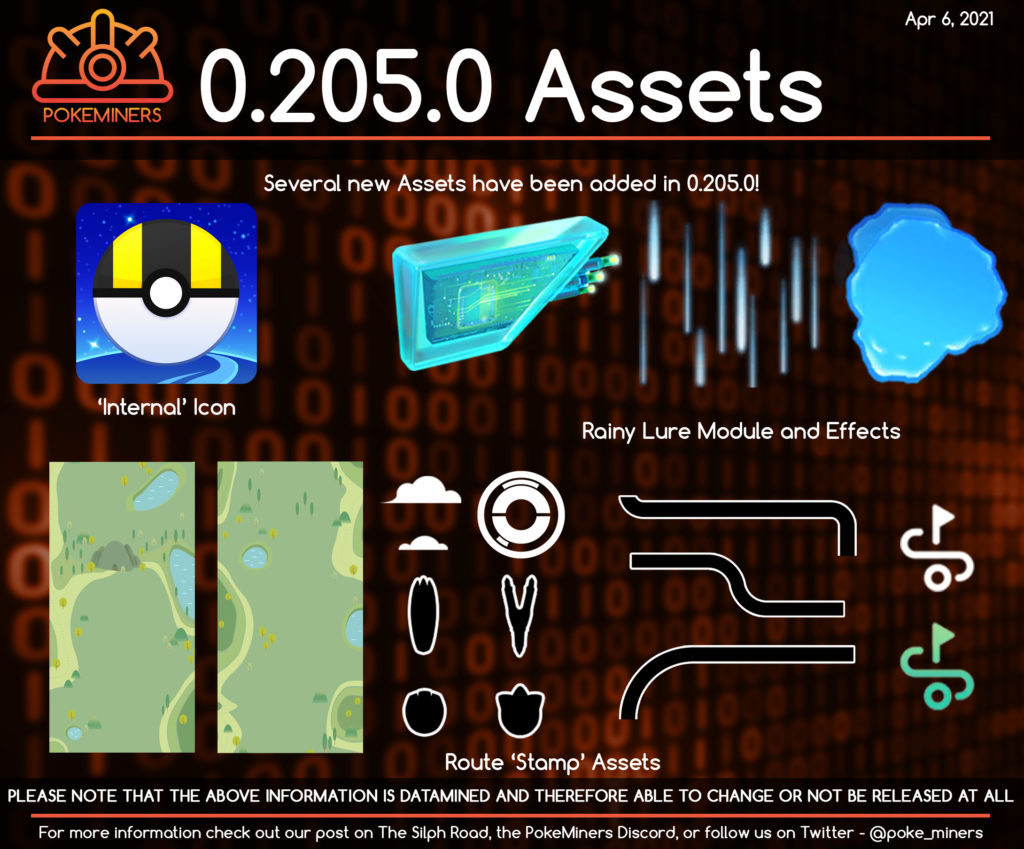 Some asset updates from the update as well, including a new icon, the rainy lure image and its effects, and some images for the routes.  Credit to the Pokéminers for the image.
---
Routes
Routes were mined a couple of updates back, it seems that 0.205.0 brings more details on what they'll look like.  With these details, it seems like we're getting very close to them being ready for release.
Cooldowns
RoutePlaySettingsProto 
.get_RouteCooldownMinutes 
.set_RouteCooldownMinutes 
.get_RouteExpirationMinutes 
.set_RouteExpirationMinutes 
.get_RoutePuaseDistanceM 
.set_RoutePuaseDistanceM
It appears that Routes will have a cooldown, an expiration time, and a wait time before you can reattempt the route.
Names, Descriptions, Creator, etc
.get_RouteName 
.set_RouteName 
.get_RouteDescription 
.set_RouteDescription 
.get_RouteCreatorCodename 
.set_RouteCreatorCodename 
.get_RouteImageUrl 
.set_RouteImageUrl 
.get_HasReceivedCompletionRewards 
.set_HasReceivedCompletionRewards 
.get_PlayVersion 
.set_PlayVersion
Routes will have a Name, a Description, an Image, a Creator Name, and more details.
Progression and Tappables
.get_IsProgressed 
.set_IsProgressed 
.get_NumTappables 
.set_NumTappables 
.get_NumCollectedTappables 
.set_NumCollectedTappables 
.get_RouteStamp 
.set_RouteStamp 
.get_FortDescription 
.set_FortDescription
routeProgressionButton 
routeProgressBackgroundImage 
routeProgressIconImage 
routeProgressUnpausedSprite 
routeProgressUnpausedColor 
routeProgressUnpausedBackgroundColor 
routeProgressPausedSprite 
routeProgressPausedColor 
routeProgressPausedBackgroundColor 
routePulseSize 
routePulseCount
It appears that the game will keep track of how far along a route you are, and how many Pokémon, Pokéstops you've encountered.
Choose your activity
NO_ACTIVITY 
ACTIVITY_POKEMON_TRADE 
ACTIVITY_POKEMON_COMPARE 
ACTIVITY_GIFT_TRADE
Some routes will have an activity associated with them.
Pokéstop Shimmer
RouteGymApproachSpinnerStateShim 
RouteGymApproachSpinnerState 
RoutePokestopSpinnerInteractionStateShim 
RoutePokestopSpinnerInteractionState
It appears that Pokéstops and Gyms that are part of the route will shimmer in some way to indicate that they are, in fact, part of the route and not just along for the ride.
Provide Feedback
fullStarImage 
emptyStarImage 
starButtonImages 
rateButton 
reasonContainer 
GOOD_LOCATION 
GOOD_WALK 
GOOD_ 
GOOD_LEARNING 
BAD_LOCATION 
BAD_TY 
BAD_ACCURACY 
BAD_LENGTH 
themeContainer 
Theme 
NATURE 
CASUAL 
HISTORY 
CULTURE 
E FOOD
It appears that you'll be able to rate a route after you're done walking it and recommend a theme for it.
Error Messages
ERROR_ROUTE_NOT_FOUND 
ERROR_INVALID_START_FORT 
ERROR_WRONG_WAYPOINT 
ERROR_ROUTE_PLAY_EXPIRED 
ERROR_ROUTE_IN_COOLDOWN 
ERROR_ROUTE_PLAY_NOT_FOUND 
ERROR_U13_NO_PERMISSION
Some error messages involving the routes, including one that suggests trainers under 13 years of age won't be able to participate.
---
Oh Snap
COMPLETE_WILD_SNAPSHOT_SESSION
QUEST_TAKE_WILD_SNAPSHOT 
QUEST_USE_POKEMON_ITEM
More code for the Pokémon Snap event that was mined last week, a couple of quests and the code to complete a snapshot session.
---
Wayfarer
isUploadLaterEnabled 
.get_IsUploadManagementEnabled 
.get_IsUploadLaterEnabledForImageEdits 
.get_IsUploadLaterEnabledForNominationImages 
.get_GetUploadManagementTextureSize
The ability to upload Wayfarer submissions when you are on wifi has been added.
---
Pokémon Forms
IsFormPossible
A check to see if a form is possible, possibly checking if the conditions for the form change exist?
---
Special Evolutions
evolveButtonWithSpecialIconPrefab 
upsideDownEvolveButtonPrefab 
NeedToBeUpsideDown 
NeedToBeNight 
NeedToBeDay 
NeedCorrectLure 
NeedCorrectLureOrWeather 
PokemonInfoPanelEvolveUpsideDownButton 
evolveTextRoot 
PokemonInfoPanelSpecialIconEvolveButton 
xPositionForQuestionMark 
plusText 
daytimeSprite 
nighttimeSprite 
buddySprite 
canEvolve 
SpecialEvolutionHintDialog 
evolutionHintText 
firstImage 
orText 
secondImage
More details and checks for special evolutions, including Inkay's phone upsidedown requirement.
---
One-hit KO?
ClearHealth
This was added to Pokémon Battles.  Possibly a way to handle One-hit KO's?
There are four One-hit KO moves:
Fissure

Ground

Guillotine

Normal

Horn drill

Normal

Sheer cold

Ice
It'll be interesting to see how these get implemented if this is in fact a way to do that.  I have my doubts, but hey… I've been wrong before.  A lot.
That's all for now Trainers, stay safe out there!