All around the world, Trainers have noticed that the price of the new Lure Module Box has varied between accounts. There have been reports of this Box ranging from 350 PokéCoins, all the way up to a whopping 700 PokéCoins and players are baffled as to why this may be.
This Lure Module Box contains:
1x Rainy Lure Module.
1x Magnetic Lure Module.
1x Mossy Lure Module.
1x Glacial Lure Module.
As we can see from this image here, it is the same exact Box, just with different prices on each account.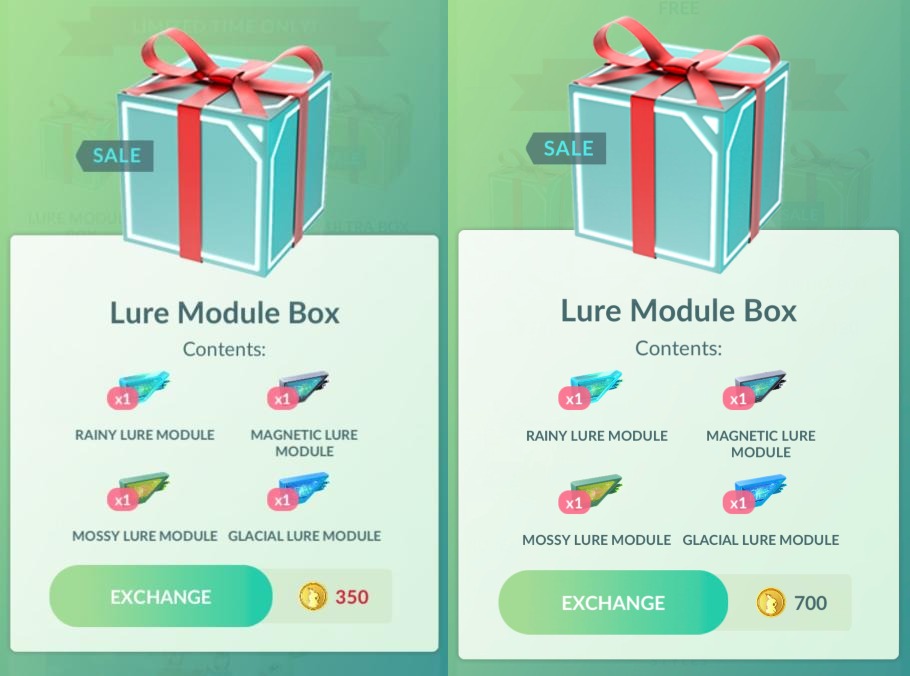 The drama surrounding this box has made its way to social media where Trainers have been comparing prices on their accounts with others. It's still unclear as to why the price differentiates between accounts and some Trainers have even managed to contact Niantic via the in-game support option and have received this reply.
From the looks of it, it seems like this is just an automated response which states that they are 'testing out new features' and that some players may have slightly varied experiences.
Other than this, we have had no official announcement from Niantic about this issue.
Theories
There have been theories surrounding the price difference such as:
How old your account is.
How much money you spend on the game.
How often you play the game.
How many PokéCoins you currently have.
How many medals you have.
However, these theories do not seem to make a difference. Considering that there are players online that have spent a substantial amount of money on the game and that there are players that are Free to Play who have the same amount displayed on the box, means that none of these factors seems to play a role in deciding the price on each account.
Asking the Community
I tweeted out a post asking players to send me details such as how much their Lure Module Box is going for on their account, how old their account is and how often do they purchase PokéCoins. Link to the original tweet can be found here.
The results from this tweet baffled not only myself but the rest of the community too. The price of the box seemed to be all over the place for everyone. Despite when they started and how often they purchase PokéCoins, none of this seemed to make a difference. Take for example these answers from the Tweet.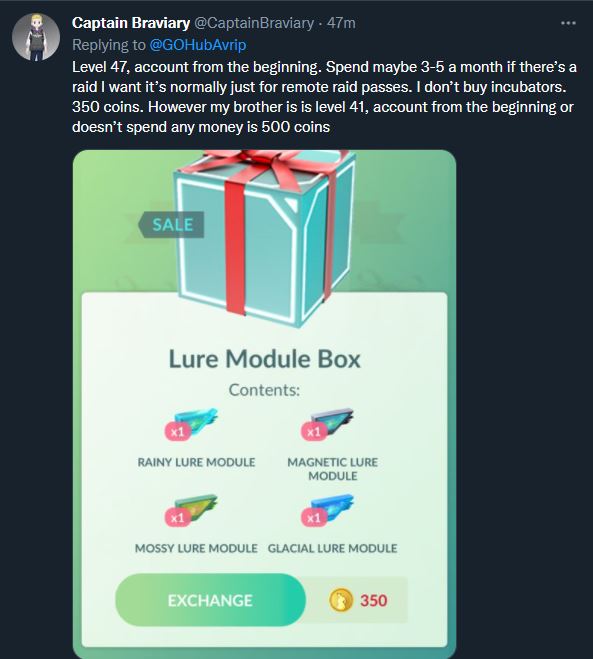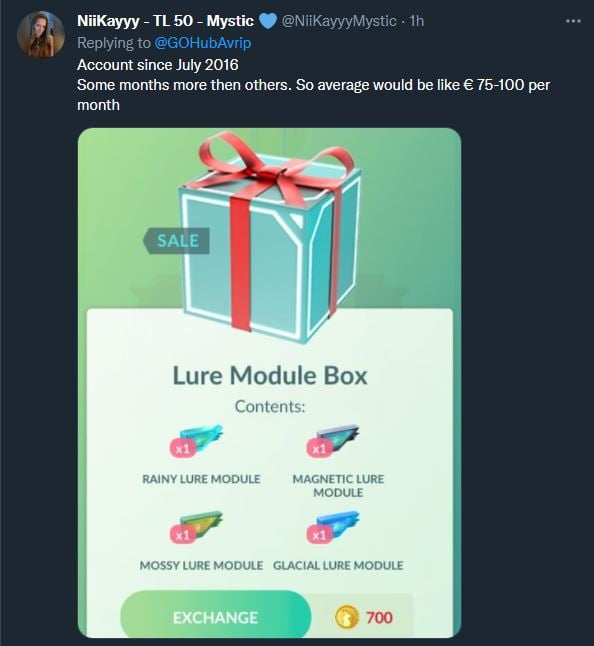 Parting Words
As we can see, there is no conclusive answer for the reasoning behind the price of this illusive box. Until we get an official announcement from Niantic, we may be left wondering why the price varies from each account.
We would love to hear from you too. Feel free to comment down below on how much you're being charged for the Lure Module Box.
Until next time, Trainers.
–Adam 'Avrip'