Strange Eggs have appeared in Pokémon GO, property of Team GO Rocket Leaders! Team Instinct's Leader Spark is leading an investigation effort to learn more about these new 12 KM eggs.
The event features new Shadow Pokémon, a chance to catch a Shadow Mewtwo, changes in GO Rocket Grunt and Leader lineups and a new type of PokéEgg.
In order to help Spark and Professor Willow learn more, from October 12 to October 19, Trainers have an opportunity to participate in a new Team GO Rocket Special Research, which culminates in a battle with Giovanni himself. Let's see what's new!
---
Editor's note: the official artwork shows a Pawniard chilling among GO Rocket PokéStops. It seems Pawniard could be making a surprise appearance during this event, even though its not mentioned in the official text.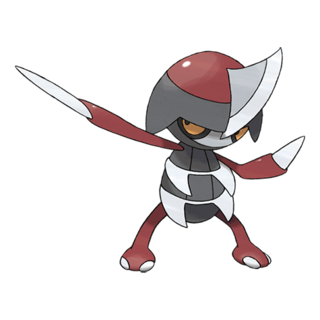 Pawniard
---
Infographic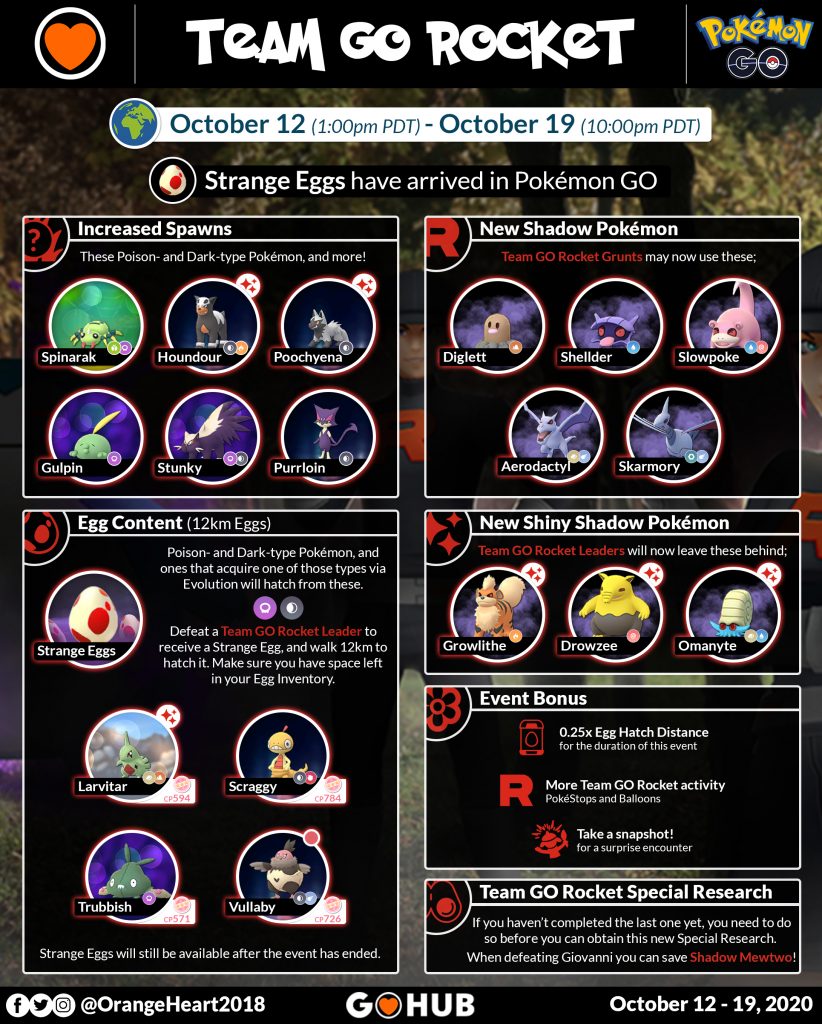 ---
Date and Time
As expected, Team GO Rocket will be more active than usual! Keep an eye out for Team GO Rocket taking over more PokéStops and Team GO Rocket balloons appearing more often.
Date + Time
From Monday, October 12, 2020, at 1:00 p.m.
To Monday, October 19, 2020, at 10:00 p.m. PDT (GMT −7)
---
Strange Eggs and 1/4 hatch distance
Strange Eggs have appeared in Pokémon GO! Defeat a Team GO Rocket Leader to receive a Strange Egg, and walk 12 km to hatch it. You'll need to have space in your Egg inventory before your battle with Sierra, Cliff, or Arlo in order to receive a Strange Egg. Strange Eggs will continue to be available in Pokémon GO after the event ends.
According to Spark's early research, the following Poison-type Pokémon, Dark-type Pokémon, and Pokémon that acquire one of those types via Evolution can hatch from these Eggs: Larvitar, Scraggy, Trubbish, and Vullaby—though there may be even more!
Eggs placed in Incubators during the event will require one-quarter the normal walking distance to hatch. Strange Eggs require 12 KM to hatch, which will be reduced to 3 KM if incubated during the event hours.
---
Increased Poison and Dark type spawns
Select Poison and Dark-type Pokémon will be appearing more often in the wild. The following Pokémon have been confirmed in the official Niantic blog post:
---
New Team GO Rocket Special Research
For the first time since March, new Team GO Rocket Special Research will be available!
Join Professor Willow as he and the team leaders investigate Team GO Rocket's involvement with Strange Eggs, culminating in a battle with Giovanni himself! This is the last Team GO Rocket Special Research in 2020.
Our Pokémon GO Giovanni Counters Guide will be updated with new counters as soon as we see if there are any changes to Giovanni's lineup.
Note: If you currently have the The Shadowy Threat Grows Special Research from earlier this year, you'll need to complete it first before you can obtain this new Special Research. 
---
New GO Rocket Leader and Grunt lineups
Team GO Rocket Grunts' lineups are having a little shakeup. You can expect Grunts to use these following Shadow Pokémon during the event:
Team GO Rocket Leaders will be using new Shadow Pokémon as well. If you're incredibly lucky, you might be able to rescue a Shiny version of one of these Shadow Pokémon:
Similar to Giovanni, our Team GO Rocket Leader guides will be updated probably later today (or tomorrow):
These seem to be the new lineups for Rocket Leaders:
---
Giovanni and Shadow Mewtwo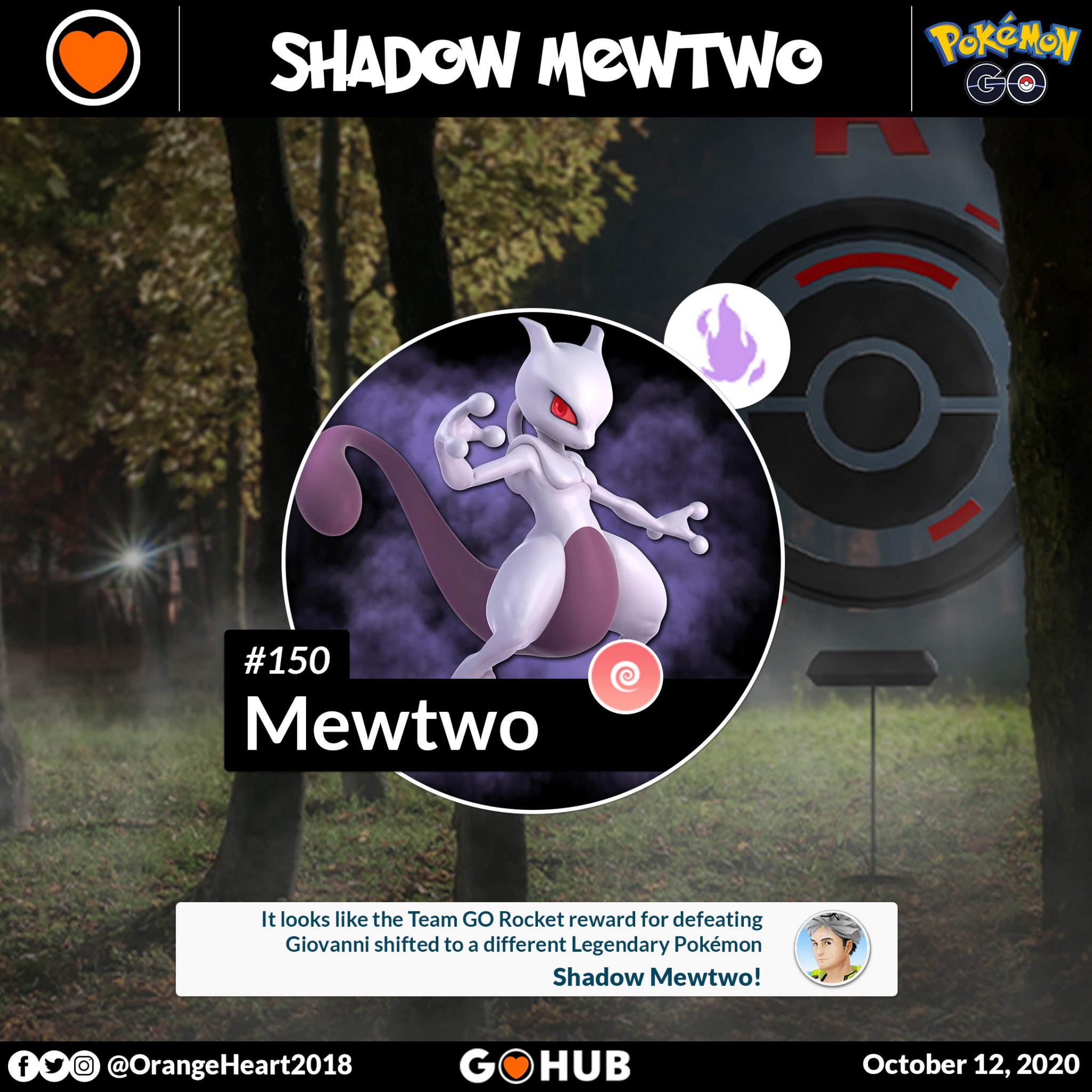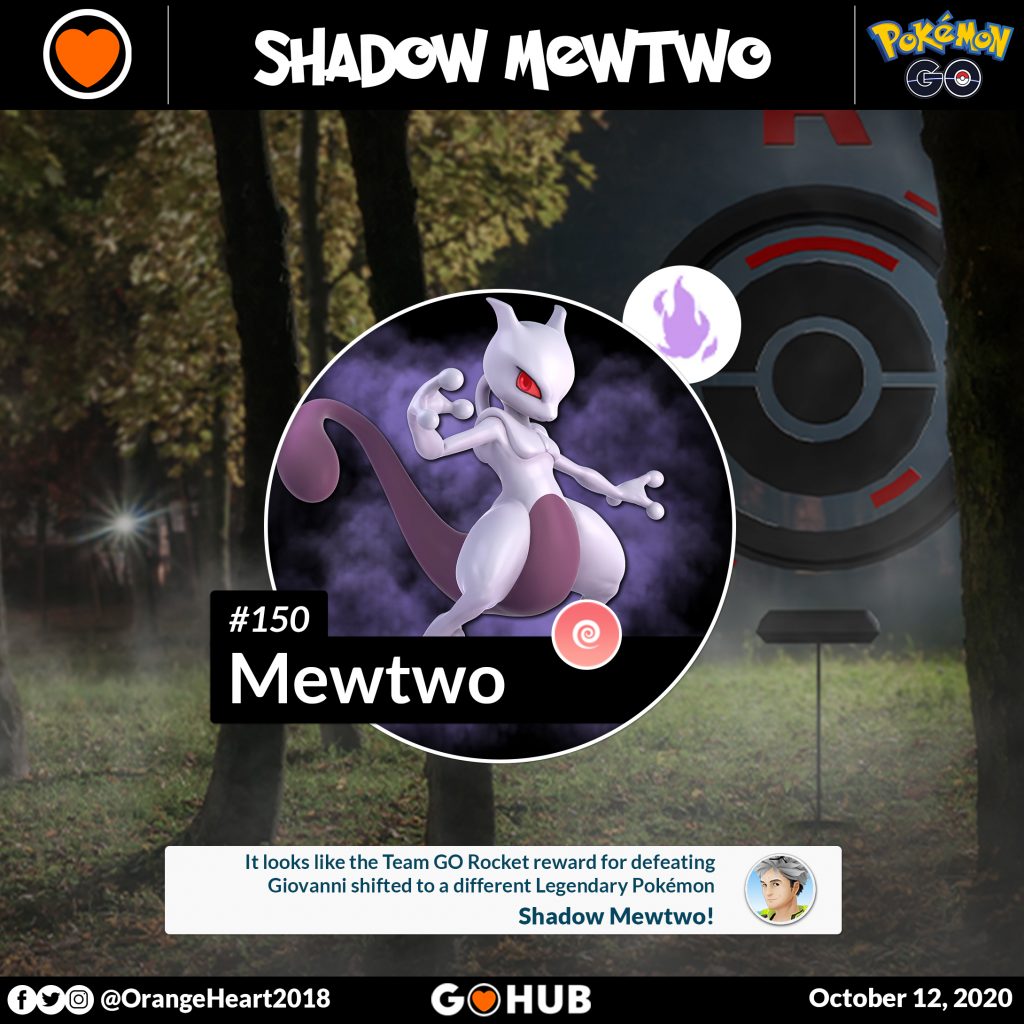 Finally, defeat Giovanni for a chance to rescue Shadow Mewtwo! This is the first time Shadow Mewtwo is available in Pokémon GO outside of the Rocket Straight to Victory Special Research, which was exclusive to Pokémon GO Fest 2020.
You can learn more about Shadow Mewtwo here: Shadow Mewtwo Meta Analysis.
---
Parting words and post event changes
After this event begins on Monday, October 12, 2020, at 1:00 p.m. PDT (GMT −7), you'll be able to save Shadow Mewtwo and Shadow Pokémon from Giovanni, the Team GO Rocket Leaders, and Grunts when those Team GO Rocket members are piloting Team GO Rocket balloons.
However, you won't be able to encounter the Team GO Rocket Leaders' new Shadow Pokémon or Shadow Mewtwo from PokéStops until the next day in your local time.
Strange Eggs are here to stay. Let's save as many of these Strange Eggs as possible from Team GO Rocket!