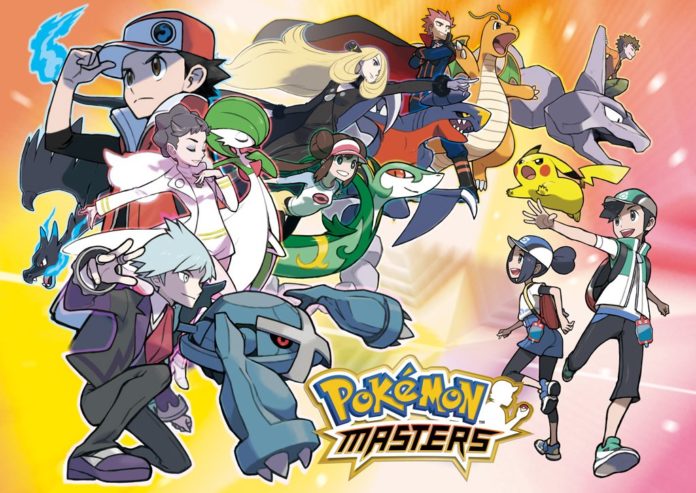 Rerolling in Pokemon Masters can be a confusing affair, but luckily one redditor has figure out a way how to do it quickly and efficiently. Full credits for this guide go to ImYourGingerSnap (great name btw!).
Guide
Link your Nintendo account. It won't stop you from rerolling, and it actually makes the process much faster. With a Nintendo account linked, there are only 2 downloads (~32mb each) between rerolls, and you get extra gems.
Rush clear until you've completed chapter 2. After completing this, collect your missions and rewards. You will have enough to pull 7 times on the banner. It is faster to just pull here instead of collecting more gems.
For those looking to start with a 5 star, the odds of pulling AT LEAST ONE 5 star from the 7 pulls is ~40%. Each reroll should take 22-25 minutes depending on how focused you are. If you are looking for a specific 5 star, like Karen, your chances after 7 pulls are ~10%. This means that even if you are unlucky, it shouldn't take you longer than 4 hours, but then again, everyone's rng is different.
It is faster to rush clear chapter 1 and pull 4 times. This will give you ~25% chance of pulling a 5 star. If you are going for 2 5 star pulls, I would still recommend the 7 pull method.
What are you looking for?
Pretty much everyone, as of now, is saying Phoebe and Karen are by far the strongest on the current banner. But watch out, apparently Blue is coming on September 2.
What is rerolling?
Rerolling is the process of resetting the game state in order to get a more favorable random drop. Rerolls always include these steps:
Getting the first random reward / character in the game,
making "pulls" (getting the random reward) and
resetting the game progress if you're not satisfied with what you got.
Most gacha games can be rerolled and players do it heavily before starting to play the game for real. Why? Well, the chances to get a high tier character or reward are often much higher with the first randomized reward than later on it the game.