Trainers,
here's a quick roundup of recent news in Pokémon GO. Some are good, some are bad, but overall it's a good time to be a GO Player. You should follow us on Twitter for real time updates and news.
Evolution Items Mechanics Leak
In a very exciting Tweet, serebii shared a preview of how Evolution items will work in Pokémon GO. The leak is verified, but we are unfortunately unable to name the source. Here you go, feast your eyes on Scyther and Metal Coat: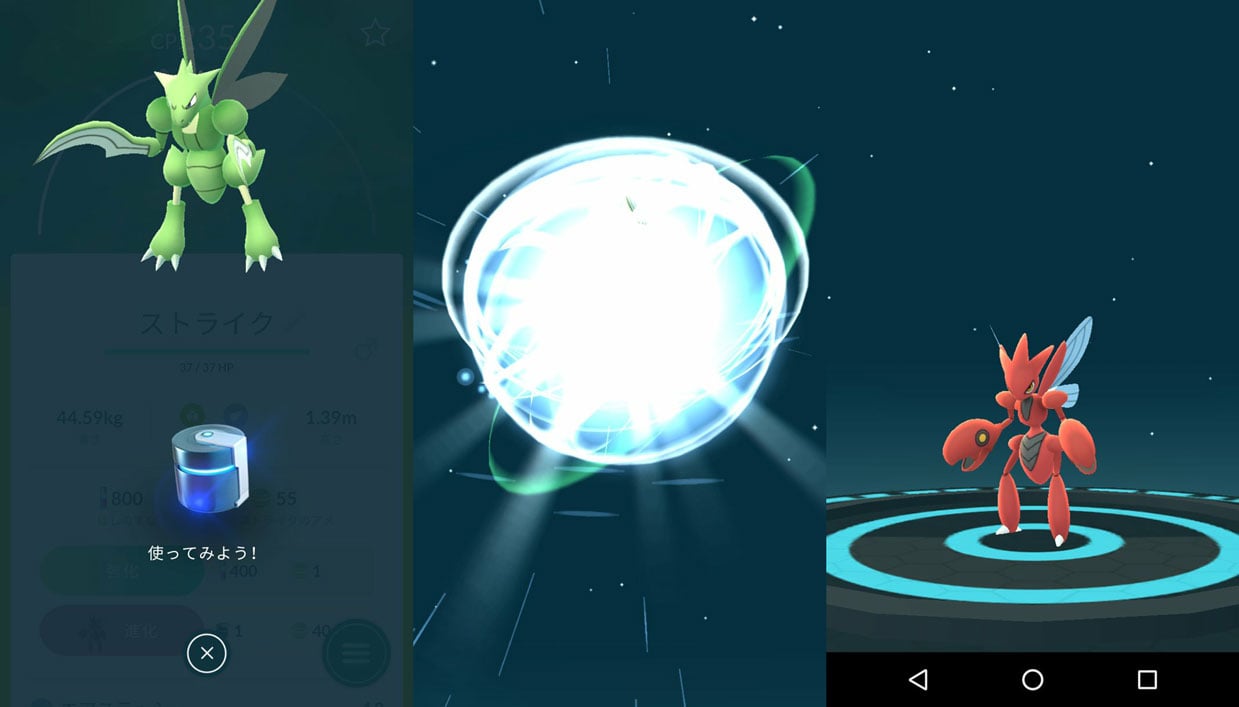 We won't receive a free Storage Upgrade
Niantic made this crystal clear on their official Twitter. Instead of a free Storage Upgrade, the in game store price is reduced by 50% from February 16th – 28th (PST zone). That brings a Storage Upgrade to 100 Coins, making it very, very affordable.
To help you prepare for upcoming adventures, Pokémon Storage upgrades require 50% fewer PokéCoins starting the afternoon of Feb. 16–28 PST!
We're not quite surprised by this, but we would still like to get at least 1 free Storage upgrade.
European partnership with Uniball-Rodamco revealed
We've been on top of all the "German mall" leaks which are now finally taking their final shape. Starting February 18, around 10-15 new PokéStops and Gyms will be added to selected Uniball shopping malls all across Europe.
This is the list of malls that are receiving new PokéStops and Gyms:
Vienna, Austria—Donau Zentrum I Shopping City Süd
Prague, Czech Republic—Centrum Černý Most I Centrum Chodov
Copenhagen, Denmark—Fisketorvet
Paris, France—Les 4 Temps I Forum des Halles I Velizy 2 I Parly 2 I Aeroville I Rosny 2 I So Ouest I Carré Sénart I CNIT I Ulis 2 I Carrousel Du Louvre I Les Boutiques Du Palais
Dijon, France—Toison d'Or
Lyon, France—La Part-Dieu I Confluence
Nice, France—Polygone Riviera
Rennes, France—Alma
Lille, France—Euralille I Villenueve 2
Oberhausen, Germany—CentrO
Bochum, Germany—Ruhr Park
Munich, Germany—Pasing Arcaden
Leipzig, Germany—Paunsdorf Center I Höfe am Brühl
Berlin, Germany—Gropius Passagen
Mönchengladbach, Germany—Minto
Recklinghausen, Germany—Palais Vest
Gera, Germany—Gera Arcaden
Almere, Netherlands—Citymall Almere
Amstelveen, Netherlands—Stadshart Amstelveen
Zoetermeer, Netherlands—Stadshart Zoetermeer
Leidschendam, Netherlands—Winkelcentrum Leidsenhage
Warsaw, Poland—Arkadia I Galeria Mokotow I Galeria Wilenska
Wroclaw, Poland—Wroclavia
Bratislava, Slovakia—Aupark
Barcelona, Spain—La Maquinista I Splau I Barnasud I Glòries
Madrid, Spain—Parquesur I Equinoccio Park
Valencia, Spain—Bonaire
St. Sebastian, Spain—Garbera
Badajoz, Spain—El Faro
Cadiz, Spain—Bahia Sur
Valladolid, Spain—Vallsur
Sevilla, Spain—Los Arcos
Stockholm, Sweden—Täby Centrum I Mall Of Scandinavia I Nacka Forum I Solna Centrum