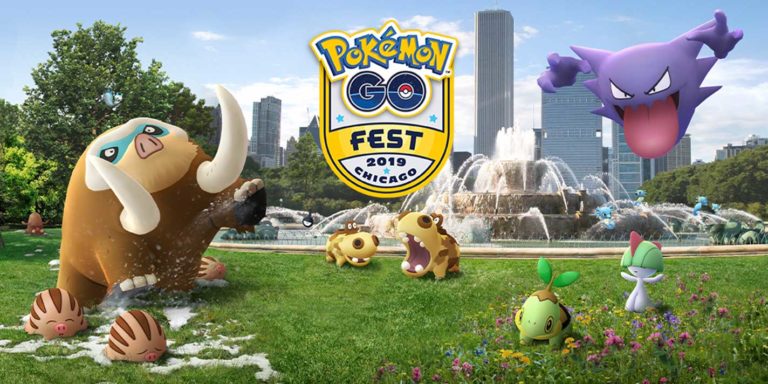 Trainers, meet GO Hub at GO Fest! With Chicago's Annual Pokémon GO Fest right around the corner we thought it was just the right time to announce GO Hub's part to play in it! Not only is GO Hub going to be at GO Fest, but we have a few other special announcements to share with all of our readers!
GO Hub at GO Fest Index
Segment:
Featuring:
GO Hub Appears
GO Hub attending Chicago's GO Fest 2019
Meet the Team
The GO Hub Team members that will be assisting this year
Exclusive Merch Giveaways
An Exclusive GO Hub Bag Giveaway with instructions and a few other exclusive merch items
Finalization
Closing thoughts and links to everything GO Hub related
That's enough of an introduction, let's get to the good stuff!
---
GO Hub Appears
The very first thing that GO Hub has to announce is that we will be making an appearance at Chicago's GO Fest 2019! Throughout the entirety of the event, you'll be able to encounter different members of the GO Hub team inside of Grant Park. This means not only getting to meet some of your favorite Hub Writers, Discord moderators, or famed Zeroghannis, but getting to truly know the people that help bring GO Hub to all of you.
During the event, GO Hub representatives will be there to partake in the fun, handing some merch out, having giveaways, taking some GOSnapshot photos, catching, battling, trading, and much more!
GO Hub is going to make a bigger impact at GO Fest than ever before, so be sure to show off all of your GO Hub love on social media.
---
Meet the Team
Like mentioned, Chicago's GO Fest is going to give you the chance to see GO Hub in-person, and of course, the GO Hub team couldn't be any more excited to meet all of you! Not sure of who to look out for? Here's the GO Hub team that you might encounter while at GO Fest this year.
To introduce ourselves we figured we would tell you about ourselves and even show off some of our favorite Pokémon (Some photos were removed or changed as requested by the individual)!
The Zeroghannis
The Zeroghannis are a talented bunch that makes sure the lights are continually shining around the Hub, making sure that everything is running at full speed and looking for ways to make GO Hub bigger and better at every given moment.
Zeroghanni ABSOLutelyPerfect
"Many may know me as ABSOLutelyPerfect, but I sometimes go by Motha'Tude.
I'm a Mother, Creator, and Lvl 40 PoGo player who loves her GO Hub staff to the moon and back!
Although I have eyes for several Pokémon…all da bebes, Absol, Umbreon and more…Shiny RayRay is Bae! 'RayRay ALL DAY!'"
Team: Mystic
Favorite Pokémon: Rayquaza (Shiny)
Zeroghanni Pac
"'Float like a butterfly, sting like a bee. His hands can't hit what his eyes can't see. Now you see me, now you don't. George thinks he will, but I know he won't.' – Muhammad Ali"
Team: Mystic
Favorite Pokémon: Beedrill
The Moderators
The Discord Moderators make up a big part of GO Hub. To give you some insight, GO Hub primarily communicates through Discord! Because of this, we need a strong team of Moderators to make sure everything is running smoothly on our day-to-day basis.
Gym Leader JulietShotRomeo
"Dreamer, risk taker, fun loving, outside of the box, creative, oddball. 🤟🏻🦄 I chose Snorlax because he was the first Pokémon to truly impress me and get me into the game."
Team: Valor
Favorite Pokémon: Snorlax
Gym Leader CommunityValor
"I have been a massive Pokémon fan for as long as I can remember and in my first Pokémon game Totodile was my starter, and I have loved it ever since! Pokémon GO has led me to meet so many people and of course, led me to join GO Hub."
Team: Valor
Favorite Pokémon: Totodile
Ace Trainer Yveltal256
"Mystic player that bleeds blue💙. I love to travel and looking forward to meeting everyone in Chicago this week!"
Team: Mystic
Favorite Pokémon: Articuno
Ace Trainer AlexoftheNine
"Lover of all things Pokémon. I'm always looking for new adventures and enjoy taking steps in other people's shoes. I think that is why I like Ditto so much because it can be anything it wants to be."
Team: Valor
Favorite Pokémon: Ditto
The Writers
The writers are what gives the Hub the fuel it needs to go on, they are the ones behind all the content you read on the website, from guides to news, to leaks, to concepts, and everything in between, without them there would be no GO Hub!
Hub Writer AutumnalKitsune
"Hi, I'm AutumnalKitsune. I often go by Kristy or Kit, sometimes Autumn. I am a long time Pokémon fan, especially enjoying the competitive scene in the main series. My favorite Pokémon since I was little has always been Eevee. I own a lot of Eevee merch; stuffed animals, piggy banks, keychain- even a handcrafted, ceramic, Eevee tile. I guess you could say I am an Eevee fanatic. My favorite legendary, and feature of my AR photo, is Latias. Ever since the Pokémon Heroes Movie, I always thought it was absolutely adorable. Plus, competitive Latias is great to use <3 I enjoy writing very much, and I am happy to be a part of the Go Hub Team, sharing guides and tips for players around the world."
Team: Mystic
Favorite Pokémon: Latias (Loves Eevee too!)
Hub Writer FitzCity
"I've been very passionate about Pokémon ever since I was little. Ho-oh hasn't always been my favorite Pokémon, but over time it grew on me. The phenomenal colors of its shiny form catches the eye. Not only that, but it also created the Legendary Beasts and has access to one of the most powerful Fire moves of all – Sacred Fire. Out of all the Legendary Pokémon, I feel it is the most discreet. Now if only they can make Ho-oh more relevant in Pokémon GO (haha)!"

Team: Instinct
Favorite Pokémon: Ho-Oh
Hub Writer JorroTreul
"A pretty fun and happy sort of person. I get along well with most kinds of people, and I like to try to see the good in things. I love cats and cute things. And Dunsparce is my Pokemon of choice because I have had a long history with it. It all started in Dark Cave in Pokemon Crystal when I was a little child… ask me about it sometime :)"
Team: Instinct
Favorite Pokémon: Dunsparce
Hub Writer BedelTheBard
"I'm a goal-driven, ambitious person [any other Slytherins out there?] and I chose Piplup because I absolutely love penguins, and it's dedication to contests in the show is the same dedication I try to live every day. 💪🏻"
Team: Mystic
Favorite Pokémon: Piplup
Hub Writer mfitzmau
"Lvl 40 Pokémon Fanatic living in Atlanta. Loves raids and hunting down nests. I picked Bulbasaur because it was my original starter 21 years ago, and that specific one was my PoGo starter."
Team: Mystic
Favorite Pokémon: Bulbasaur
Hub Writer Josh Provines
"Hey there! I'm Josh. I've been a Writer at GO Hub since December of 2017 and have since then been trying to help build up the site by writing guides, showcases, overviews, and much more. If you see me at GO Fest, then let's hang out! I'm more than ready to battle, trade, and catch with all of my fellow Trainers.
I chose Lombre because it's the perfect combination between my favorite cultures, my Mexican background, and inspired by the Japanese Kappa!"
Team: Instinct
Favorite Pokémon: Lombre
Special Guest
Not everyone going with the GO Hub team can be found around the site, but they do play a big part in making GO Hub bigger in the worldwide spectrum. Because of this, we can't forget to introduce them as well; they are just as much GO Hub as us!
GO Hub LATAM's DiegoNidosArg
"I'm 32 years old, from Buenos Aires, Argentina and admin of Pokémon Go Hub LATAM. I chose Gyarados because I love the story behind it. There's an ancient Japanese tale that talks about a weak (but perseverant) fish that climbs a waterfall. The gods saw this milestone and decided to transform that Karp into a giant and powerful dragon."
Team: Valor
Favorite Pokémon: Gyarados (Shiny)
---
Exclusive Merch Giveaways
Yeah, we're going to GO Fest, but what does that mean for you, the readers? Well, we don't want to show up empty-handed, so to get all the GO Hub viewers out there ready and hyped for GO Fest we are going to be hosting a few Giveaways and Prizes for everyone!
GO Hub Buttons and Bracelets
If you see one of the GO Hub Staff Members (Rocking a GO Hub Shirt and GO Hub merch) out in the wild, feel free to go up to them and ask for a GO Hub Button and Bracelet, they'll be more than happy to give you one of them!
GO Hub Bags
I know that everyone is taking a clear backpack to Go Fest, but wouldn't you like something extra for taking your Pokémon or Niantic Merch in? How about for throwing your waters in? Maybe even set it up as your go-to battery pack bag? Whatever the reason may be, GO Hub's got you covered! To get the chance of obtaining one of these exclusive items, be sure to follow the instructions below.
1 – Search on our Twitter page for the exclusive Keyword
2 – Starting at 10:30 AM find a GO Hub Staff Member at Buckingham Fountain
3 – Whisper the exclusive Keyword to one of the GO Hub Staff Members
4 – Take a GOSnapshot photo showing off the GO Hub Bag (Photo can be with or without GO Hub Staff Member)
5 – Post your GOSnapshot photo on social media using the #HubFest19 hashtag
6 – Ask a GO Hub Staff Member to verify your post
7 – Claim your exclusive GO Hub Bag
8 – Celebrate!
*GO Hub has permission to use your GOSnapshot Photo in future articles/showcases if you claim your GO Hub Bag
Finalization
Are you ready to meet GO Hub at GO Fest? Because I know for sure that we are all ready to meet you! GO Fest 2019 is bound to be a monumental event, pulling the very best parts of all previous GO Fest together and taking full advantage of the latest game features. Why are you going to GO Fest this year? Is it to catch Pokémon? Battle against Trainers from around the globe? Trade rare Regionals? Meet your favorite Pokémon GO Youtuber? Participate in the Global Catch Challenge? Whatever the reason may be, GO Hub is going to be there right next to you on every step of the way!
Let's make this GO Fest one to remember, have fun, and stay safe, Trainers!
Links and Notes
TWITTER: To find out what the Keyword is to claim your Exclusive GO Hub Bag, follow our Twitter Page.