Trainers, attention! March Community Day Pokemon is Abra! March Community Day takes place on March 15th and features triple Catch experience, an exclusive move for Alakazam evolved during Community Day hours and a chance to encounter a shiny Abra! Additionally, Niantic is bringing a new type of Community Day storyline experience, purchasable for US$0.99 and called Investigating Illusions.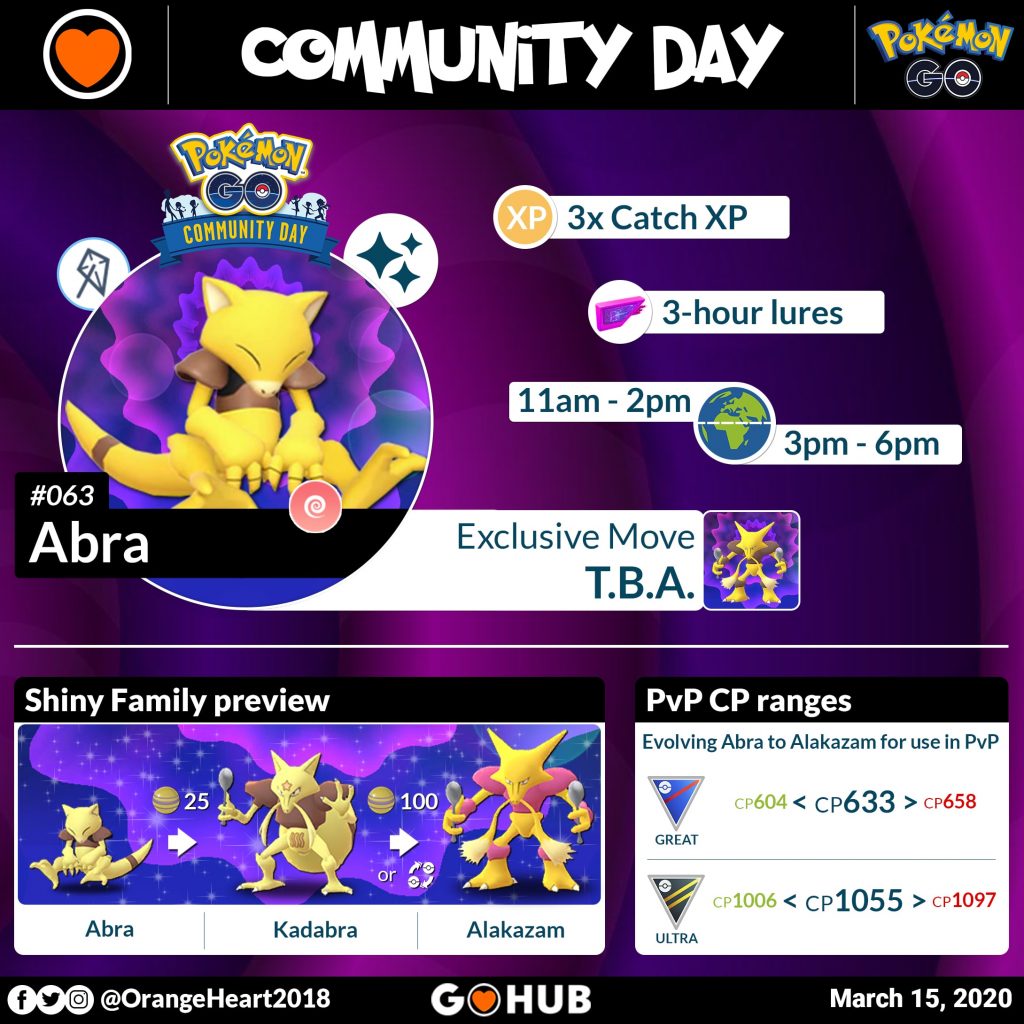 Date + Time
Northern hemisphere: Sunday, March 15, 2020, from 11 a.m. to 2 p.m. local time
Southern hemisphere: Sunday, March 15, 2020, from 3 p.m. to 6 p.m. local time
Features
Abra will appear more frequently in the wild.
Lure Modules will last three hours for the duration of the event.
If you're lucky, you may encounter a Shiny Abra!
Evolve Abra during the event or up to two hours afterward to obtain an Alakazam that knows an exclusive attack!
Bonuses
Abra Community Day special research story
For US$0.99 (or the equivalent in your local currency), you can unlock a Community Day–exclusive Special Research story—Investigating Illusions!
Complete it for:
13,000 Stardust,
a Poffin,
a Rocket Radar,
3 Incense,
and other rewards.
Stay tuned for when tickets go live! The ticket to this Special Research story event is nonrefundable.
Featured Pokémon
New shiny Pokémon
Fun fact
Niantic teased Abra on social media a week before announcing that it will be the March Community Day Pokémon:
🔮 #PokemonGOCommunityDay pic.twitter.com/VfY1HOH5HY

— Pokémon GO (@PokemonGoApp) February 25, 2020