Niantic's Campfire, an official Pokémon GO map and companion app, has launched a limited-time feature called Team Up that allows Trainers to host and join Raid Battles without using a third-party raid finder app.
The Team Up feature is being tested on an invite only basis, with invitations being given out via e-mail. Campfire's new Team Up feature will be testable from March 22 through March 29, 2023.
Niantic Campfire is an invitation only app that gives Trainers an opportunity to form groups, organise meetups and events, and organise Raids. The app is not widely used at this moment due to its invitation only nature and reduced feature set compared to other Raid apps like PokéGenie.
Campfire's new Team Up feature invitation e-mail
Here's the e-mail that was sent out to select Trainers across the globe, image and text: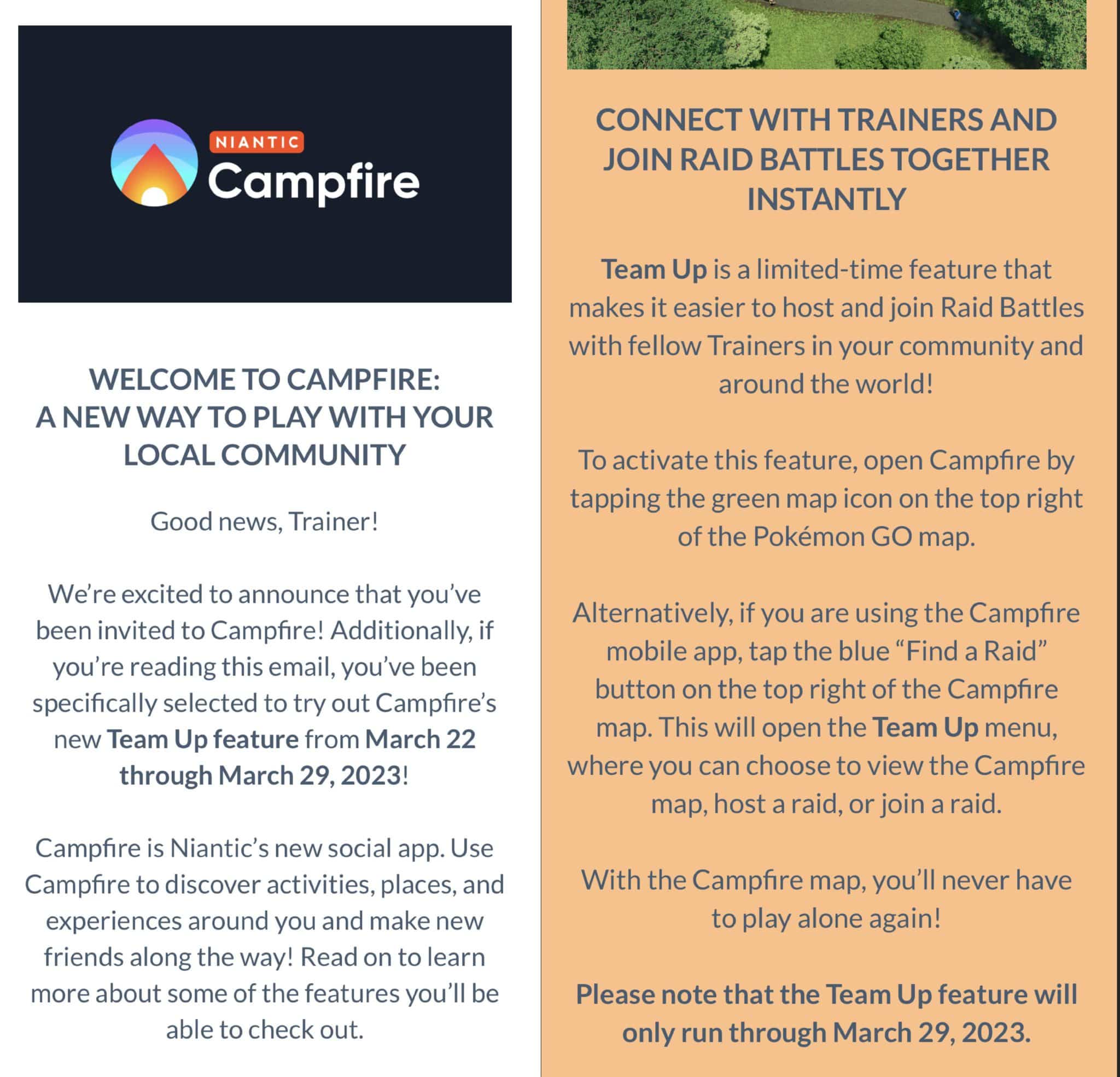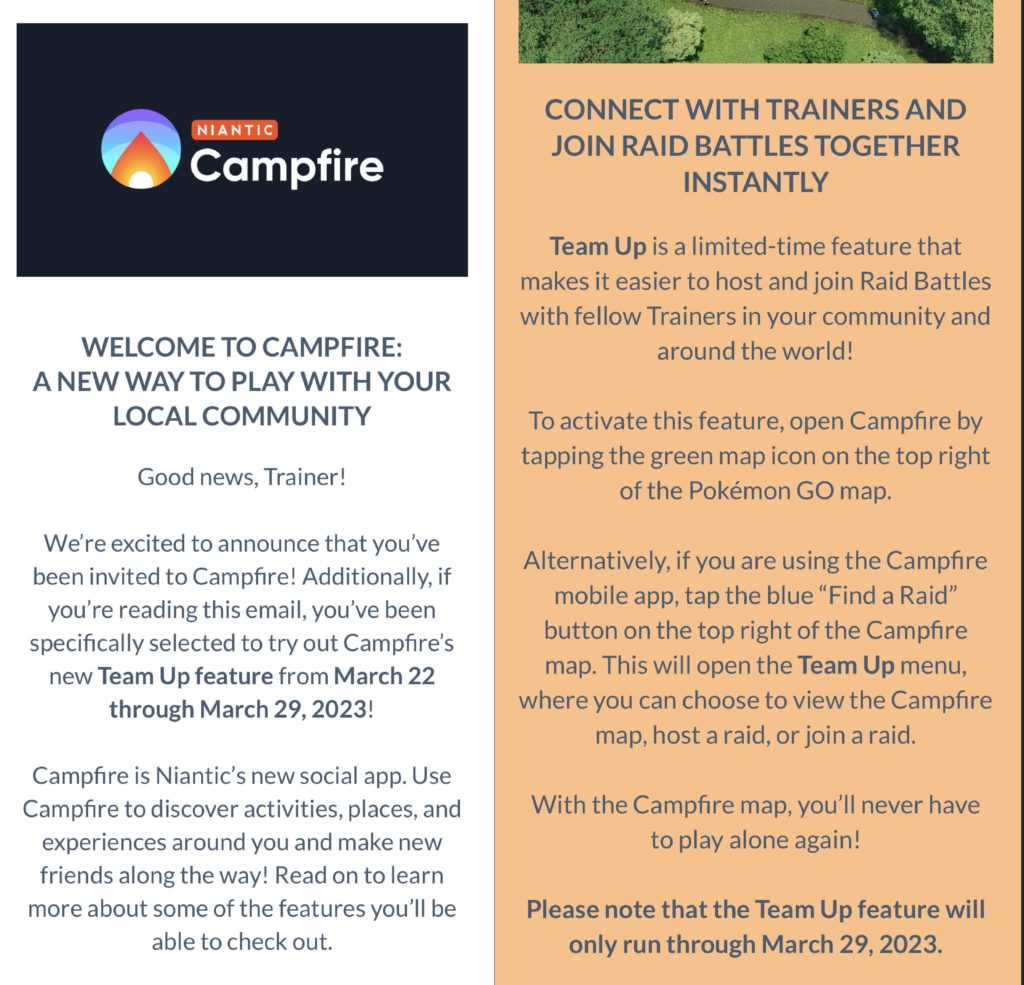 Team Up is a limited-time feature that makes it easier to host and join Raid Battles with fellow Trainers in your community and around the world!
To activate this feature, open Campfire by tapping the green map icon on the top right of the Pokémon GO map.
Alternatively, if you are using the Campfire mobile app, tap the blue "Find a Raid" button on the top right of the Campfire map. This will open the Team Up menu, where you can choose to view the Campfire map, host a raid, or join a raid.
With the Campfire map, you'll never have to play alone again! Please note that the Team Up feature will only run through March 29, 2023.
Campfire Team Up feature screenshots
This is how the new Campfire Team Up feature looks like. Unfortunately, we were not able to join or host any Raid Battles due to low activity on Campfire in our local community, so we are unable to report how the system actuially works.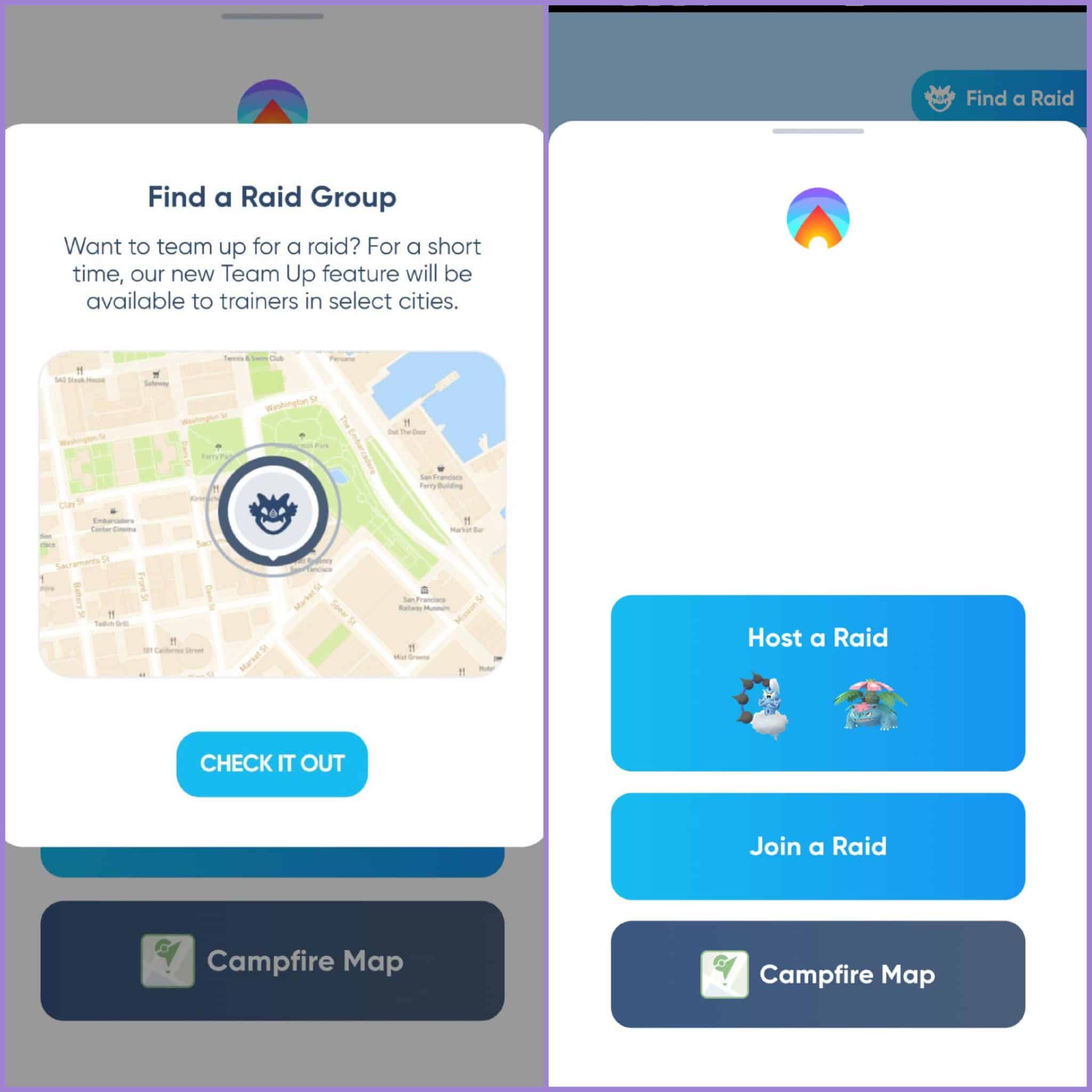 Honest rant on Campfire
When the author of this article saw that you need an invitation to test this feature, I was honestly wondering if I should write something or just ignore it. At this point, I am personally very frustrated with Campfire, Campfire invitations, and the likes of it all.
The app itself is invitation only, which means that a lot of people simply don't care about it, and rightly so – why would one spend time to get an invitation if alternatives simply work without it?
Not only that, but after downloading the app, one cannot help but to feel a bit cheated, as Campfire's feature set is not nearly good enough for day to day usage. You can't find Raids, you can't push things around to Pokémon GO, the chat is clunky at best, and there is no Raid finding feature.
You could not find Raids and host Raids with Campfire before, and with the new Team Up feature being a time limited test, I honestly doubt a lot of Trainers will put in the effort and test it. I mean it will be gone in a week, so why bother?
What baffles me the most is the complete confusion, uncertainty, and lack of passion that seems to be centered around Campfire.
Campfire has been launched months ago, and has seen very low adoption – you need an invite to use it. Now, the invite-only app, is getting an invite-only, time-limited feature, that should have been in there since day one.
Is Niantic intentionally staggering growth and adoption? Why would one do that if the app revolves around widespread adoption?
I am just confused at this point.