The return of Pokémon GO Fest live events gave over 150,000 players a chance to connect and explore together in the real world, while making a meaningful contribution to the city economies of Berlin, Seattle, and Sapporo
Data from research firm Statista shows that Niantic's three flagship Pokémon GO Fest live events delivered a combined $309 million contribution to the local economies of their host cities in 2022, including total expenditure and associated increase in tax revenue.
Underlining the growing appetite for gaming community events in the real world, the combined impact was on a par with figures for Super Bowl LVI in Los Angeles County ($234-477m) and on an individual basis with the hosting of the UEFA Women's EURO 2022 tournament across nine host cities in the UK ($60m).
The research found that the three events collectively delivered:
$309m total local economic impact, including $79.6m of incremental tax revenue
150,000 participants with, on average, 85% traveling in from outside the host city
$650 average visitor spend
45%, on average, declaring a desire to return to the host city within 12 months
38m total Pokémon caught
10.2km average explored per Pokémon Trainer (player)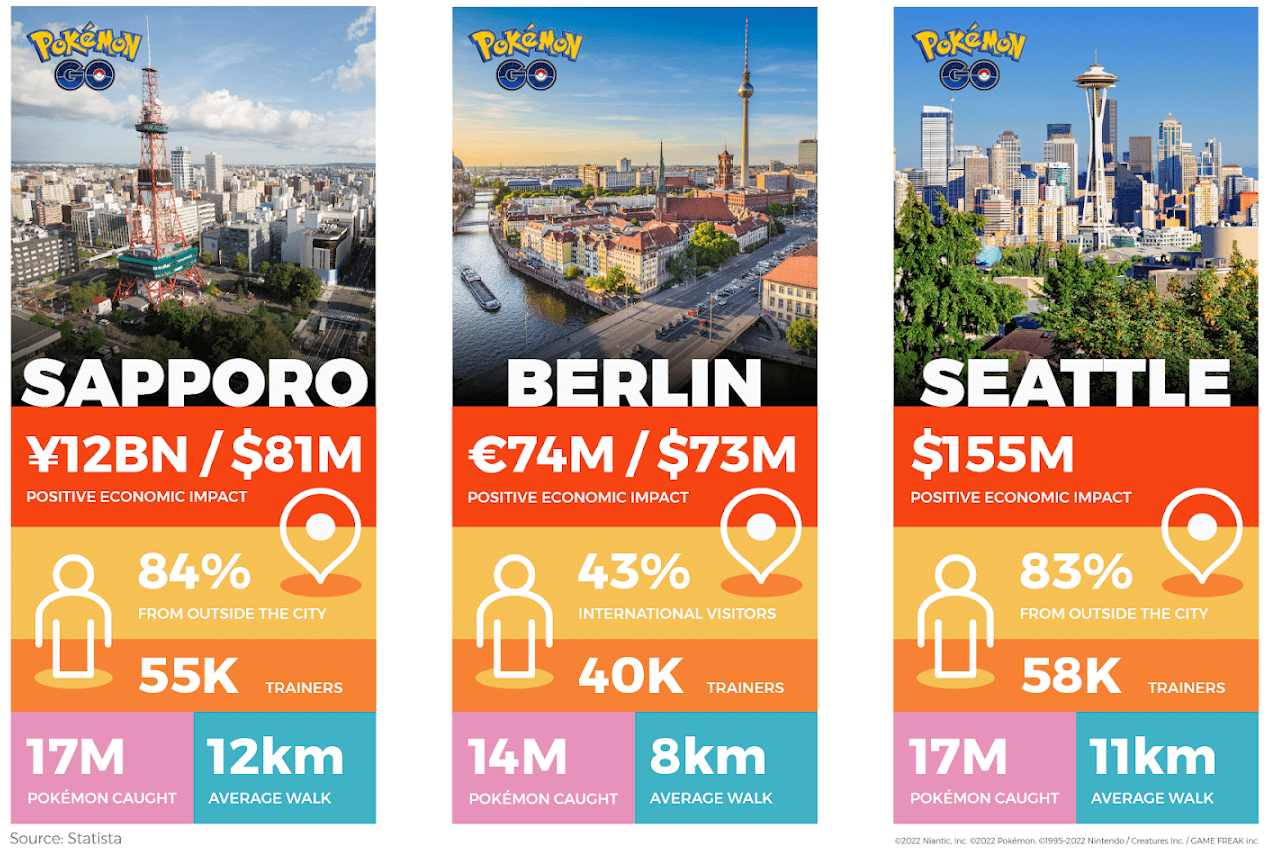 Pokémon GO Fest live events put a global spotlight on the host cities with tens of thousands of players traveling internationally and domestically to connect with each other and build their Pokémon GO communities. Trainers who attend are able to catch featured Pokémon and complete event-exclusive Special Research, all while exploring the physical venue and surrounding city.
"This year's Pokémon GO Fest events clearly resonated with the thousands of Trainers who traveled to new cities and countries to spend time reconnecting with other players," said Michael Steranka, Director, Pokémon GO Live Game at Niantic.
"It was a real celebration of the special Pokémon GO community and Niantic's mission to help people spend time outside and explore the world together. The very real financial benefit to the host city is the icing on top of the cake."
In Seattle, $114.7m was spent by over 58,000 Trainers, which delivered $40m in incremental tax revenue. The Trainers walked an average of 11km and caught a combined 17 million Pokémon. Of these Trainers, 83% traveled from outside the city, and 14% traveled internationally. On average, visitors spent $816, with restaurants, entertainment and shops benefiting the most. You can watch the event highlights here.
Pokémon GO Trainer Joe Landor (landoralpha) said: "Pokémon GO has given me more reasons than before to try new things and go to new places. The game creates an immersive relationship between Trainers and their environment. Pokémon GO Fest: Seattle was the perfect example for me. I'd never traveled to the city before, but Pokémon GO made it easy to get used to being in a new place, exploring areas I've only seen online or on TV. I had the opportunity to meet and interact with people that I've only been able to communicate with online through social media or content creation. It's not only game-changing, it's life-changing."
"On behalf of the City of Seattle, we were proud to host Pokémon GO Fest, which helped kickstart a vibrant summer of activities at Seattle Center's campus. With Pokémon GO Fest being one of the largest events we've seen in a decade, the three-day event was a major economic catalyst aiding in our pandemic recovery," said Robert Nellams, Seattle Center Director.
"With visitors flocking to our 74-acre arts and cultural campus, vendors and businesses benefited from the substantial revenue generated by the event. Seattle would gladly welcome back Pokémon GO Fest in the future in an effort to continue to create unique interactive experiences, fulfilling our mission in bringing together our diverse community."
You can read the full reports for each city here: