According to Google's Trends tool, Pokemon GO has nearly doubled in popularity over the past three months when compared to the rest of the year. Judging by the search volume registered by Google, it's evident that the interest for the game has been reinvigorated substantially, nearly doubling when compared to the previous quarter.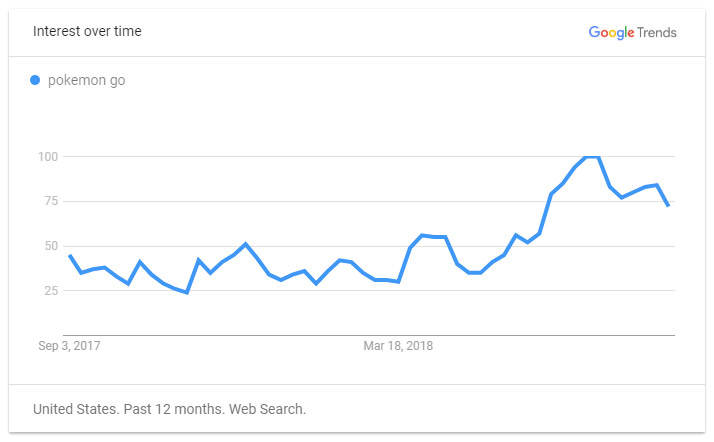 A similar pattern of interest growth was observed during the last summer, when Pokemon GO introduced a completely reworked gym system and the brand new cooperative game play system: raids.
Arguably, last years popularity spike was more intense, but also lasted shorter than the current interest spike: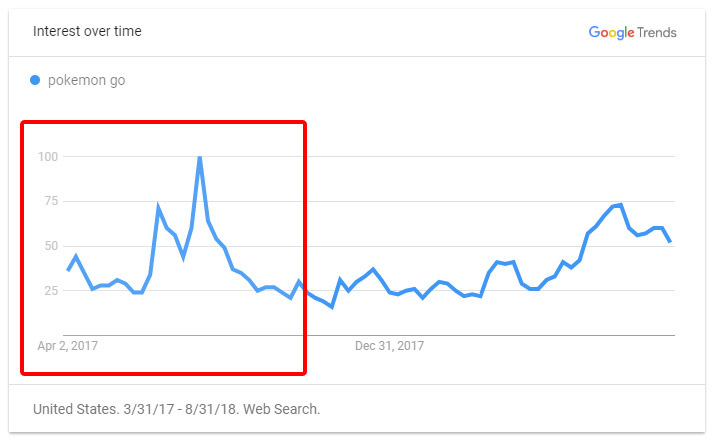 Unlike the current interest spike, the raids spike only lasted for two months – Jun 18 until August 12 2017 – when the game returned to previous popularity and interest levels. It's also important to remember that GO Fest 2017 was a large scale media event, covered from every angle and by almost every media outlet on the Internet.
For comparison, the current popularity wave started on May 20th and has been steadily in effect all the way through August, with similar expected curve throughout the following weeks (Ultra Unlock, Moltres Day, Community Day).
Patterns we've observed from the Google Trends console and our own data collection:
less frequent popularity outbreaks (typical for a maturing mobile game)
less frequent fast-or-famine search traffic, directly influenced by a steady stream of in-game events and updates
a large number of new, rather than returning, players
a large interest for catch-up articles and guides, but also a large interest for plan-ahead articles (example: Most important non-legendary Pokémon to look out for in Pokémon GO Generation 4)
the field research system has been the key driving force behind most of the Pokemon GO related search queries, rather than raids
search queries related to raids are still very popular
Similar trends were observed on Youtube, with Pokemon GO searches gaining popularity during summer months and following almost-the-same curve pattern as shared above.