The Oceania International Championships has come and gone the other week (17th-19th Feb) and marked one of Australia's biggest Pokémon events to date. The VGC, TCG and of course Pokémon GO were all played simultaneously at the Melbourne Convention and Exhibition Centre. With thousands of dollars on the line, players far and wide gathered to display their skills in an exhibit of pure talent.
This was an adrenalin-filled event from start to finish which showcased a competitive side of Pokémon GO that many players did not even know existed. I was fortunate enough to be able to participate in this momentous occasion and I'll be going through my personal experience.
Arriving in Melbourne from Perth on Thursday the 16th, I managed to have an early catch-up with a handful of the competitors to check in and receive our registration packs which were full of various OCIC-themed merch which included card sleeves, a deck box, pins, a hat, a Pokémon card, a competitor lanyard and a mouse mat! Not too shabby, Krabby.
After receiving our welcome pack and getting to know one another, a few of the competitors then made our dinner at the Merrywell which was a great experience to properly be able to chat with friends that I have known online for years and to give us the opportunity to be able to relax before the big event.
The following day was the beginning of the VGC and TCG competition, which gave us GO players a chance to do our final preparations before the GO section of the event started for us. We were able to soak up the environment and view the main stage, seating areas, prize wall and all the Pokémon-themed décor.
After we had soaked up the atmosphere, we decided that it was time to eat. Melbourne is known for its stunning cuisine, so what better way to celebrate being together than with Dim sum. Quality food combined with friendly banter made this day one to remember.
Just as I thought I could finally relax after a long day out, I was asked if I could personally do an interview for the main live stream back at the convention centre which I was more than happy and honoured to do so. I was asked questions such as "What got me into Pokémon GO?" and "What my favourite Pokémon is", "What my favourite move is?" If you're interested in viewing this interview, a link can be found here.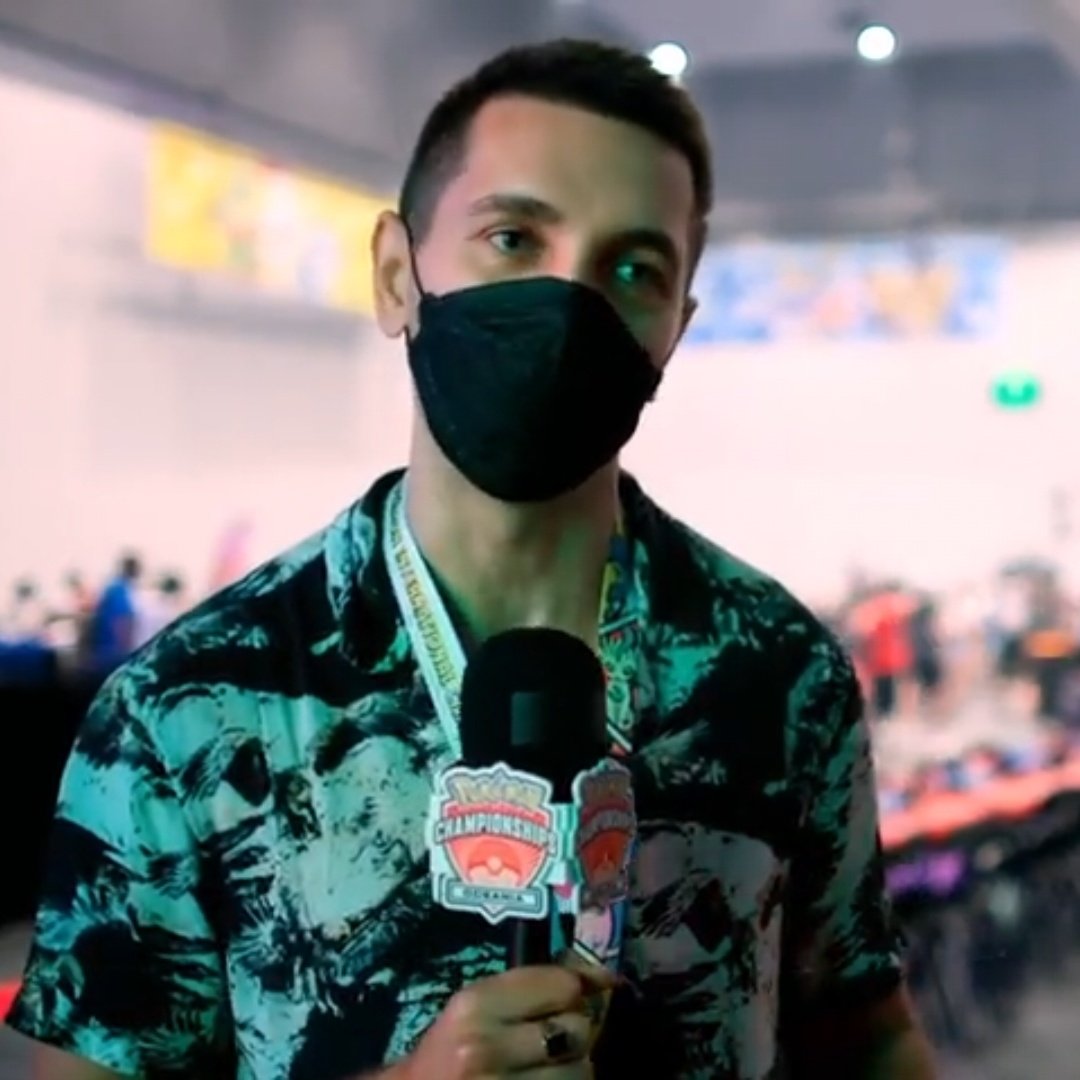 After this, it was time to get a good night's rest for the big day. The Pokémon GO portion of the event started at 9 am, however, players all gathered earlier to see the bracket and a planner of how the day would play out. Tension was high and after the official introduction concluded, players made their way to their designated seats to begin round 1 of the tournament.
This tournament was played in a double-elimination layout, which means that if a player was to lose a game, they are not out of the tournament yet as they get placed into what's called the 'losers bracket'. Players in the loser's bracket can still fight their way back into the winner's bracket and have a chance at winning the tournament entirely.
As you can imagine, each game was full of intensity. Energy management, move counting, shield baits, sacrificial swaps and game knowledge were essential to being victorious in this tournament since the players were all extremely proficient.
As the day went on, victorious players made their way up the bracket until there were only 3 remaining. FishOnAHeater, ValliantVish and YACOBERVITCH all had to come back the following day to fight it out at the grand final to see who would become the OCIC champion.
After shaking hands with competitors and taking various pictures with each other, a large majority of us made our way to the Munich Brauhaus to celebrate a successful day and to chat about our performances, it was time to finally relax and socialize with the crew. We enjoyed a various array of food and drinks while we chatted amongst one another. To finish the night off, we also got to enjoy a fun auto-wrecked tournament which was a great way to have some stress-free battles.
It was a pure example of what Pokémon GO is all about, gathering together with one another, making new friends and stepping out of your comfort level.
After the hangovers subsided, Grand final day was here. The 3 finalists made their way to the main stage to begin battling. As the crowd gathered, both in-person and on the PlayPokémon live stream, players were chanting and hyping up the competitors. The atmosphere felt similar to a sports game, the live crowd was reacting to each play and applauding each victory.
With each impressive play, the roar of the crowd could be heard throughout the whole arena, truly an unforgettable experience to see how far competitive Pokémon GO has come.
After several intense battles, there emerged a winner…
YACOBERVITCH managed to be crowned OCIC champion with an absolutely dominating performance!
What this meant now was that the top 3 players were able to qualify for the 2023 Pokémon GO World Championships in Yokohama along with a hefty cash prize too. Since ValiantVish had already secured his ticket to the World Championship for placing 1st at the 2023 Brisbane Regional Championships, his award automatically passed down to the 4th place player, AgentMagikarp.
And with that, the 2023 Oceania International Championship was concluded. A truly successful event with minor issues throughout the day. A massive thanks to all the staff that were involved throughout this event. Without them, none of this would have been possible. I'd also like to thank The Pokémon Company, Niantic, ESL Australia and of course, every competitor that showed up and gave it their best shot.
With each and every successful event like this, it's important to see how far Pokémon GO as an Esports has come. If you're interested in seeing my personal vision of the game years back, be sure to check out my article 'The Potential of Pokémon GO Becoming an Esport'. It's incredible how so much has come true and unfolded in front of us all.
If you're looking to get involved with one of these events, be sure to stay up to date with announcements to see if there is a Regional Championship coming up in your area. I would highly recommend participating in one of these if you can, even if you don't feel that confident in your battling abilities, it can still be loads of fun and the experience you get will be unforgettable. The best part about the Pokémon GO PvP community is that we are always down to help one another.
We hope to see you out there for the next Regional Championship. ⚔️
Until next time, Trainers.
–Adam 'Avrip'