The 2023 Perth Regional Championship was last weekend and was full of excitement and adrenalin from start to finish. The VGC, TCG and of course Pokémon GO were all played simultaneously at the Perth Convention and Exhibition Centre. Lots of prizes were on the line with the players fighting their way up the rounds to ultimately try and secure their spot in this year's Yokohama World Championship in August.
I was fortunate enough to be able to participate in this astounding event and will be going through my experience throughout the day discussing the main key points of the day.
Arriving Saturday morning, I was greeted by new and familiar faces that were also participating in this event. After making our way inside, we immediately found the Pokémon GO area where we were greeted by the new and improved iPhone 14's which players had to use to battle, a significant upgrade to last year's Perth Regional Championship. While we were waiting for the bracket to be finalized, we got to ease the competitive tension in the air by socializing and taking pictures to remember this occasion.
Before we knew it, the Challenge bracket was live and we were ushered to our designated seats where we would get the show on the road and embark on the battles ahead. From the get-go, the atmosphere shifted from a light-hearted environment to one of suspense and apprehension. As the day went on, winners from each round made their way up the bracket to the next round while players that lost found their way into the 'losers bracket' where they could attempt the challenging journey of fighting their way out of it by winning each game.
As the day went on, each and every battle felt harder and harder as the more experienced battlers made their way up the bracket. At this point, I had not lost a game yet and made it up to the semi-finals against FishOnAHeater, the second-place finalist at the Oceanic Internation Championship in Melbourne.
After winning 2-0, my mind was temporarily at ease and I went to get some lunch and fresh air. Moments after, I received a message saying that the semi-finals are in fact a best of 5 which we were both unaware of at this point. We both rushed back to finish our battles.
You can imagine the stress I felt of having to come back and continue battling after thinking that I had won this round. What made things even more stressful was that FishOnAHeater ended up winning the next 2 games which meant that the score was tied at 2-2 and that the next battle decided who would go onto the Grand Finals. By the 5th game, I was visibly anxious going into this game since a lot was on the line. Unfortunately for Fish, I had ended up winning the final match which came down to the wire, this meant that I had made it to the Grand Finals.
After this game, FishOnAHeater dropped down and had to verse the last remaining competitor in the losers bracket, Robdrogo. The winner of this made it into the Grand Final to ultimately verse me for the title of 2023 Perth Regional Champion.
Their battles were just as intense as the ones I just played. It ended up coming down to yet another 2-2 tie, and after a close game 5, Robdrogo came out victorious. What made this such a big deal is that Robdrogo and I were in the Grand Finals for last year's Perth Regional Tournament.
This is the first time in a regional tournament that the Grand Finalists from the same regionals would face each other yet again. Rob ended up beating me last year and was crowned Australia's first-ever Regional Champion, truly an impressive achievement and I was proud of the outcome regardless of placing second. If you'd like to check out the recap of last year's regional before we move on to the outcome of this year's Perth Regional, click this link.
As Rob sat in front of me to battle it out, it was a feeling I was all too familiar with. Rob and I are good friends even outside of the game and we even joked around saying 'Wouldn't it be funny if we were in the Grand Finals together… again?!', as they say, history repeats itself.
After locking in our teams for the first game, we could hear the live crowd we had behind us cheering and the excitement echoed throughout the whole room for this historic moment. Because Rob was in the losers bracket, it meant that in order for him to win the whole tournament, he had to perform what's called a bracket reset, which meant that he had to win a best of 5 against me not only once, but twice, an incredibly hard feat to pull off which I am all too familiar with from attempting to do so last year.
While Rob gave it his best shot, I ended up winning 3-1 which gave me the title of the 2023 Perth Regional Champion. This moment felt surreal, with the amount of incredibly experienced players that attended this Regional, I was surprised to come out on top and take home the gold. With the applause of the crowd, I exhaled a sigh of relief knowing that the competition was finally over and we could all relax and enjoy the rest of the day together.
After the tournament, we made our way out of the main area so that we could all receive prizes for our efforts.
The top 16 ended up receiving various prizes which included a certain amount of Pokémon TCG packs depending on their placement. The top 8 received an exclusive Pokémon Play Mat which said "Top 8" on it, the top 4 received a medal which had their placement on it, the top 2 received 2x Silver Tempest Pokémon TCG Booster Boxes and also an invite to the 2023 Yokohama Pokémon World Championship, 2nd place also received a cash prize of $250 and finally, for placing first, I received a 'Champion' Pokémon Play Mat, Champion Medal, 2x Booster Boxes, $500 cash and a travel award for the World Championship.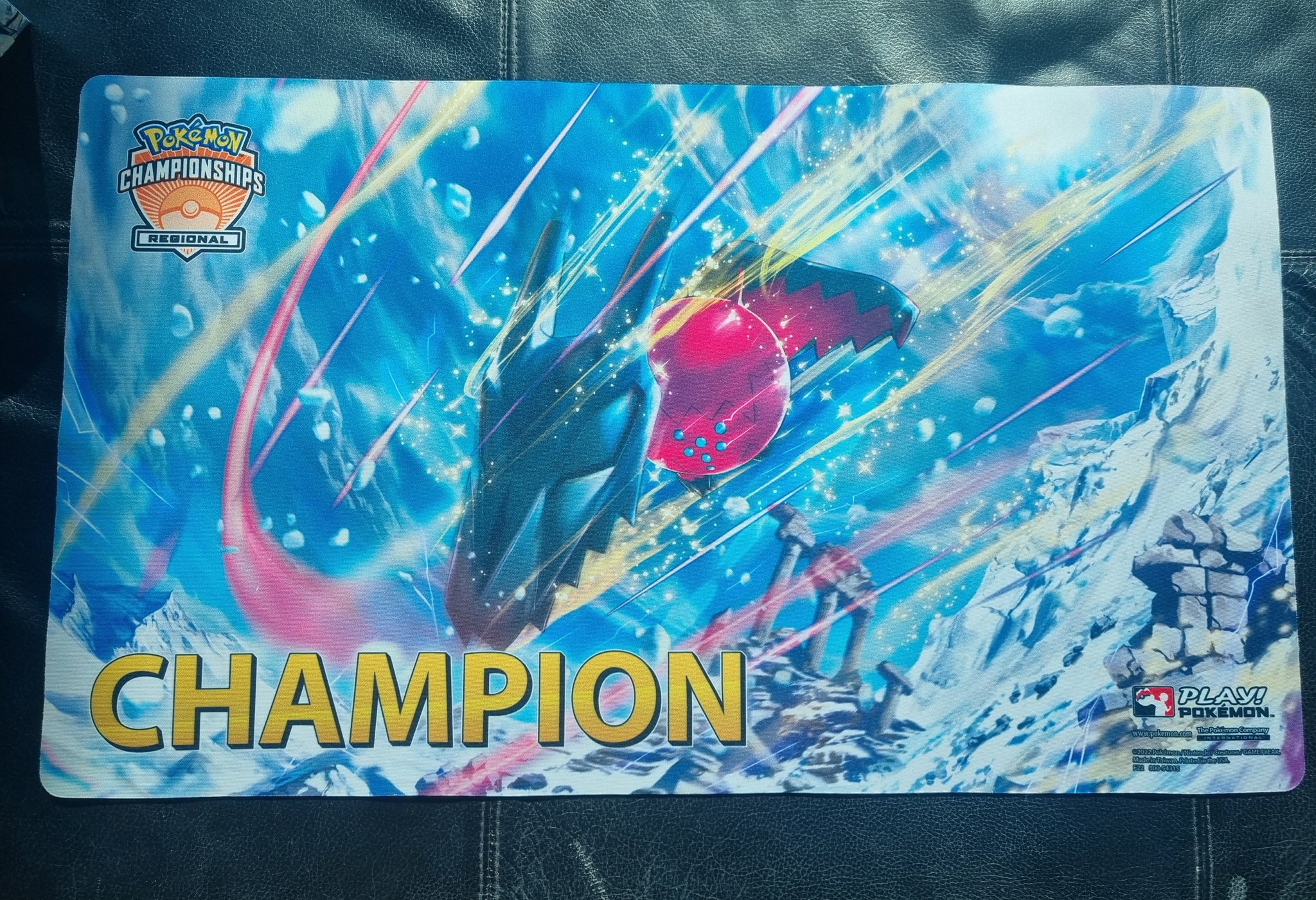 After congratulating one another for our efforts and taking various amounts of pictures, a group of us all decided to get lunch at an eatery called Ribs & Burgers in the city (prize for whoever can guess what kind of food they serve here).
After almost dropping sauce all over my Champion medal which I wore all around Perth, we made our way to Strike Bowling where we tested our skills on the alley. (shout out to @debbiepebble for changing my name to this 😅)

In the wake of sore wrists and other bowling-related injuries, we made out way to Pot Black to conclude the night by playing a game of Pool which proved to be just as exhilarating as the tournament. It was time to split our separate ways after this since the majority were exhausted after a long day. Truly a day to remember for the ages.
---
I would personally like to thank The Pokémon Company, Niantic, ESL Australia and everyone that participated in this Regional Championship. This was some players' first Regional event and after speaking with some, they found it to be an incredibly enjoyable experience and would recommend anyone, depending on your skill level to give it a go so that you can experience the atmosphere first-hand. Be sure to keep an eye out on social media to see if there are any Regional Championships in your area.
Special shoutout to Debbiepebble for taking most of these lovely pictures you see in this article.
With the Perth Regionals done and dusted, it's time to buckle down and practice until my fingers fall off so that I may be best prepared for the World Championships in Yokohama on the 11-13th of August. Be sure to mark your calendar, you will not want to miss any of the action. The competition will be fierce.
Until next time, Trainers.
–Adam 'Avrip'