hex_manifesto is an AR photographer whose work is bright, graphic, and almost HDR in appearance. Creator of the Hex Dex, and most recently exploring the idea of Pixelmon, combining pixel Pokemon with AR photography, we can't wait to find out more about this talented creative.
Hi hex_manifesto! First of all, tell us about yourself and where you are from.
Hi Kitty, Well for starters my actual name is Ryan. I'm a lover of so many nerdoms from Pokemon to Magic the Gathering, Star Wars to Dr. Who, J. R. R. Tolkien to Douglas Adams. I'm a pretty through and through nerd. I grew up on the Outer Banks of North Carolina but have been in Charlotte NC now since 2009.
How did you first get into Pokemon?
The Pokémon TCG in 1997 ish I was 10 then very shortly after when Pokemon Blue released in the US I got very into the main series games. I only played the TCG seriously for a few years before I got into Magic the Gathering, but I continued Playing the Game boy games forever and watched the Anime on a more casual level.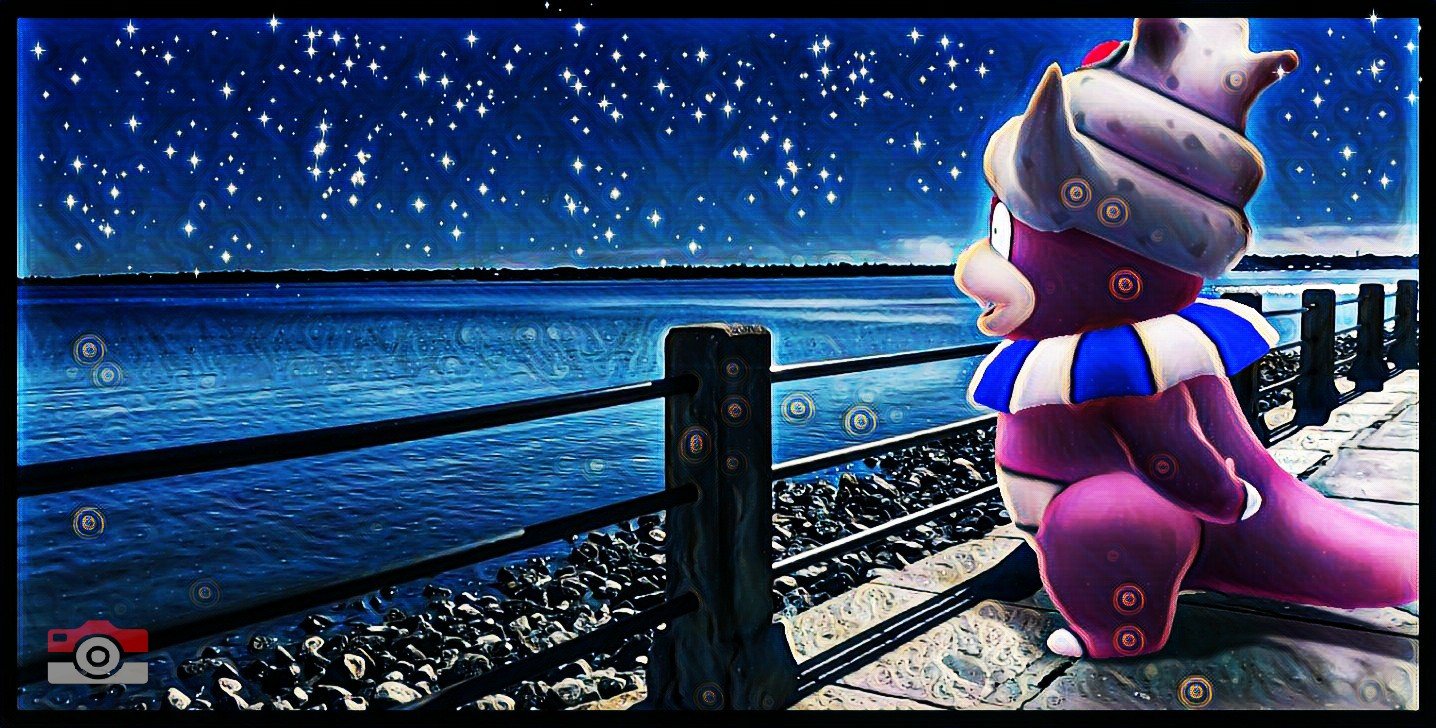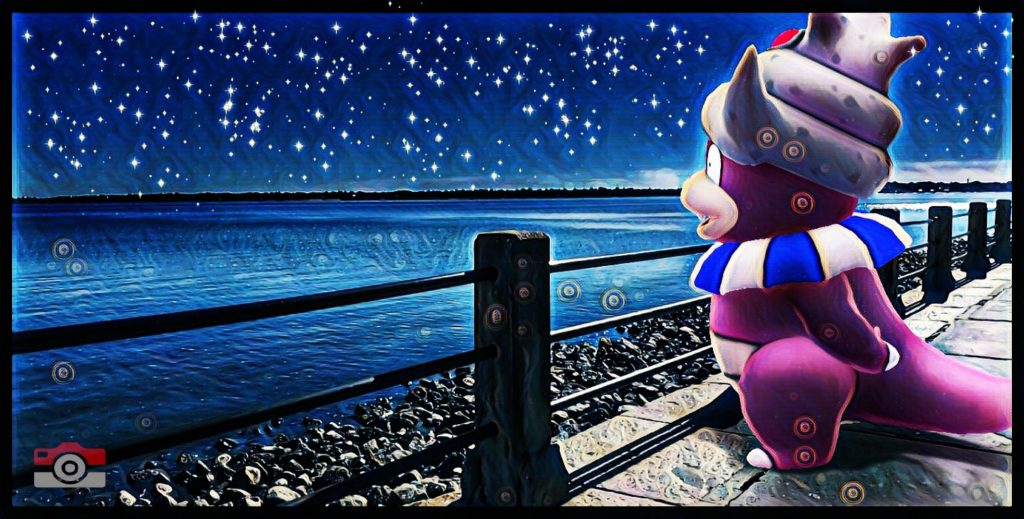 When did you start playing Pokemon GO, and who was your starter?
Day one July/6/2016, starter was Bulbasaur just like in Pokémon Blue.
What level are you currently, and which team did you pick?
Mystic for life!!! and currently 47 with 8mil/21mil xp to go.
Who are your favourite Pokemon and why? Are they also the Pokemon you like to use in AR?
All time favorite is Alakazam. Between nostalgia and just as a kid I thought psychic types were amazing but this guy had spoon tricks so shove over Mewtwo, Alakazam has my heart. Second is a massive tie for many different reasons from design to dope shinies and fun to use in games include Scizor, Venusaur, Metagross, Gigalith, and Decidueye to name a few. And yes I love AR ing them but I really love ARing all mon I don't take my personal relationship with them into account when picking who to AR.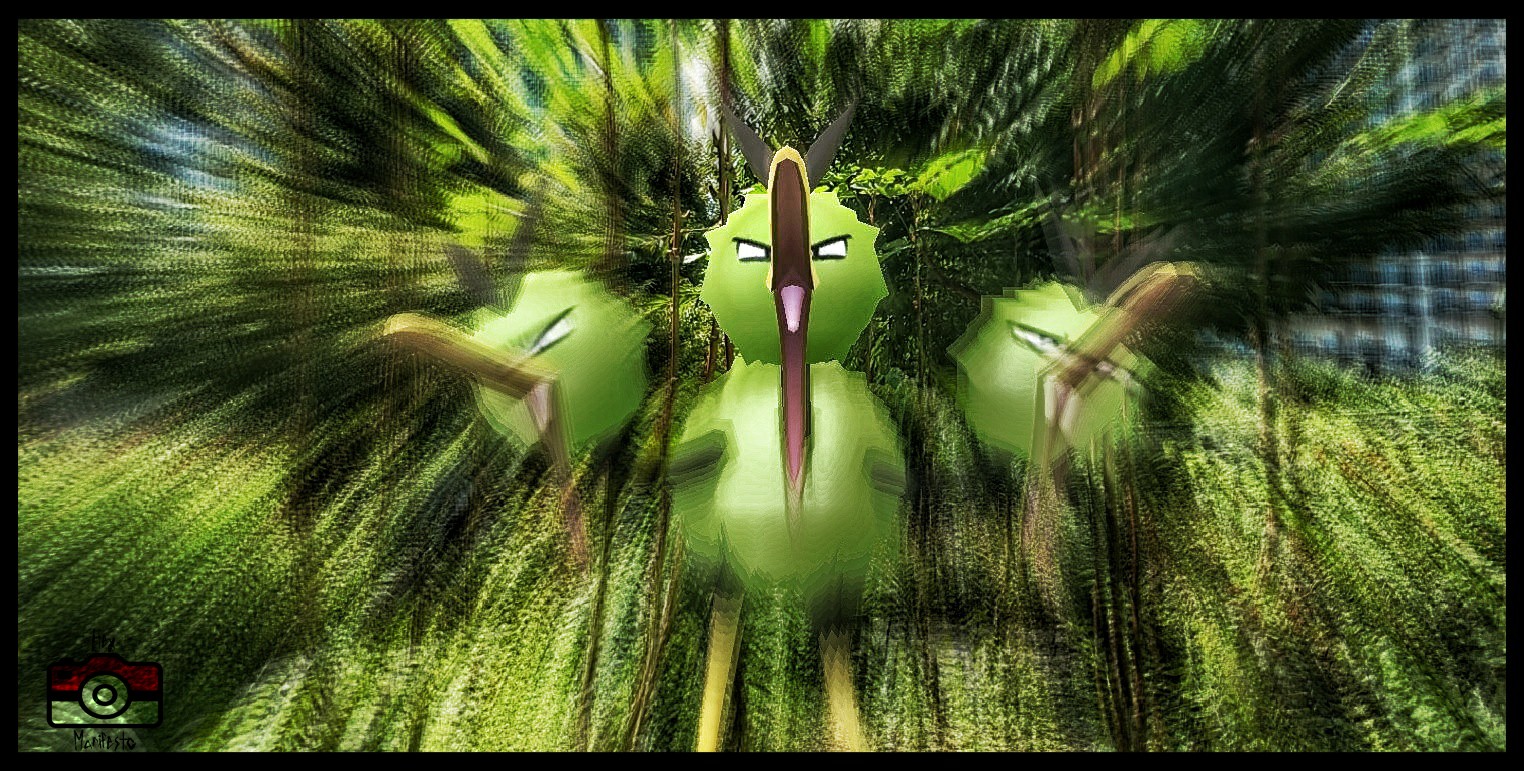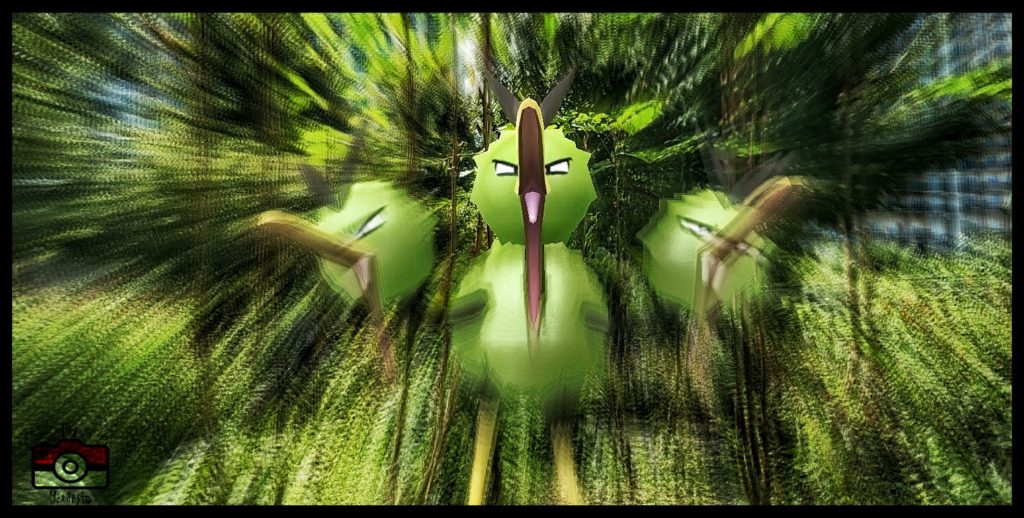 What phone do you use, and what apps do you recommend for the budding AR photographer?
I use the Galaxy 21 Ultra, and man what a powerhouse that phone is. My go to apps are snapseed and and Adobe photoshop mix. Other fun apps to look into to find you "technique" are Picsart, motionleap, and mirror lab all have cool effects to play with till you find your groove.
What are your favourite techniques to use in AR photos?
My favorite non editing techniques are mostly taking advantage of ultra low vantage points. By either laying on the ground or using a mini tripod I love getting as close you ground level as possible for more dynamic angles. I also love a good blur effect or Bokeh. Also catching natural lense flares. Its challenging because it makes the Pokémon look even more like a sticker most of the time but if you get a good one it's great.
Your Pixelmon series is a newer concept you've been exploring, tell us about that.
YES! I decided to teach myself pixel art this year. I dove in and got a drafting monitor and a bunch of online udemy classes and just started going. I thought doing pixel pokemon would be great practice for shapes and shading because the source material is already there so I can focus on technique and then I just started editing them into AR pics with the 3D versions of themselves. They look super cute and stand out from the rest. Though that is currently on hold as I found myself in the middle of a large pixel art commission already which was unexpected but exciting.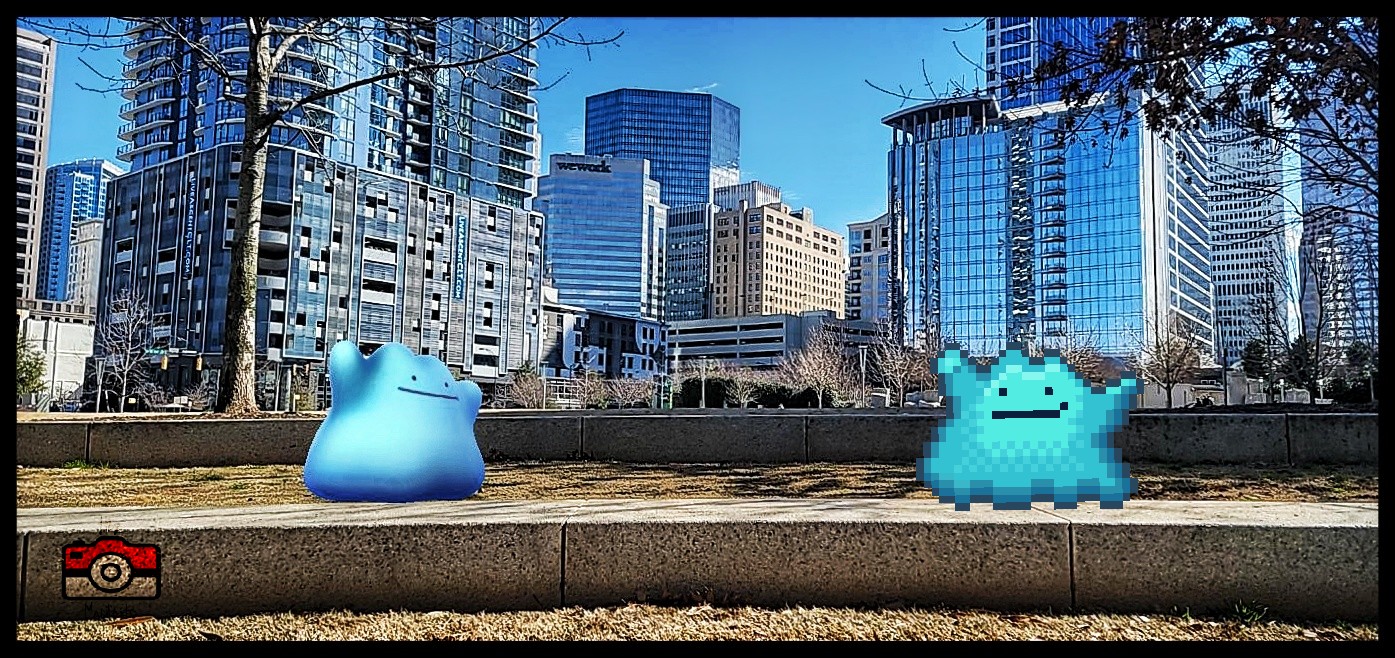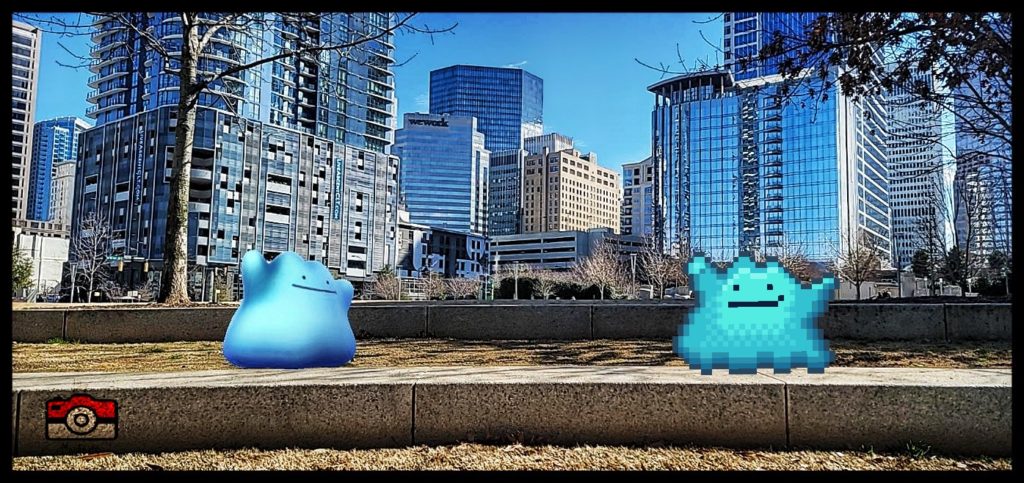 You live in a big city, how does that affect your AR photography?
Well mostly it means grass and water Pokémon always look out of place, I do what I can with our parks and fountains but I never have the gorgeous forest and large body of water pics some of my AR friends can get. The other issue is people. PEOPLE EVERYWHERE. I sometimes have to wait long periods of time for there to not be someone in my shot, or make peace in some areas that there's always gonna be at least something in the background I don't want. But it's all worth it for the super juicy high structure building pics I love taking. All the stone and brick and clean lines of city architecture *chefs kiss*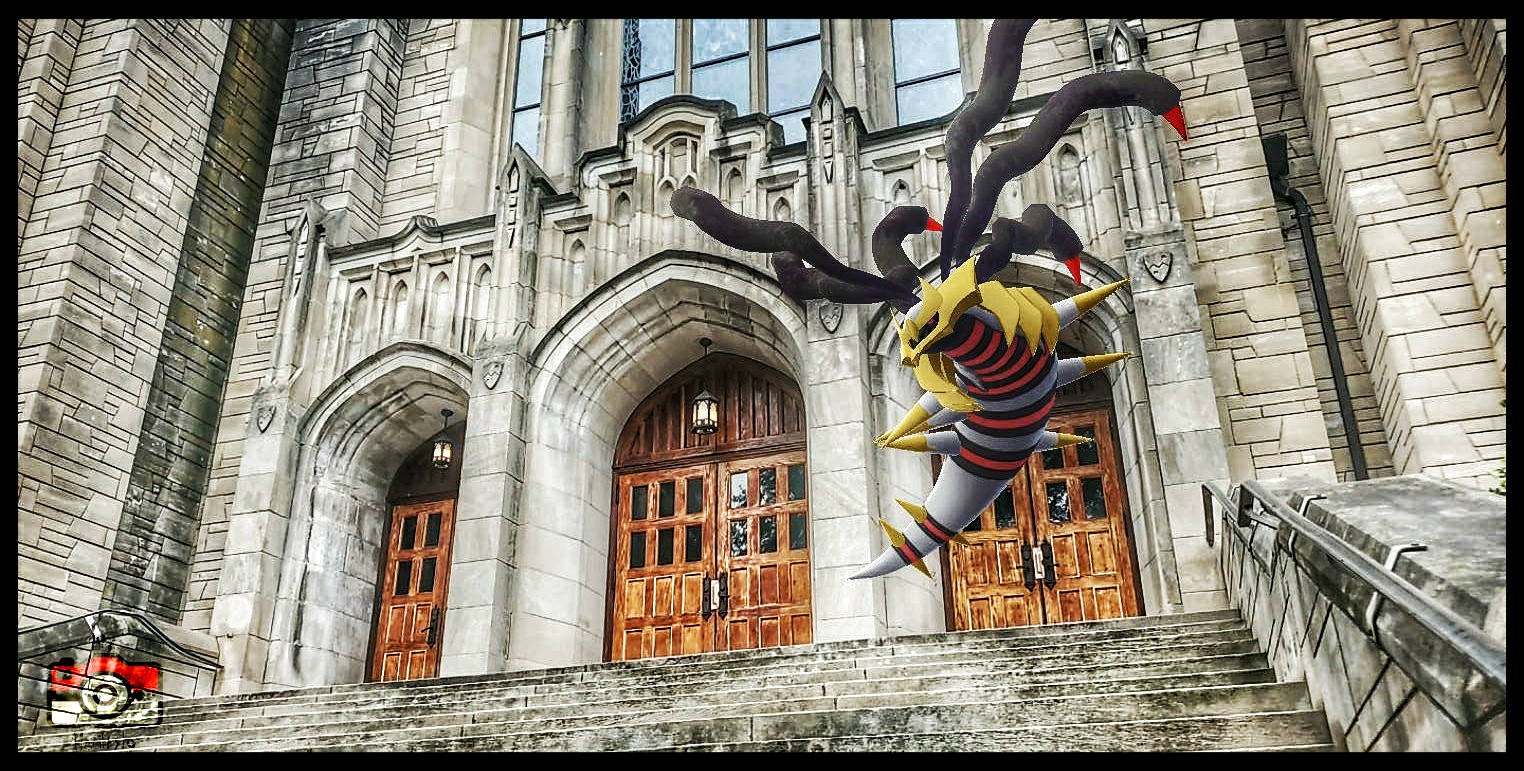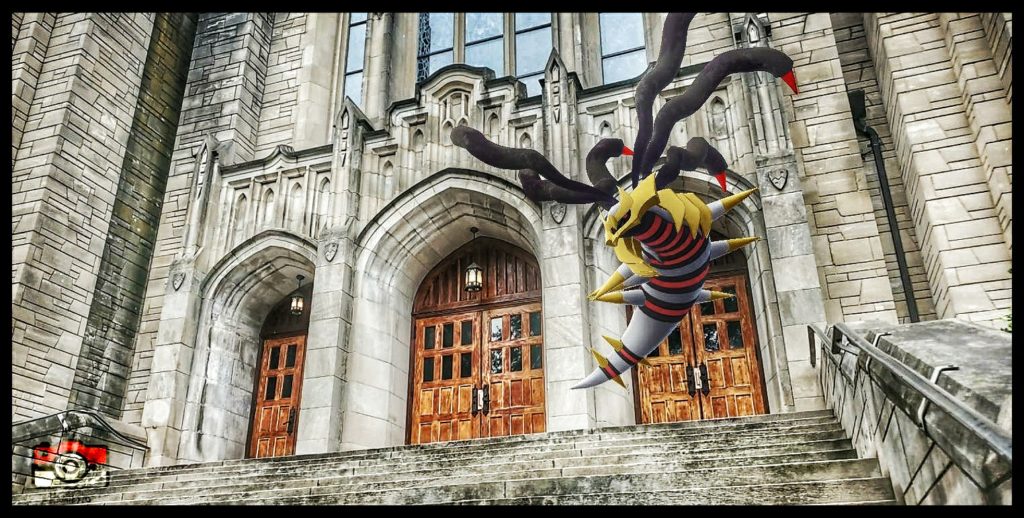 Do you have your first ever AR photo, and if you do, can we share it and hear about it?

I don't have the original image but it is on my instagram when we did the remake challenge. My first pic was this absolute garbage picture of magmar way way wayyyy back before gosnapshot and AR+. I like to think the remake shows both how far I came and the game has as well. Even that remake is now 2 years old too… maybe it's time for another update?
What are your favourite type of locations to work in?
My city is my favorite. even with its challenges like I said I love the high contrast and high structure edits that lend themselves to surfaces like concrete, stones, brick, steel. There is just always something to spark inspiration. Like a pop up art exhibit or a new mural or even whole new buildings!
What is your favourite AR photo you've ever taken?
Sheesh… I don't even know. It's such a hard question. Ill tell you my two favorite edits instead cause the photos I can debate for hours different merits for different ones. My two favorite edits are me #blackimon Azumaril and the reflection edit of shiny Charmander/Charizard.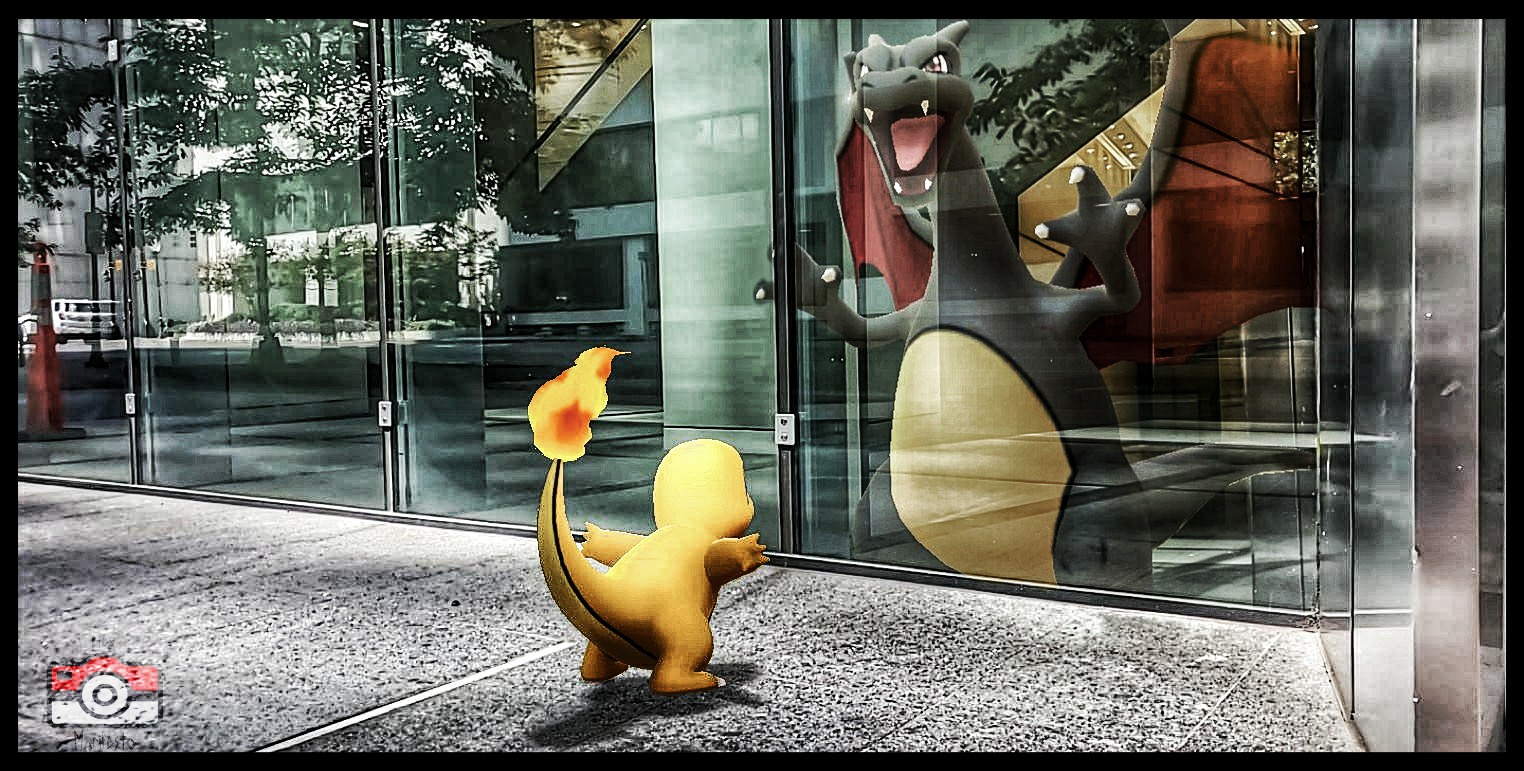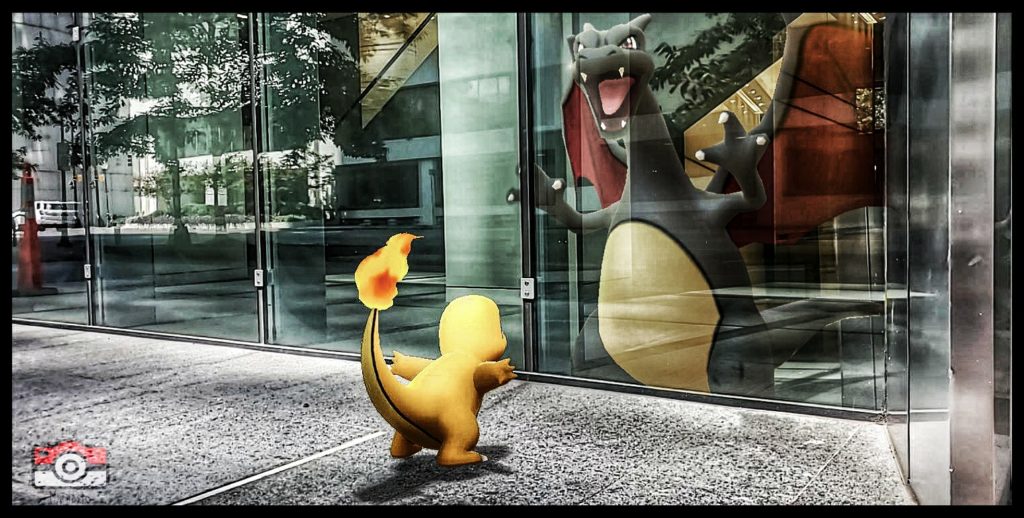 Where do you hope to see Pokémon GO and AR go in the future?
I had high hopes for the occlusion (reality Blending) but… it's just not there yet. I love the idea of Niantic acquiring these AR glasses companies. It would be so cool even though we would look like complete crazy people. also IDK how the AR photography would advance once we moved into glasses. as far as reasonable asks, I think a emote wheel of sorts to be able to have Pokémon do all their animations on command and a way to put out at least 2-3 different Pokémon out at once (without using group pic thing cause thats broke most the time too) would be my top of list asks.
Tell us about the Hex Dex, and what inspired it?
This seems like a good question to put here because ultimately the Hex Dex inspiration is what I saw the end goal for pogo AR being. more than just pictures but an actual way to scan wild Pokémon as you play before and after you have caught them. I then just worked out a way to edit everything I felt was useful information and overlay that all onto a gosnapshot with a kinda techy vibe.. people seemed to really love them so I just continued to do them from time to time. All the info in the HEXDex edits are 100% accurate to the Pokémon in the picture so i feel like it's another way to really get to know my virtual buddies as well.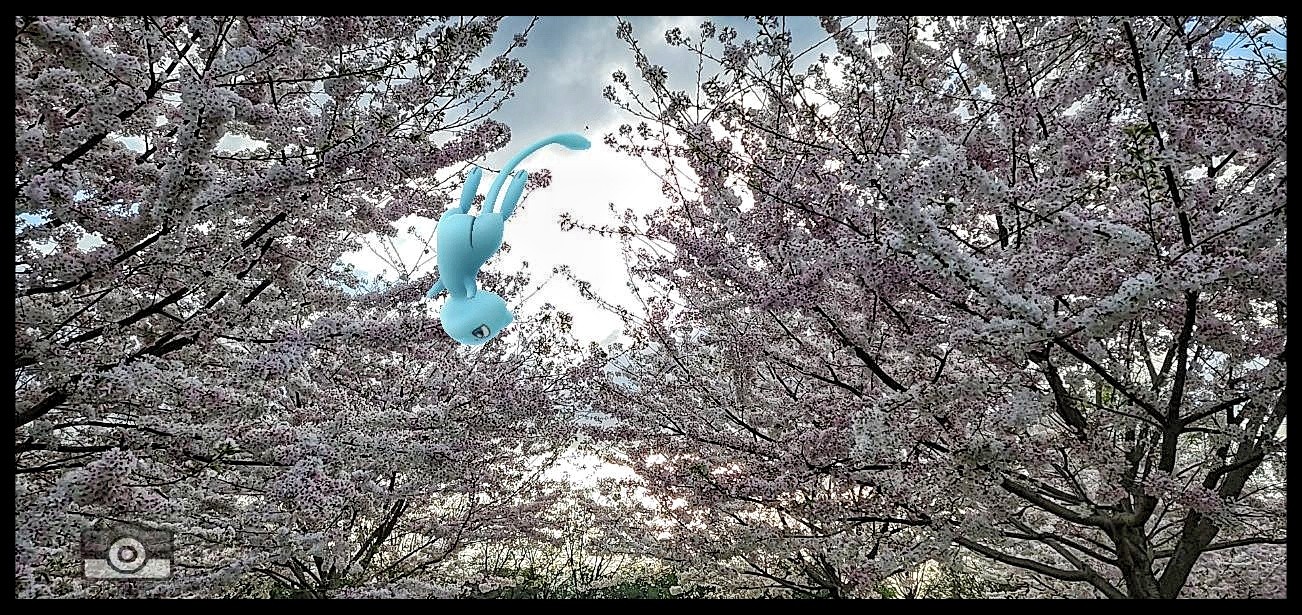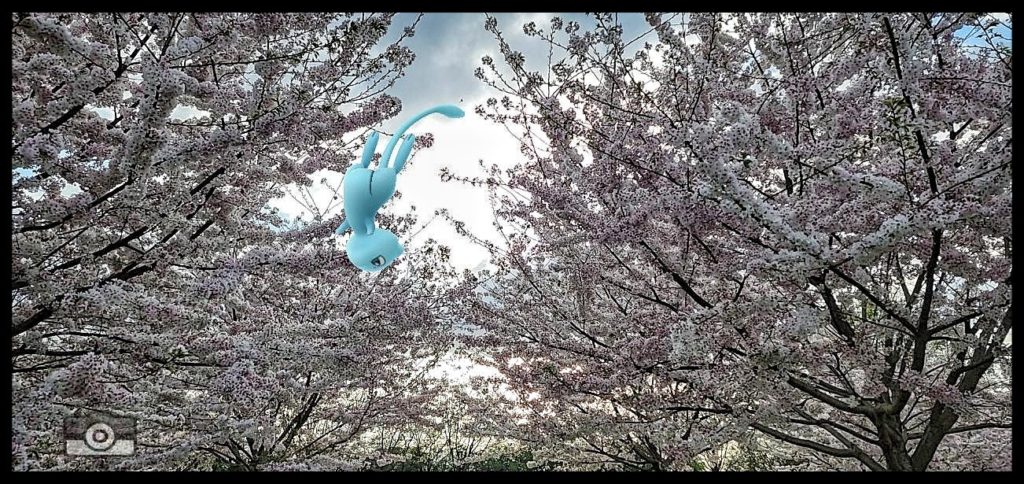 Which other AR photographers do you recommend following?
oh boy…. all of them, literally from the ones with 3 pics just starting to the hall of farmer OGs everyone puts out something different from no filter all natural to deep edits. If i have to give you a short list of people you may not already know about their instas are @enzogols @poke_lens @vampirex094 @pokesnaps_by_aaron and @pufftantrums and of course the whole #schoolofAR who puts in so much personal time helping newcomers and veterans alike with their tutorials.
And finally, where can we find you on social media?
You can find me on insta and twitter under @hex_manifesto and on Kofi too as Hex_manifesto where you can see more pixel work along with ways to support me/SchoolofAR