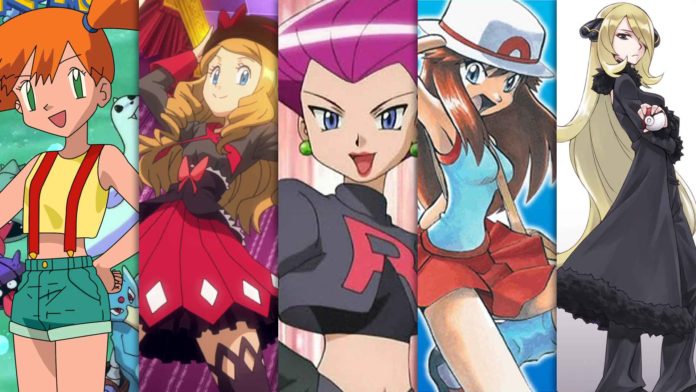 Let me start by saying, Happy International Women's Day to all of the hardworking, patient, kind, loving, badass women of the world! Obviously, the descriptors could go on and on but for the sake of time and relevance, I'll leave it there.
As we take today to celebrate women across the world, I'd like to take a moment to thank those women in the GO Hub Family as well as those who influence GO Hub as a whole. I'd also like to remind everyone that, although today is International Women's Day, women in your life should be celebrated each and every day. 😉
Liz George, Pokémon Go Global Community Manager
Liz is a powerhouse when it comes to the Pokémon Go Community. Her leadership of the Pokémon Go Influencers (i.e. YouTubers, news outlets, designers), tremendous presence on Twitter, willingness to help and direct Trainers queries on a regular basis is why she is the first on our list!
Thank you, Liz! For all of your hard work, dedication, and compassion towards the game and all who play it. Keep up the amazing work!
Pkmn Master Holly, Pokémon Go YouTube Personality
Pkmn Master Holly is a force to be reckoned with! With her brightly colored hair, friendly smile, and, most importantly, incredibly informative videos, it's no wonder she continues to dominate the female presence in the YouTube world with nearly 100k followers!
Thank you, Holly, for continuing to supply us with useful information and gameplay! We look forward to your future hunting and raiding adventures! PkmnMasterHolly's YouTube Channel
ZoëTwoDots, Pokémon Go YouTube Personality
ZoëTwoDots is a rising YouTube star hailing from Australia. After graduating from college and earning a degree in graphic design, she started her own YouTube channel as a travel blog. Once Pokémon Go was released, she found it to be a seamless transition to create helpful and enlightening PoGo videos due to her love of the game.
Thank you Zoë for your amazing work and dedication! We are looking forward to following your continued success and wish you all the best! ZoëTwoDots YouTube Channel
北山由里(Yuri Kitayama), Pokémon Go YouTube Personality
Yuri is another fast-rising YouTube star playing the Tokyo, Japan scene. With two years of enjoyable and informative content, she has quickly gained over 18k Twitter followers, close to 45k YouTube followers, and those numbers continue to grow every day!
Thank You Yuri for your incredible PoGo videos and infectious smile. We wish you the very best in your continued career with being an amazing influencer in the Pokémon Go community!
Yuri's YouTube Channel
KaitoNolan AKA: Solo Queen, YouTube Personality
KaitoNolan is the epitome of badass in the Pokémon Go world. She is known for focusing completely on raid battles. She has earned the nickname, Solo Queen, by regularly short-(wo)maning T3 raid challenges, and even a handful of T4's as well. Informative, insightful, encouraging, her videos are great examples of what a strong Pokémon team can do.
Thank you KaitoNolan for showing us that even though we can do well in teams, we have the strength and knowledge to dominate on our own! We can't wait to see what challenges you take on next! KaitoNolan's YouTube Channel
The Women of The Hub
This list is a long one, but dear to my heart, as I work with most of these women each and every day. This list of leading women isn't just that of Pokémon Go Hub, but also includes the sister sites of MetaHub and Wizards Unite Hub!
Amongst these women are: Discord Administrators, Moderators, Editors, Writers, Artists, and more! (this doesn't include everything they do in their day-to-day lives) Without them, the Hubs would be what they are today.
AutumnalKitsune– Discord Moderator/Writer/Queen of GO Hub haha!
Ayzo26[CoupleOfGaming] – GO Hub Artist and CoG's better half! 😉
Kidding Yaaya…we love you too!
Belle Brita – Witches Unite, Discord Admin/Writer for WUH

Dr. Rebecca/Reebecciosa – Discord Admin/Writer for MH & Moderator for WUH
JellyBean/TheWorstWitch – Discord Moderator/Editor for GO Hub & Moderator for WUH
JulietShotShines/HermoineHexedRon – Discord Moderator for GO Hub & WUH
MDanley – Discord Moderator for GO Hub
Squawkward – Writer for GO Hub
TealTimeTurner – Discord Moderator for WUH
To all of the women of The Hubs, Thank you. Thank you for all of your support. All of your hard work. For being there when we need you whether it's to write an article, proofread, talk nail color, or perhaps have a girl moment. I couldn't imagine a GO Hub world without each of you in it! Even though some of us may be thousands of miles apart, we are definitely family in my eyes and I wish you all the most AMAZING Women's Day and here's to many more!!
*Due to varying circumstances we regret that not every woman could be included on this list. However, that doesn't mean they aren't very much appreciated for all they do!
So, ladies…as Beyoncé would ask, "Who Run the World?" Keep doing what you're doing. Your passion and contributions to the Pokémon Go world are a true inspiration to us all and we hope that you continue to lead the way for any future generations of Trainers to come! #WomenForTheHub
*Editor's note – She didn't feel comfortable adding herself to the list of names in this article, so I'm invoking my editorial privilege. All of us here at GoHub would also like to extend our profound thanks to ABSOLutelyPerfect for all the endless hours of hard work she dedicates to helping us all grow as a website and as individuals. Who Runs the GoHub World? Absol!