Now the dust has settled, the suitcase (finally!) unpacked and the Pokémon Centre purchases displayed on my desk it's time to reflect on one of my personal highlights from the Pokémon World Championships 2022 in London.
Pokémon GO came, saw and truly conquered London at the Pokémon Worlds- it was visible on a global stage and everyone involved from participants to spectators to commentators put on a fantastic showcase of the PvP element of the game.
I have long been a believer that what makes this game is the people and the communities involved. Week after week local groups around the globe meet up to raid, trade, catch and battle. Some go casual and some go hardcore however underlying it all is an amazing sense of community and belonging.
Nowhere was this more so apparent than in a bar in London the Saturday evening after the first Pokémon GO World Champion was crowned. PvP trainers from all across the world joined together for one almighty celebration and boy was it a night to remember!
Prominent PvP players such as Kieng, Dailapcheung and Doonebug (and GOHub's very own Avrip) were there with Speediest Chief, Caleb Peng and 2OButters alongside approx 150 other trainers who were all celebrating the success of the Worlds.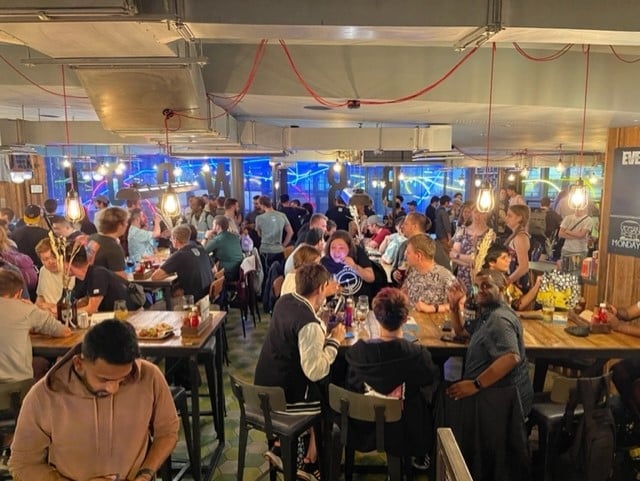 You may be thinking this was a corporate formal event but no- This was a social held by the community for the community. The organisers behind this were London's Finest- a PvP collective in the UK capital and when Adellion reached out to GOHub and asked if we would like to attend we jumped at the chance! After all, I really do believe that the people who play make this game what it is. They sourced and hired the venue, promoted the event through all their channels and via the PvP community and even had their own photographer and videographer in attendance (thanks to them for letting us use their photos).
Pokémon GO players from the UK, US, Canada, Brazil, Ireland, France, Germany, Czechia, Poland, Japan, Korea and Australia (to name but a few!) all met up in a bar in Canary Wharf for food and drinks. Laughs were aplenty, new friendships formed and amazing memories made.
By my own admission, the PvP aspect of the game is not one I have ever really taken part in so to be in a room with some of the PvP greats was a little daunting however everyone was incredibly friendly and welcoming- taking time for photos and chats about… well anything really! It truly was like being in a room full of people I had known a long time. The GOHub team came away from this exhausted but happy (our own candid snaps below)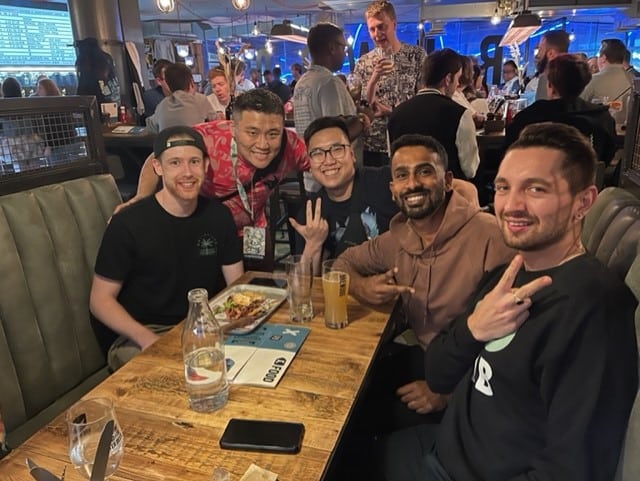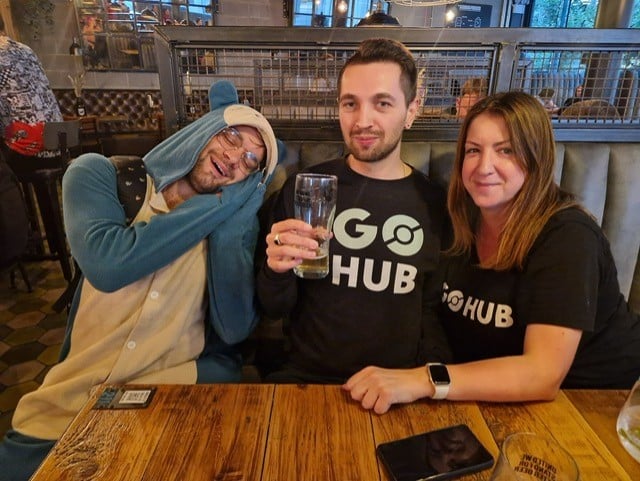 As a result of being Worlds and meeting the team behind London's Finest PvP collective and I have a newfound interest in the PvP aspect of the game and I will be trying out PvP this new season. If you, like me, are a bit "on the fence" re PvP I really recommend looking to see if you have a local group near you. I have found PvP quite daunting in the past however having made connections now and having people to bounce ideas for teams etc off has helped a lot.
If you are in or near London, the team at London's Finest is welcoming to all. Once the new Silph Season gets underway they will be hosting events every Second Saturday of the month and they can be reached on Twitter (@LDNsFinestPvP) and via their Discord server (https://t.co/88T7LJs2Wl)
How is the local community where you play? Do you have a fantastic supportive group- PvP or Raid wise? If so reach out to us here at GOHub- we are always looking for Pokémon GO groups and communities we can spotlight and talk to!
Until next time, stay safe and happy hunting Trainers!