This weekend at the Pokémon World Championship 2022 in London, we were lucky enough to have a pop-up Pokémon Center shop as part of the experience.
There were two options for visiting the Pokémon Center, simply turning up and queueing on the day itself, or booking an advance slot to guarantee you would be able to go in the store.
Myself and the other GOHub writers who attended Worlds opted to book time slots after seeing the chaos of the previous London based pop-up Pokémon Center which saw people queueing for hours and hours to try to get in.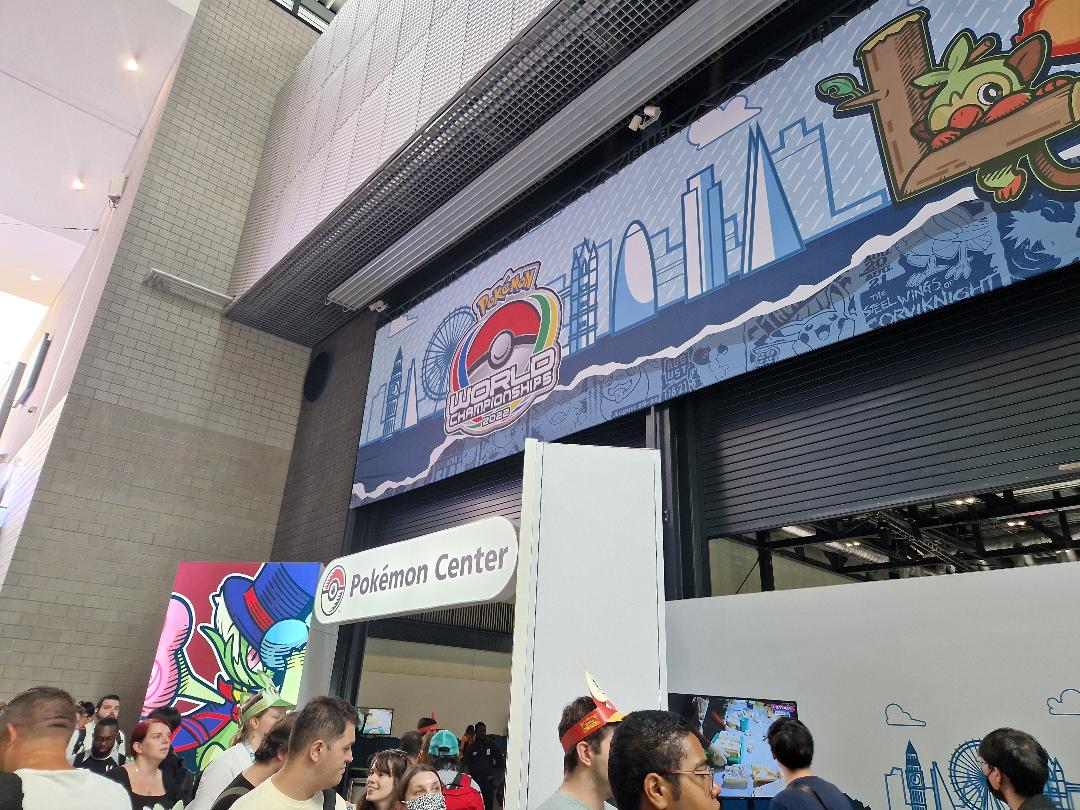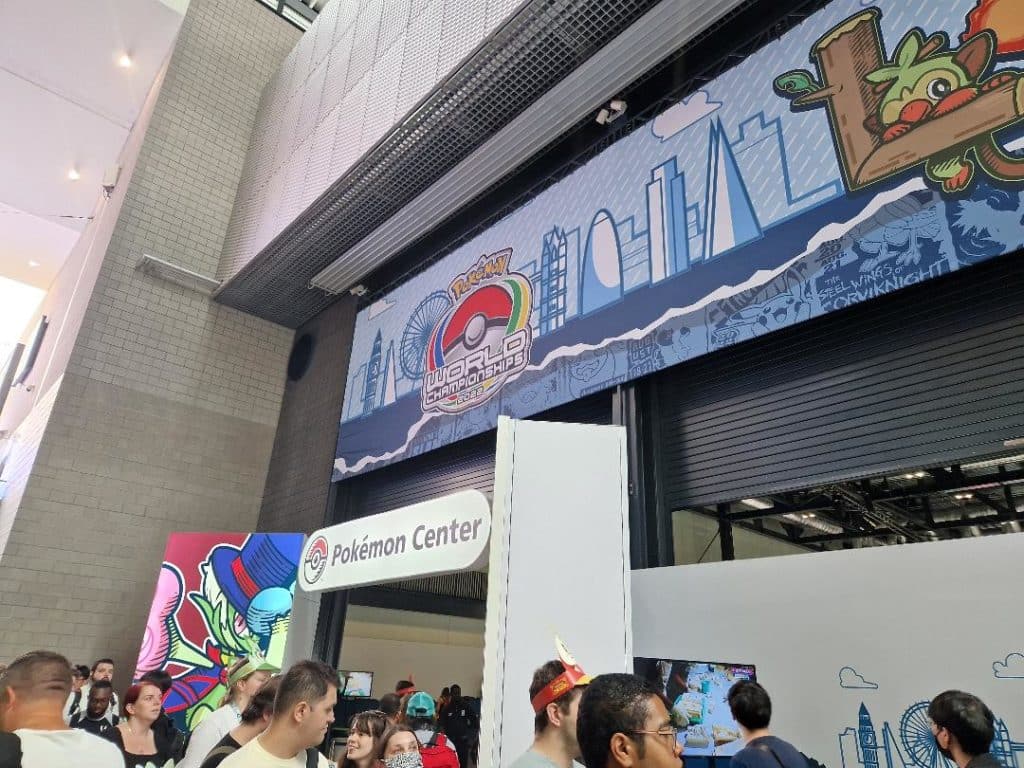 My slot for the Pokémon Center was 11:00am on Saturday, and I was very excited! I was determined to buy a Comfy Friends Turtwig plush, and anything else Turtwig I could get my hands on, plus I wanted either the Pikachu or Roserade Worlds exclusive plushie.
The queueing system was split across two floors, starting upstairs, with the final queue downstairs at the store, and with two areas upstairs for the start of the queue. One area for those without reservations, and another for those with.
We were added to the queue at around 10:40am, and were in the Pokémon Center for 11:00am. You started queuing upstairs, then were slowly let downstairs in batches into another queue, before entering the shop.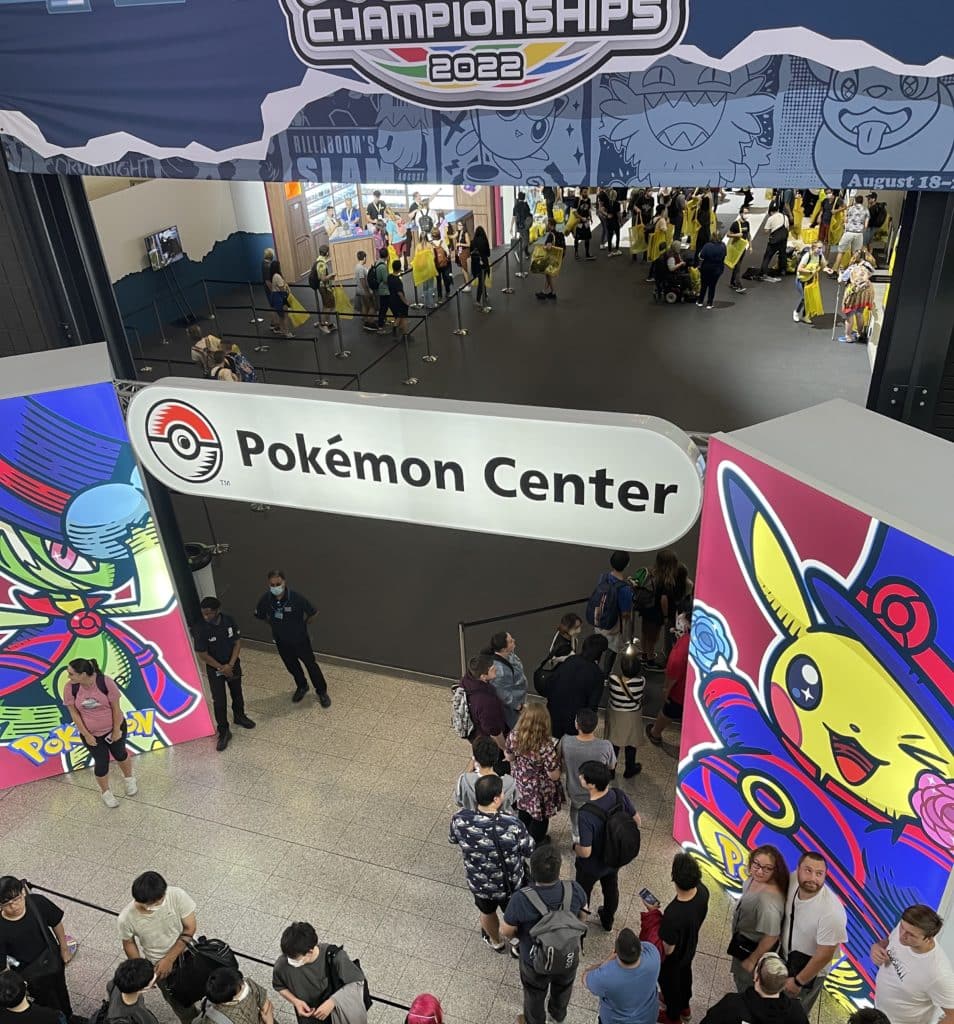 It wasn't obvious what was being done to make the queue accessible for anyone with a wheelchair or mobility issues, but there was a lift down to the lower level that the store was on.
The staff were doing their best to be helpful, so the assumption would be that you would be able to bypass the upper queue, use the lift to the floor below, and join the second queue. If anyone had any experiences using the queue system as someone who needed a more accessible option, please let us know in the comments!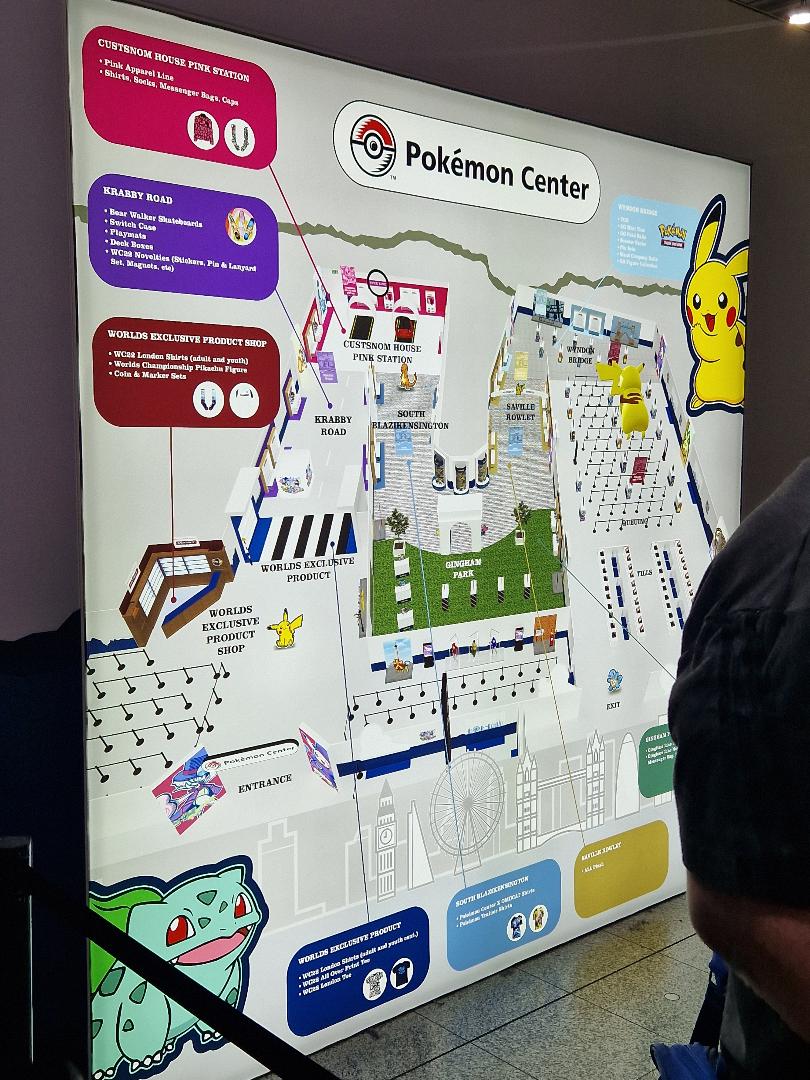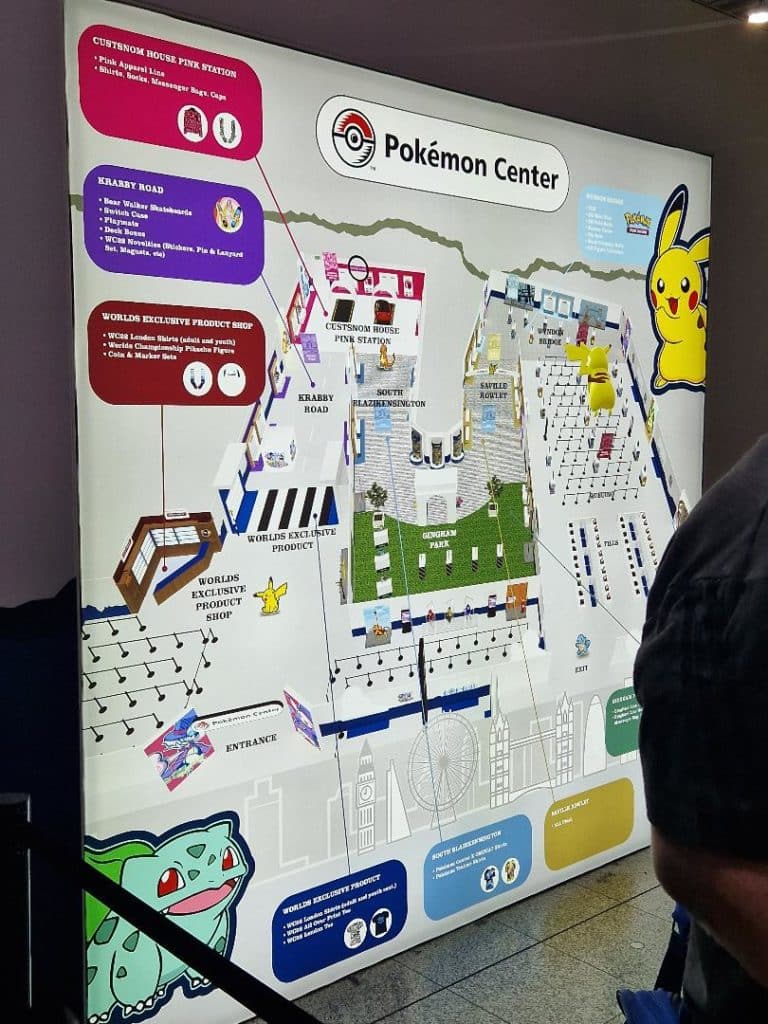 The shop itself was huge, really wide aisles in all areas except for the area that held the array of Sitting Cuties plushies, which got more narrow. Each area had an adorable Pokémon themed name (Krabby Road and Saville Rowlet being my personal favourites!), and a giant floating Pikachu hovered over the till queue.
As you entered you were given a large yellow bag to use to hold your shopping, they were really roomy, so if you were aiming to buy a lot, you would be easily able to carry it. There were multiple areas to take photos, with either cardboard stands, or life size plushies, but by the time I attended on Saturday, it had all gone a bit wrong.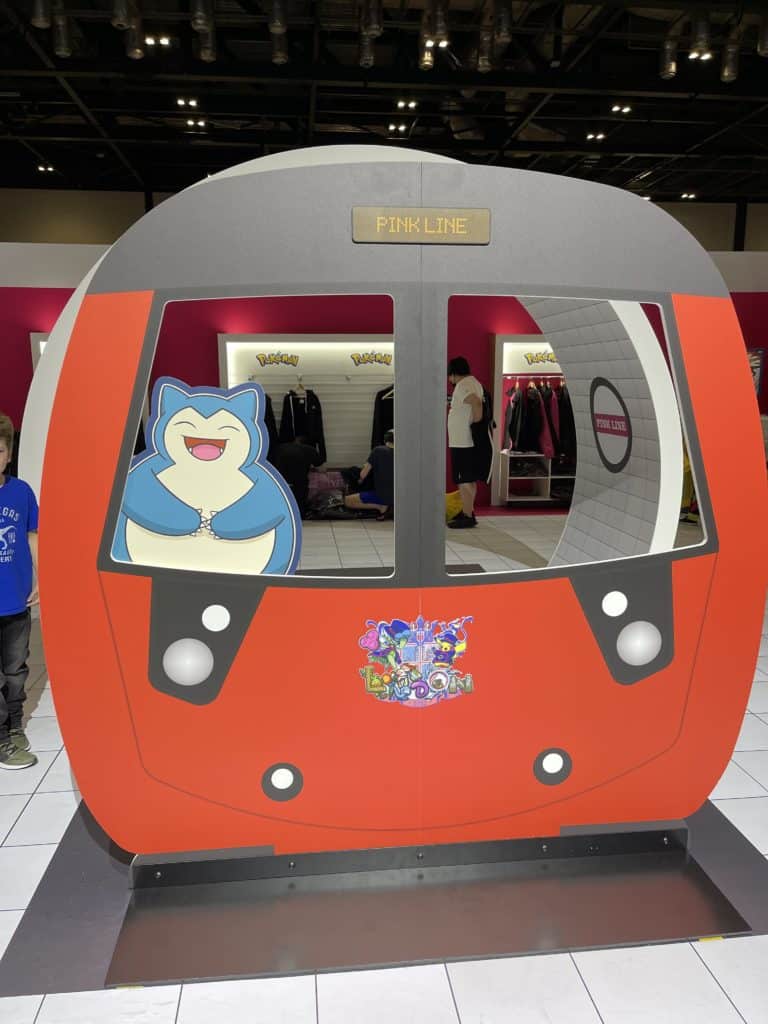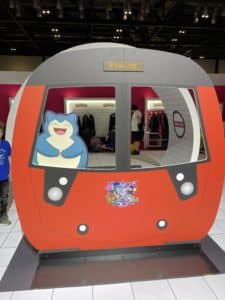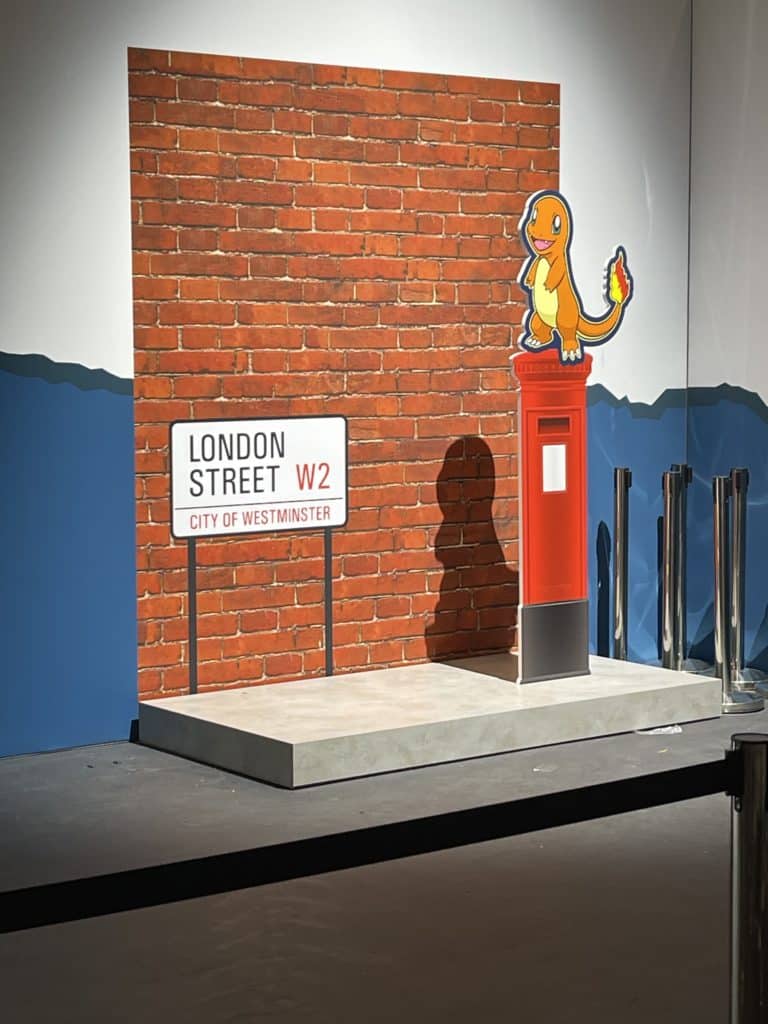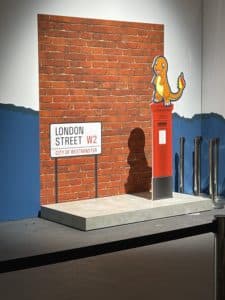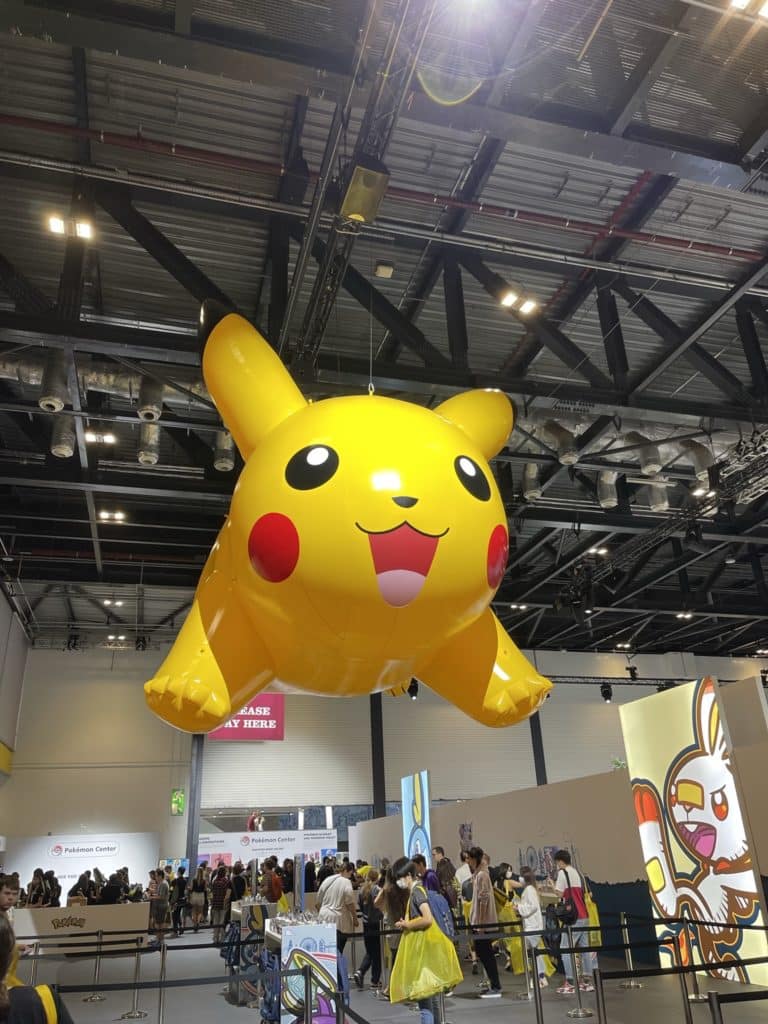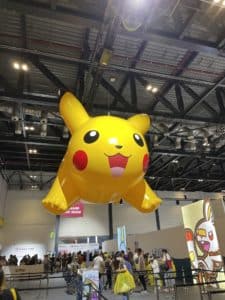 There wasn't a single Worlds exclusive plush left, in fact, there was hardly anything exclusive left at all. There were backpacks and a poster, and I think I maybe spotted an umbrella, but that was it. Realising huge amounts of stock was already gone, I headed right to the plushie section, because I'd seen where the Turtwig plush I wanted was in several youtubers videos. I arrived to a sea of Comfy Friends Chimchar and Yamper Poké Plush, but very little else.
Beneath each display of the larger size plush was boxes stuffed full of the Sitting Cuties plush (smaller 6 inch plush) and I rooted through them all in the hopes of finding the Turtwig I wanted. Sadly it wasn't meant to be, they had completely sold out of all the Turtwig (bar Sitting Cuties, which of course I had to buy). JellyBean wanted a Charmander, they were all gone too. Of the larger size plush, we saw only Chimchar, Yamper and the odd Pikachu Gigantamax. It was a pretty sad sight!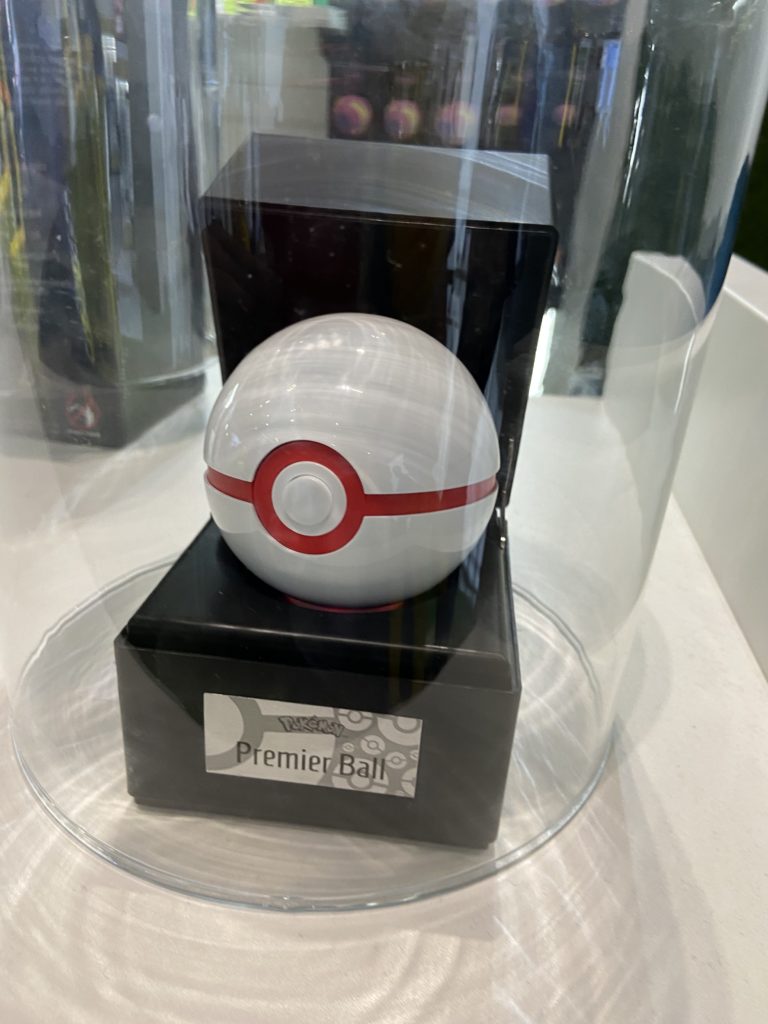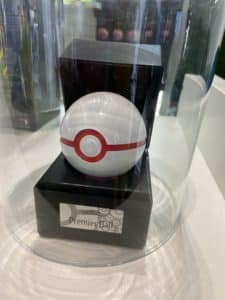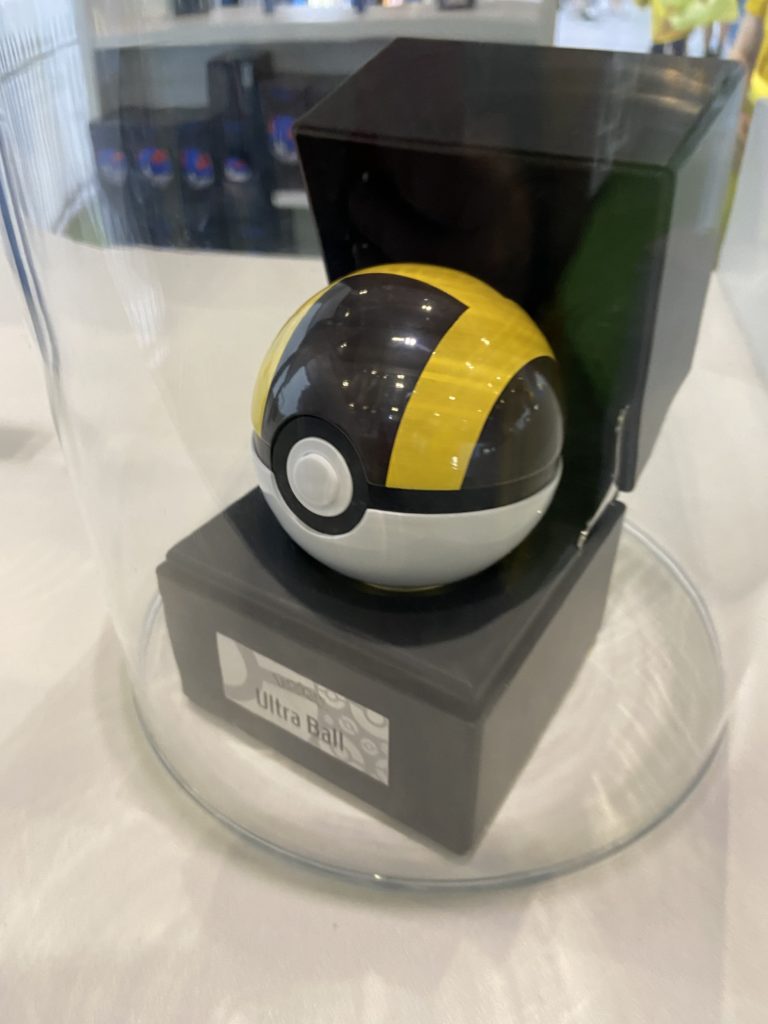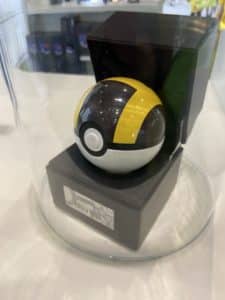 The sections of the store that previously had the Worlds exclusives had the Sitting Cuties in the base of them so they looked less empty, but it was very obvious that most stock had sold out by then.
We spoke to a staff member who said that they weren't expecting any further deliveries, they had been restocking over night, but Friday was the last supply. They also reported that they hadn't been told to restrict the Exclusives to one per person on the first day, leading to people buying 10 or 15 of them in some cases! By day two the restrictions were in place of one per person, but the damage was done.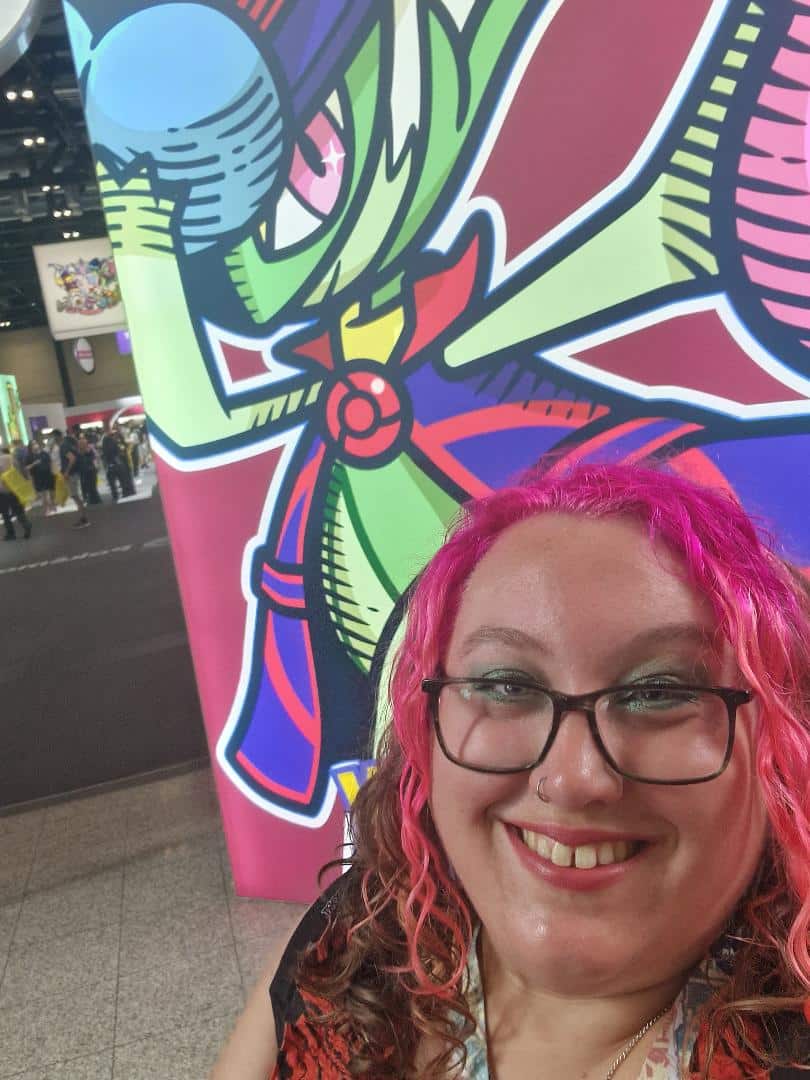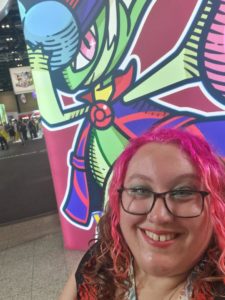 We felt bad for anyone who had travelled specifically to go to the Pokémon Center. You could go to the Center without a ticket for Worlds, so many people had travelled a fair distance just to be greeted with low stock levels. Unfortunately this is the same thing that happened at the pop-up in 2019, and it seems lessons hadn't been fully learned.
We popped in again on the Sunday just in case anything had been restocked by surprise, and there was no queue at all. We walked straight in, walked round the empty shelves, and right back out again, all that was left was a few TCG packs and the Sitting Cuties plushies.
On a positive note, if you bought anything from the Center you got either a smaller black and white Pokémon Center bag, or a large yellow Pokémon Center bag, and as you left free screen cleaners were being handed out that had the official London Worlds 2022 artwork on one side, and a type effectiveness chart on the other, which was a lovely touch.
I ended up leaving with three Sitting Cuties plushies, Turtwig (what a shocker!), Sableye, Psyduck, and what seemed to be the last available Kecleon (Little Brother aka Reddy) Pokémon Mystery Dungeon plush, the purple one! I also grabbed a Love Ball TCG pack. If you want to see my haul and my pack openings, I post on tiktok.
I figured Reddy might be the closest I get to Kecleon anytime soon as a GO player, and I hadn't seen that version sold in the UK Pokémon Center, so I had to have it. I have since gone online and ordered the Turtwig Comfy Friends plush I wanted, plus the Sitting Cuties Grotle and Torterra so I have the full set. I would have loved to have gotten these in person, I'd saved up ready for the trip, but alas, it was not meant to be.
JellyBean attended the Pokémon Center earlier in the week, so had a totally different experience from myself, in terms of both the stock levels, and the queueing system. On the Thursday the reservation system seemed to be entirely pointless, with people who had reservations for time slots, and those who didn't, simply being made to join the back of the queue. We heard reports of people who had bookings getting in four hours after their time slot, and many people had to queue for several hours.
While this 'system' for queuing was a total disaster, the stock levels meant that there were some of the exclusive plushies and other Worlds exclusive items left, and most people were able to get what they wanted in those early visits. It seemed no matter when you went, it wasn't going to be the best experience for one reason or another!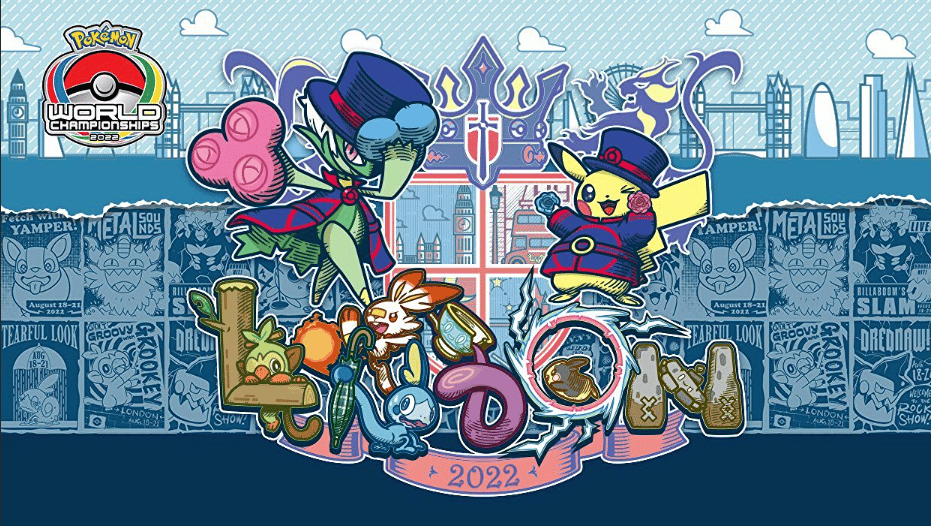 In the future if I attended another pop up, my aim would be to be there in the first day or two, in the hopes that the stock I wanted would actually be there. I went on the third full day and there simply wasn't the stock being brought in overnight to accommodate.
Properly limiting exclusive items would also helps, it is very clear scalpers were able to enter and buy multiple items of each as the likes of eBay have now been flooded with the Worlds plushies in particular, at astronomical prices.
It means real fans aren't able to get their hands on these exclusives, and instead dodgy individuals are out there trying to make a profit off these exclusives. I know I was disappointed, imagine taking your children along to the shop and them not being able to get any thing they had saved their pocket money for, it's sad.
Properly limiting the exclusives to one per person, and potentially having to use ID to prove you hadn't purchased previously might be the only way to stop this, but a better system needs to be thought up. If the purchases had been limited successfully from day one maybe it would have left enough for the whole weekend.
Did you go to the Pokémon Center at Worlds, and if you did, how was your experience, and what did you buy? Let us know in the comments!