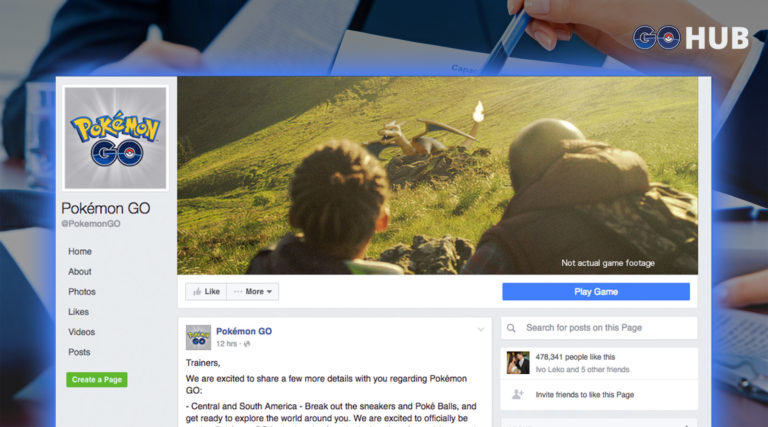 It's been almost a month since the game has launched and a huge number of players complained about the lack of communication and feedback from Niantic. We decided to take a close look at all of the public announcements published on the Pokemon GO official Facebook page and Twitter profile.
Note: Entire data chart with the accompanying graph is at the bottom of the post!
Niantic's Facebook Analysis
Our goal was to get a sense of how often and in what way Niantic communicated with the player base over the last few weeks. We were also interested to see if the communication changed after the last update and the community uproar that followed.
The first thing we discovered is that there is no major difference between Niantics Facebook and Twitter posts. Twitter posts are either duplicates or shortened versions of Facebook announcements with links to the original Facebook post. With this in mind, it's obvious that Facebook is the prefered communication channel for Niantic.
Posting frequency
When it comes to post frequency, we discovered some interesting statistics:
The longest break in communication lasted for 5 days, from 25.07. (Hong Kong launch) to 31.07. (Version 0.31.0 for Android and 1.1.0 for iOS announcement)

Counting only days without any communication

Post count by week was also interesting:

Week 1 – 7 posts
Week 2 – 4 posts
Week 3 – 4 posts
Week 4 – 5 posts (still running as of this writing)
Overall, Niantic has been communicating less frequently for the past few weeks, with this week coming in as a surprise. Especially given the content quality and amount of information in their latest posts.
Posts content and quality
Honestly, we were not impressed by the average amount of information and content quality of Niantic's public posts. 50% of the posts are either Launch or Marketing related announcements, with little to no information that addresses community problems and issues.
The majority of Technical posts were written in the most simplistic form possible:
No time or date estimates
Mandatory "…we are working hard to fix the issues…"
Ask the players to be patient
The most surprising posts came after the recent community outrage, on 02.08. and 03.08. It is also the first time since the game launched that Niantic addressed the community directly and discussed product problems/ideas and future plans. The posts length and quality also increased dramatically.
The new posts are well written, simple to understand yet convey enough information to address and explain an issue from both sides. Although we do not agree with some of the things written there, we are pleased to see that their communication is getting better.
We also believe that these posts were not written by the same person as the previous ones – the format is different, the sentences are shorter and simpler to understand, there is less unnecessary punctuation.
Conclusions and recap
We are glad to say that Niantic is getting better at PR and communicating with their community. It's surprising to see that even the post content is getting better and more informative. The fact that they're addressing product ideas and decisions publicly is a major step in the right direction. We believe this week will be a major example on their future PR practices.
Posts breakdown
| | | |
| --- | --- | --- |
| Date | Type | Summary |
| 07.07.2016. | Marketing | Start of official FB Page announcement |
| 08.07.2016. | Technical | Server issues |
| 09.07.2016. | Technical | Server issues |
| 11.07.2016. | Technical | APK warning and server issues |
| 13.07.2016. | Launch | Germany launches |
| 13.07.2016. | Technical | Apology for server issues and change log |
| 14.07.2016. | Launch | UK launch |
| 15.07.2016. | Launch | Italy, Spain, Portugal launch |
| 16.07.2016. | Launch | 26 new countries launch |
| 17.07.2016. | Technical | Server issues |
| 17.07.2016. | Launch | Canada launch |
| 22.07.2016. | Launch | Japan launch |
| 24.07.2016. | Launch | France launch |
| 24.07.2016. | Marketing | Team Leaders announcement |
| 25.07.2016. | Launch | Hong Kong launch |
| 31.07.2016. | Technical | Version 0.31.0 for Android and 1.1.0 for iOS announcement |
| 31.07.2016. | Technical | iOS login issues announcement |
| 02.08.2016. | Community Feedback | 3 step display removal and PokeVision shutdown explained |
| 03.08.2016. | Technical | iOS updating issues announcement |
| 04.08.2016. | Community Feedback | Latin America launch update, battery saver on iOS removal explained, Legendary Pokemon error explained, short term future plans announced |