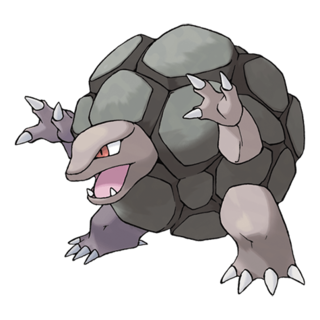 Golem
Golem is a Tier 3 Raid Boss in Pokémon GO, with a Raid Boss CP of 31291. Golem is a Rock Ground type, with double weakness to Water and Grass.
Golem can be captured from raids with the following CP values:
1608 – 1685 CP at Level 20, with no weather boost
2010 – 2106 CP at Level 25, boosted by

Partly Cloudy

or

Sunny

weather
Golem is possible to be soloed, but we recommend taking in 2-3 Trainers in order to break it down comfortably.
Since Shadow Pokémon are extremely expensive to power up and require specific events to remove Frustration with a Charge TM, they will NOT be listed as raid counters in this article. That being said, if you have the shadow form of a listed raid counter Pokémon powered up and TMed, use it.
All data and numbers used in this article are extracted from our GO Hub Database.
Due to it's crippling weakness to grass and water type attackers, beating Golem should be easily accessible to any Trainers that have past Community Day Pokémon with Hydro Cannon or Frenzy Plant.
Golem has access to rock and ground type moves:
Fast
Charge

Mud Slap

Ground

Rock Throw

Rock

Earthquake

Ground

Stone Edge

Rock

Ancient Power

Rock

Rock Blast

Rock
*Best moveset for Raikou is in bold
Be sure to be careful selecting your counters based on what moves the Golem has! Keep in mind that Grass types resist the Ground moves better than our Water type counters, and our Flying counters, Gyarados and Shaymin Sky Forme, do NOT appreciate those Rock type moves!