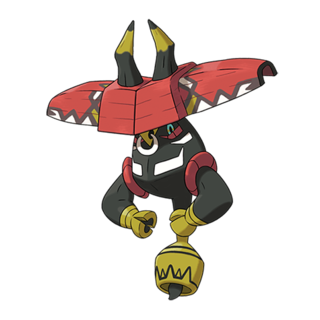 Tapu Bulu
Tapu Bulu is a Tier 5 legendary raid boss in Pokémon Go and is the guardian deity of the Ula'ula Island in the Alola region. Tapu Bulu will be in raids from April 12th – April 26th, 2022.
Being a Grass/Fairy type, it is weak to the Poison, Fire, Flying, Ice and Steel types, with Poison being a 2x weakness.
Unlike Tapu Koko and Tapu Lele, Tapu Bulu has been graced with a better moveset and as such, is a must-catch.
Tapu Bulu can be caught with the following CP values:
1870 – 1953 CP at Level 20, no weather boost
2338 – 2442 CP at Level 25 with

Sunny

or

Cloudy

weather boost
Generally, 3-4 high-level trainers can beat Tapu Bulu easily with optimal counters. Otherwise, 4-5 trainers will suffice.
Tapu Bulu Raid Counters
Since Shadow Pokémon are extremely expensive to power up and require specific events to remove Frustration with a Charge TM, they will NOT be listed as raid counters in this article. That being said, if you have the shadow form of a listed raid counter Pokémon powered up and TMed, use it.
The best counters for Tapu Bulu are the following:
*denotes a legacy move
Some addtional counters options: Nidoking, Nidoqueen, Galarian Slowking and Drapion with Poison type moves, Metagross with Steel moves, and Fire types like Darmanitan and Chandelure.
Stats and Max CP
Tapu Bulu

Grass

Fairy

Max CP at Level 40 3419 | Max CP at Level 50 3865
ATK 249
DEF 215
HP 172
Weak to
Strong Against

Poison

Fire

Ice

Steel

Dark

Dragon

Fighting

Ground

Rock

Water
Movepool
Fast Moves
Charge Moves

Bullet Seed

Grass

Rock Smash

Fighting

Grass Knot

Grass

Solar Beam

Grass

Dazzling Gleam

Fairy

Megahorn

Bug
All the best, trainers!