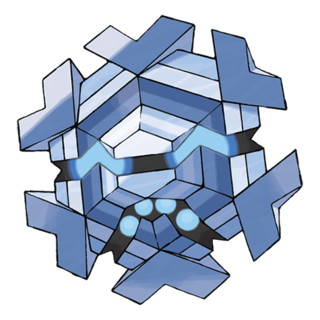 Cryogonal
Ice
Cryogonal is a pure Ice type Pokémon whose best counters consist of mostly Fighting Fire Rock and Steel type Pokémon.
Cryogonal has a tier 3 raid boss CP of 18775, and can be caught with the following CP values:
1525 – 1598 CP at Level 20 with no weather boost
1905 – 1998 CP at Level 25 with

Snow

weather boost
As a tier 3 raid boss, Cryogonal shouldn't give you too much trouble. For a high level prepared trainer it should be an easy solo, but those who are lower level or who don't have ideal counters may want to bring a pal.
Best Cryogonal Counters in Pokémon GO
List of counters for the Cryogonal Raid Boss in Pokémon GO, including best Pokémon to defeat it, highest DPS attackers, and moves to use. Learn which Pokémon are the best choice to beat this raid boss.
Since Shadow Pokémon are extremely expensive to power up and require specific events to remove Frustration with a Charge TM, they will NOT be listed as raid counters in this article. That said, if you have the shadow form of a listed raid counter Pokémon powered up and TMed, use it.
#
Pokémon
Fast Move
Charge Move
Time to win
Deaths
1.

Blaziken (Mega)

Fire Spin


Fire

Overheat


Fire

89.94s
1.75
2.

Charizard (Mega Y)

Fire Spin


Fire

Blast Burn


Fire

90.44s
1.75
3.

Charizard (Mega X)

Fire Spin


Fire

Blast Burn


Fire

106.14s
2.13
4.

Houndoom (Mega)

Fire Fang


Fire

Flamethrower


Fire

109.84s
2.38
5.

Aerodactyl (Mega)

Rock Throw


Rock

Rock Slide


Rock

110.68s
3.38
6.

Lopunny (Mega)

Double Kick


Fighting

Focus Blast


Fighting

117.39s
2.63
7.

Scizor (Mega)

Bullet Punch


Steel

Iron Head


Steel

128.23s
2.00
8.

Aggron (Mega)

Iron Tail


Steel

Heavy Slam


Steel

133.53s
1.63
9.

Reshiram

Fire Fang


Fire

Fusion Flare


Fire

132.76s
2.50
10.

Alakazam (Mega)

Counter


Fighting

Focus Blast


Fighting

127.52s
3.75
11.

Terrakion

Double Kick


Fighting

Sacred Sword


Fighting

130.25s
3.75
12.

Keldeo

Low Kick


Fighting

Sacred Sword


Fighting

138.95s
2.50
13.

Keldeo (Ordinary)

Low Kick


Fighting

Sacred Sword


Fighting

139.60s
2.50
14.

Metagross

Bullet Punch


Steel

Meteor Mash


Steel

146.06s
2.75
15.

Salamence (Mega)

Fire Fang


Fire

Draco Meteor


Dragon

148.20s
2.33
16.

Lucario

Counter


Fighting

Aura Sphere


Fighting

143.33s
3.50
17.

Groudon (Primal)

Mud Shot


Ground

Fire Punch


Fire

148.74s
2.50
18.

Pidgeot (Mega)

Steel Wing


Steel

Brave Bird

147.69s
3.00
19.

Gengar (Mega)

Shadow Claw


Ghost

Sludge Bomb


Poison

140.58s
4.00
20.

Latios (Mega)

Dragon Breath


Dragon

Psychic


Psychic

149.78s
2.50
21.

Pheromosa

Low Kick


Fighting

Focus Blast


Fighting

143.78s
4.00
22.

Swampert (Mega)

Water Gun


Water

Hydro Cannon


Water

153.57s
2.50
23.

Rampardos

Smack Down


Rock

Rock Slide


Rock

140.93s
4.75
24.

Medicham (Mega)

Counter


Fighting

Dynamic Punch


Fighting

142.49s
4.43
25.

Sceptile (Mega)

Fury Cutter


Bug

Frenzy Plant


Grass

147.10s
3.50
26.

Darmanitan

Fire Fang


Fire

Overheat


Fire

148.86s
3.40
27.

Blaziken

Fire Spin


Fire

Blast Burn


Fire

153.11s
2.75
28.

Steelix (Mega)

Iron Tail


Steel

Heavy Slam


Steel

153.99s
2.67
29.

Conkeldurr

Counter


Fighting

Dynamic Punch


Fighting

154.90s
2.50
30.

Entei

Fire Fang


Fire

Overheat


Fire

156.51s
2.33
31.

Chandelure

Fire Spin


Fire

Overheat


Fire

150.76s
3.50
32.

Heatran

Fire Spin


Fire

Fire Blast


Fire

167.13s
1.00
33.

Gardevoir (Mega)

Confusion


Psychic

Psychic


Psychic

152.77s
3.33
34.

Dialga

Metal Claw


Steel

Iron Head


Steel

159.52s
2.00
35.

Blastoise (Mega)

Water Gun


Water

Hydro Cannon


Water

162.11s
2.00
Cryogonal Stats and Max CP
Cryogonal

Ice

Max CP at Level 40 2389 | Max CP at Level 50 2710
ATK 190
DEF 218
HP 190

Weak To:
Resistances:

Fighting

Fire

Rock

Steel

Ice
Cryogonal Movepool
Fast Moves
Charge Moves

ice Shard

Ice

Frost Breath

Ice

Solar Beam

Grass

Aurora Beam

Ice

Night Slash

Dark

Water Pulse

Water