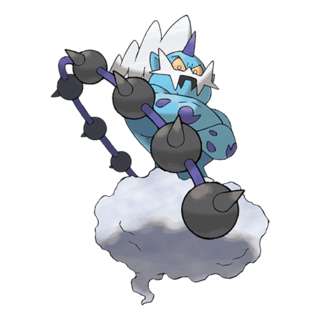 Thundurus (Incarnate)
Thundurus is a Tier 5 Raid Boss with max Raid CP of 46044. It's an Electric and Flying Pokémon with a Max CP of 3345. Very much like Tornadus and Landorus, they have two forms, the Incarnate Form and the Therian form.
However, keep in mind that we will battle the Incarnate Form. The Therian form is yet to be announced. In this guide, we will cover the best counters to take down Thundurus, the best strategies, and what CPs you should watch out for after your successful battle.
Both forms of Thundurus can be taken down with three trainers under ideal conditions. However, it is recommended that you use between 4-6 high-level trainers or 7-9 lower level trainers when taking on this legendary raid boss.
Thundurus Incarnate can be caught with the following Combat Power values:
1861 – 1911 CP at Level 20, no weather boost
2326 – 2389 CP at Level 25 with

Windy

and

Rainy

weather boost
Infographic
Thundurus counters
Since Shadow Pokémon are extremely expensive to power up and require specific events to remove Frustration with a Charge TM, they will NOT be listed as raid counters in this article. That being said, if you have the shadow form of a listed raid counter Pokémon powered up and TMed, use it.
Let's check out the top raid counters for Thundurus:
Thundurus moves
Thundurus can have the following moves in a raid battle and when captured:
Fast Moves
Charge Moves

Thunder Shock

Electric

Astonish

Ghost

Thunder

Electric

Thunder Punch

Electric

Crunch

Dark

Brick Break

Fighting
Incarnate Forme Thundurus Stats
Thundurus (Incarnate)

Electric

Max CP at lvl 40 3345
Max CP at lvl 50 3782
ATK 266
DEF 164
HP 188
Weak to
Resistances

Ice

Rock

Ground

Bug

Fighting

Grass

Steel
Shiny Incarnate Forme Thundurus
| | |
| --- | --- |
| Regular Sprite | Shiny Sprite |
| | |