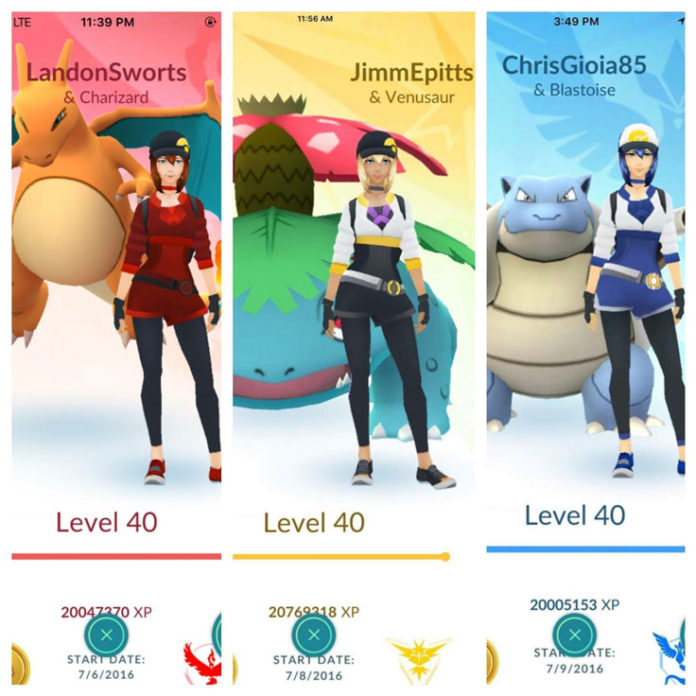 Buffalo, NY is officially the Pokemon GO capital of North America, maybe even the world. Buffalo claimed another impressive victory becoming the first city in the world with Level 40 players in each Team!
Buffalo is officially the first (and possibly) the only city in the world with Level 40 players of each team!
This incredible photo was posted to TheSilphRoad sub reddit today, showing off 3 Level 40 players from Buffalo:
JimmEpitts (Team Instinct)
ChrisGioia85 (Team Mystic)
LandonSworts (Team Valor)
All of the players in the picture started around 7/7/2016 and managed to grind their way through ups and downs in the past 3 months. 
We already spoke with Jimmie Pitts from Buffalo, covered his story and progress to world first Level 40, but this is something different, bigger in a sense. If you are interested in the Jimmie Pitts story, click here for his Level 40 story.
Buffalo is obviously home to some of the best grinders and hardcore players in the world, almost to the degree it should be called "home of the nerd herd"! This comes as good news especially after reports that Level 39 and 40 players were blocked from using gyms dude to a server side bug.
If you're wondering if these players are legit or not, several verifications and interview that were made over time proved them to be legitimate. It is scary to even imagine the amount of dedication these players had on their journey, as most of us are struggling through high 20s and low 30s.
Big congratulations, hope you will not stop playing and inspiring other trainers! You are the very best! 🙂