Trainers, Niantic has just announced that Mudkip will be the featured Pokémon for July's Community Day scheduled globally on July 21st, 2019, from 4:00 p.m. to 7:00 p.m. (local time). Mudkip will appear more frequently in the wild and if you are lucky you may encounter its Shiny form.
July Community Day Event Details
Event
Mudkip Community Day
Date & Time
Globally July 21, 2019, from 4;00 p.m. to 7:00 p.m. (local time)
Features

Mudkip will appear more frequently in the wild.
Lure Modules will last three hours for the duration of the event.
You may encounter a Shiny Mudkip if you're lucky!
Evolve Marshtomp during the event or up to one hour afterward to obtain Swampert that knows a special move!

Bonuses
3x Catch XP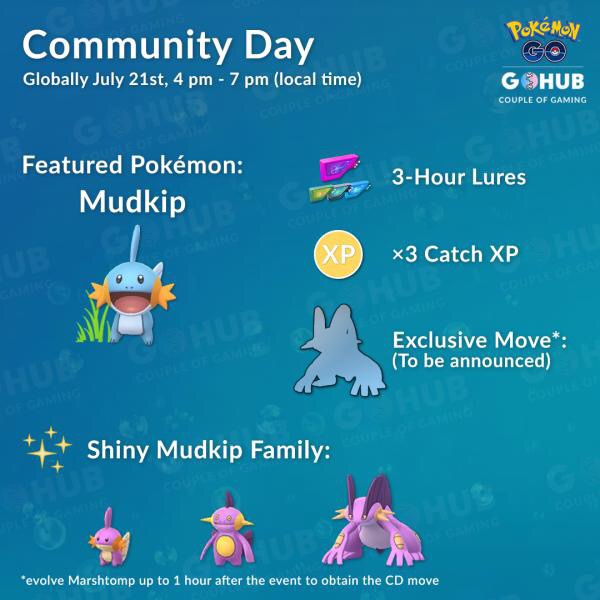 Shiny Mudkip Family
Here are Mudkip, Marshstomp, and Swampert's normal and shiny sprites for comparison. As you can see the shiny variants are all a purple/pink color which makes them very easy to distinguish from their normal versions.
100% IV Search String
Here is the search string you will want to copy and paste into the search bar when looking for possible 100% Mudkip!
258&cp15,cp50,cp84,cp118,cp152,cp186,cp220,cp254,cp288,cp322,cp354,cp386,cp419,cp451,cp483,cp515,cp548,cp580,cp612,cp644,cp676,cp709,cp741,cp773,cp805,cp838,cp870,cp902,cp934,cp967,cp983,cp999,cp1015,cp1031,cp1047&hp14,hp25,hp32,hp38,hp44,hp48,hp53,hp57,hp60,hp64,hp67,hp70,hp73,hp75,hp78,hp81,hp83,hp86,hp88,hp90,hp93,hp95,hp97,hp99,hp101,hp103,hp105,hp107,hp109,hp111-115
Conclusion
As with previous Community Day Announcements, the exclusive move was not confirmed, but we expect it to fall in line with the previous Water-type starters, Blastoise and Feraligatr, and receive Hydro Cannon.  There is also the possibility, and it is purely speculation at this point, that Niantic could go the route they took with Torchic/Combuskin/Blaziken and introduce Muddy Water as a permanent, TM-able Charge Move for Swampert on Community Day. Stay tuned to Go Hub as we will inform you as soon as confirmation of the exclusive move is made public.