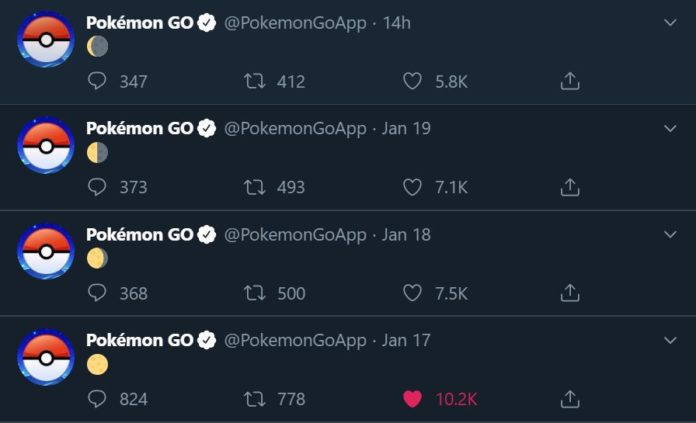 Trainers, Niantic has been continuously teasing something on Twitter, with many players believing they're teasing a new iteration of the Lunar New Year event. This year is Chinese Year of the Rat and the Chinese New Year starts this Saturday, Janaury 25th. Connected? Possible, but not confirmed.
The tease started a couple of days ago, on January 17, and continued throughout the past few days. Judging by the progression of moon emojis, we should be getting the New Moon phase today:
🌕 Full moon (Jan 17)
🌖 Waning Gibbous Moon (Jan 18)
🌗 Last Quarter Moon (Jan 19)
🌘 Waning Crescent Moon (Jan 20)
🌑 New Moon (Jan 21)
Curiously, the teases have been mostly posted at 10:21 each day, which can be transcribed as January 21st. You can keep your tinfoil hats on, the speculation has just started. If Niantic is really planning to do a Lunar New Year event, there is a possibility they could be doing a whole cycle of moon phases.
Frustrating as this may be, here's how that scenario would play out:
🌑 January 21 is New Moon
🌒 January 22 is Waxing Crescent Moon
🌓 January 23 is First Quarter Moon
🌔 January 24 is Waxing Gibbous Moon
🌕 January 25 is Full Moon
So, moons and crescents aside, where is this Lunar New Year event speculation coming from? Couple of days ago, dataminers discovered a lot of field research quests connected with Minccino, which reference Minccino and a bunch of rat looking Pokemon. Minccino, a moon teaser, rat looking Pokemon, Year of the Rat, it all fits the story line, and thus, the new Lunar Year event rumor was born.
We have no information from Niantic on this one, we don't know what they're doing with the teaser. Let's just hope it is a new Lunar Year event.