The Pokémon GO referral program is officially here!
If you're interested in introducing a friend or family member to Pokémon GO, you can now do that and receive rewards that will benefit you and the referred account.
Trainers in Australia have had access to this feature for a short time to give feedback which has helped to shape this new addition to the game.
Date and Time
The Pokémon GO referral program goes live on Tuesday, March 30th at 1pm PT.
From the official announcement:
Trainers,

The Pokémon GO referral program is now active worldwide!

We'd like to thank our Trainers in Australia for helping us test and refine this feature. Your participation and input have helped us prepare this feature for launch.

Every journey is better with friends. So why not invite some of your friends to join yours?

Whether it's your friend's first time playing or they're returning after a break, they'll receive rewards like Pokémon encounters, Rare Candy, Incubators, and more as they hit milestones on their adventure—and so will you! With the Season of Legends still ongoing, it's the perfect time to invite your friends to join your journey.
Niantic confirms here that inactive accounts will also receive these rewards after continuing their Pokémon GO journey. This feature provides trainers with a good opportunity to be able to get rare Pokémon encounters and valuable items that can benefit every sort of player.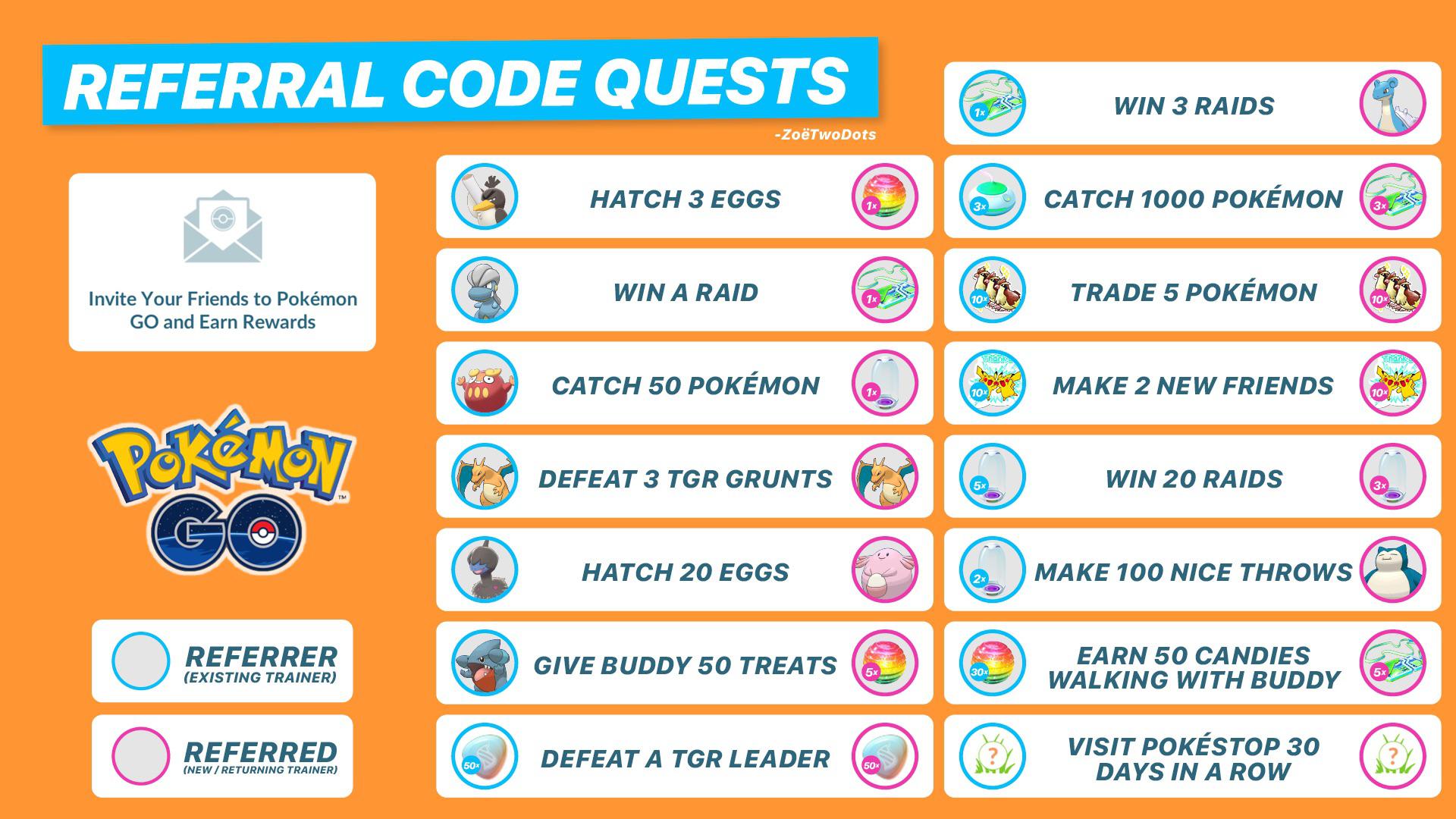 From these rewards, we can see that they contain rare Pokémon that can often be hard to obtain. Arguably 2 of the rarest encounters, Deino and Gible can be caught from the referred account completing 2 of the respected tasks. We can also see the debut of 2 new stickers featuring Pidgey and Pikachu.
You will also receive the 'Friend Finder' badge for referring an account to the game.
How to Refer a Friend
1. Go to the Friends screen and tap Invite to get your referral code.
2. Share that code with a friend who's new to Pokémon GO or who hasn't played in at least 90 days.
3. Once they input your referral code—either during the sign-up process or later on the Friends screen—you'll both begin receiving rewards.
4. As your friend reaches milestones on their journey, you'll both receive more rewards. Make sure to help them out along the way!
As we can see, referring a friend is as easy as sending an invitation code then sitting back and relaxing while you gain rewards when the referred account accomplishes a task.
Remember what it was like when you first started your Pokémon GO adventure? Were there other Trainers in your life that helped you on your way to becoming the best you can be? We hope the referral program will encourage you to reach out and lend a helpful hand to your friends as well. We're all here to enjoy Pokémon GO together, and this is the perfect opportunity to welcome (or welcome back) Trainers to our community. Let's GO on this journey—together!
Parting Words

This feature is a great way to encourage new trainers to give Pokémon GO a shot which ultimately benefits the game and community as a whole.
The only real downside to this feature according to the Pokémon GO community is the idea of people using multiple accounts to benefit from the rewards which are against the ToS.
Another point that trainers have brought up is the idea of rewards becoming exclusive from this feature which may be a painstaking task. Thankfully the current rewards can all be earned in the game from either tasks, raids or encounters.
Will you be introducing a friend to Pokémon GO and swimming in the rewards?