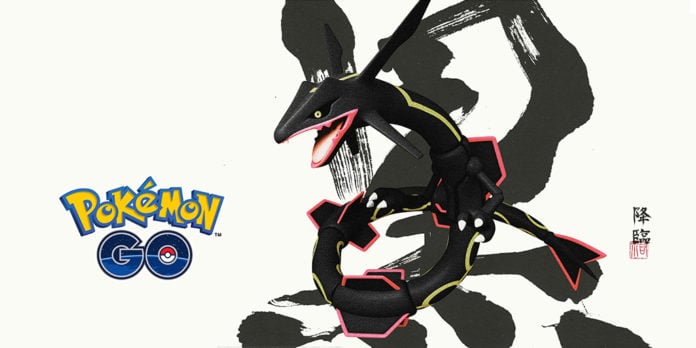 Trainers, the Legendary Raid Hour is back, taking place at 6 PM local time in your area. From 6 PM to 7 PM, every gym in your area will spawn a Tier 5 Egg containing Rayquaza. We are not sure if you will get five free Raid Passes for the raid hour, but we wouldn't hold our breath for that.
Rayquaza Legendary Raid Hour

| | |
| --- | --- |
| Event | Rayquaza Legendary Raid Hour |
| Date + Time | Today, 6:00 pm – 7:00 pm local time |
| Features | Increased number of T5 raids featuring Rayquaza |
| Featured Pokemon | Rayquaza |
We strongly suggest you read our Rayquaza Raid Counters Guide and Rayquaza Counters Heat Map articles and get the maximum amount of raids completed. Our Legendary Lunch Hour: Event Guide was initially written with Dialga in mind, but we feel it offers a great selection of tips and tricks for the Legendary Hour event format, so you might want to take a look at that as well.
If you're interested in the chance to catch a shiny Rayquaza, we got you covered (calculated with the help of dskjal.com Chance Calculator and 1 in 20 chance to get a shiny):
Shiny Rayquaza Odds

| Number of raids | 1 | 10 | 25 | 50 | 100 |
| --- | --- | --- | --- | --- | --- |
| At least 1 shiny | 5% | 40.13% | 72.76% | 92.31% | 99.41% |
| 0 shiny | 95% | 59.87% | 27.74% | 7.69% | 0.59% |
| 1 shiny | 5% | 31.51% | 36.5% | 20.25% | 3.12% |
| 2 shiny | 0% | 7.46% | 23.05% | 26.11% | 8.12% |
| 3 shiny | 0% | 1.05% | 9.3% | 21.99% | 13.96% |
| 4 shiny | 0% | 0.10% | 2.69% | 13.60% | 17.81% |
| 5 shiny | 0% | 0.01% | 0.6% | 6.58% | 18.00% |
Credits for the event information go to: