Trainers, Niantic has just announced that the Gen 4 [Grass] Starter, Turtwig,  will be the featured Pokémon for September's Community Day scheduled globally on Sunday, September 15th, 2019, at a new time from 11:00 a.m. to 2:00 p.m. (local time). Turtwig will appear more frequently in the wild and if you are lucky you may encounter its Shiny form.
Turtwig Community Day Event Details
Event
Turtwig Community Day
Date & Time
Sunday, September 15, 2019, from 11:00 a.m. to 2:00 p.m.
(local time globally)
Features

Turtwig will appear more frequently in the wild.
Lure Modules will last three hours for the duration of the event.
You may encounter a Shiny Turtwig if you're lucky!
Evolve Grotle during the event or up to one hour afterward to obtain Torterra that knows a special move!

Bonuses
3x Catch Stardust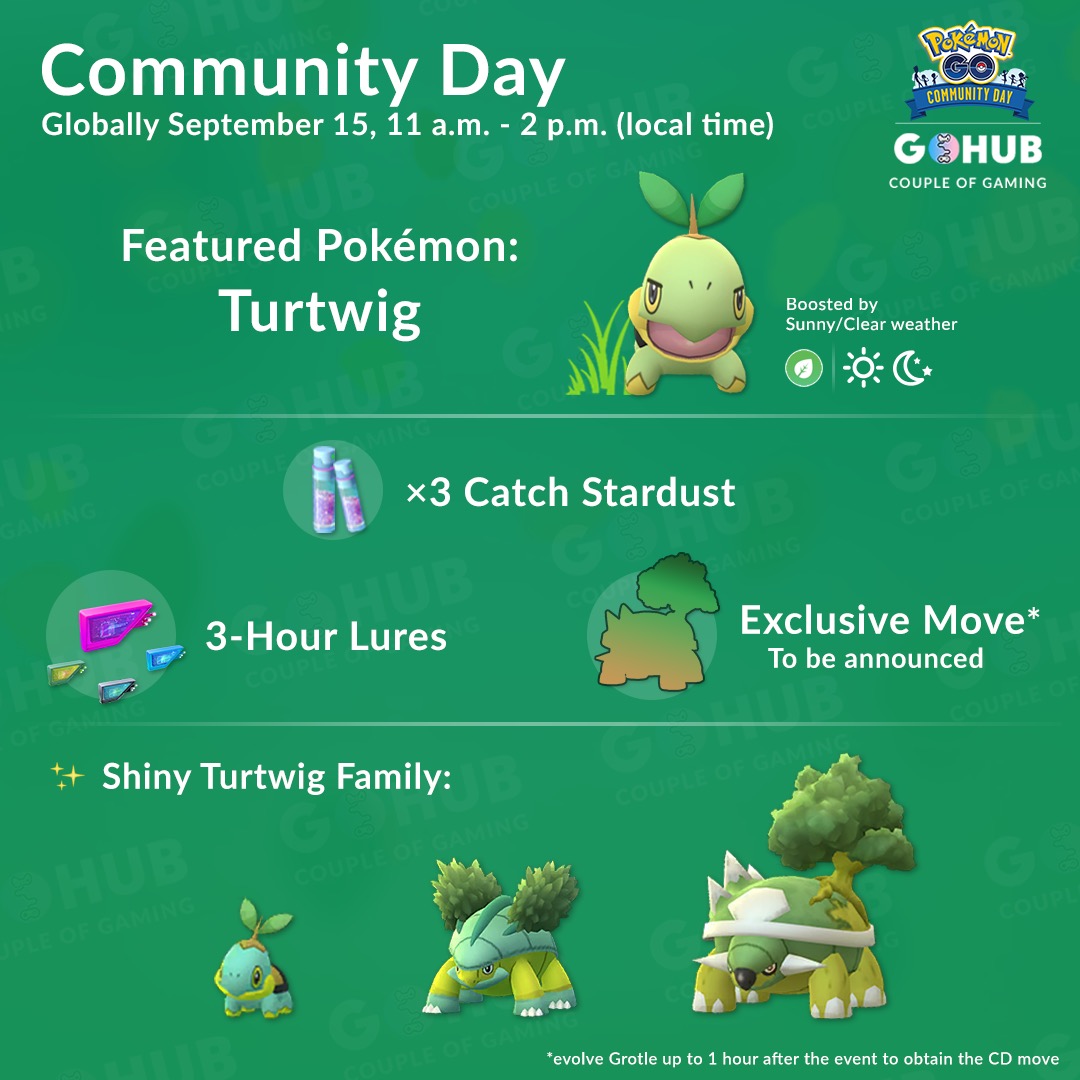 Shiny Turtwig Family
Here are Turtwig, Grotle, and Torterra's normal and shiny sprites for comparison. As you can see the shiny variants are not that different which could make them slightly difficult to distinguish from their normal versions. Be sure to pay close attention!!
Turtwig Community Day 100% IV Search String
Here is the search string you will want to copy and paste into the search bar when looking for possible 100% Turtwig!
Or, with the new hand dandy appraisal system, just type in the following in your search tool bar: 387&4*
387&cp16,cp52,cp88,cp124,cp160,cp195,cp231,cp267,cp303,cp339,cp373,cp407,cp441,cp474,cp508,cp542,cp576,cp610,cp644,cp678,cp712,cp746,cp780,cp814,cp848,cp882,cp915,cp949,cp983,cp1017,cp1034,cp1051,cp1068,cp1085,cp1102&hp15,hp26,hp34,hp41,hp46,hp51,hp56,hp60,hp64,hp68,hp71,hp74,hp77,hp80,hp83,hp86,hp88,hp91,hp93,hp96,hp98,hp100,hp103,hp105,hp107,hp109,hp111,hp113,hp115,hp117-122
Final Thoughts
The pattern of Starter Pokémon for Community Day seems to be established. All this to say, Niantic could throw a curveball at anytime, but for now, September looks to be all about the dust grind!  Be sure to follow along as we will be sure to provide you with our Turtwig Community Day Event Guide, Box Analysis, and any other information to prepare you for the big day!