Since the launch of EX Raids in Pokémon GO, it's a strongly debated and mysterious feature. This guide will help you to understand what EX Raids are, where they take place, and how you can participate in them. We will also provide you with some important facts you should know about EX Raids. Without further ado, let's get this Battle-Party started!
EX Raids In Pokémon GO
EX Raids – or Exclusive Raids – are special Tier 5 Raids, which require an invitation to participate in the form of an EX Raid Pass. EX Raids give you the chance of battling an Exclusive Raid Boss for a limited time. Up until now, 2 Pokémon have made an appearance in EX Raids: Mewtwo and Deoxys.
So how do you become eligible for receiving an EX Raid Pass? Let's break this down.
Interacting with EX Raid Gyms
First, you'll have to interact with Gyms that are eligible for EX Raids. These Gyms can be recognized by a blue-colored Tag at the top right corner of the Gym screen. Gyms without the EX Raid Tag can NOT send out EX Raid Passes!


EX Raid Gyms are mostly situated in parks or at sponsored locations.
Gym Badge Level
On February 7th, 2018, Niantic posted an update on EX Raid Battle Invitations. According to that post, Trainers with a higher level Gym Badge have a higher chance of being invited to an EX Raid Raid. You can level up your Gym Badge by Gym and Raid battles, or by defending them.
Complete Raids
In the week before EX Raid Passes will be distributed, try to complete as many Raids as possible. You can only receive an EX Pass by completing Raids. For a Gym to hand out EX Raid Passes, enough individual Trainers have to complete Raids at that Gym.
EX Raid Pass Distribution
EX Raid Passes are handed out on a weekly schedule, at around 11am PT. You will get a detailed in-game notification which shows the date, time-window, and location of the EX Raid. You will also be provided with directions to the EX Raid Gym. You can review your EX Raid Pass at any time in your Item Bag, and you can carry multiple EX Raid Passes.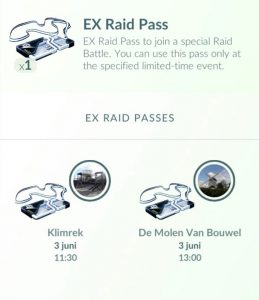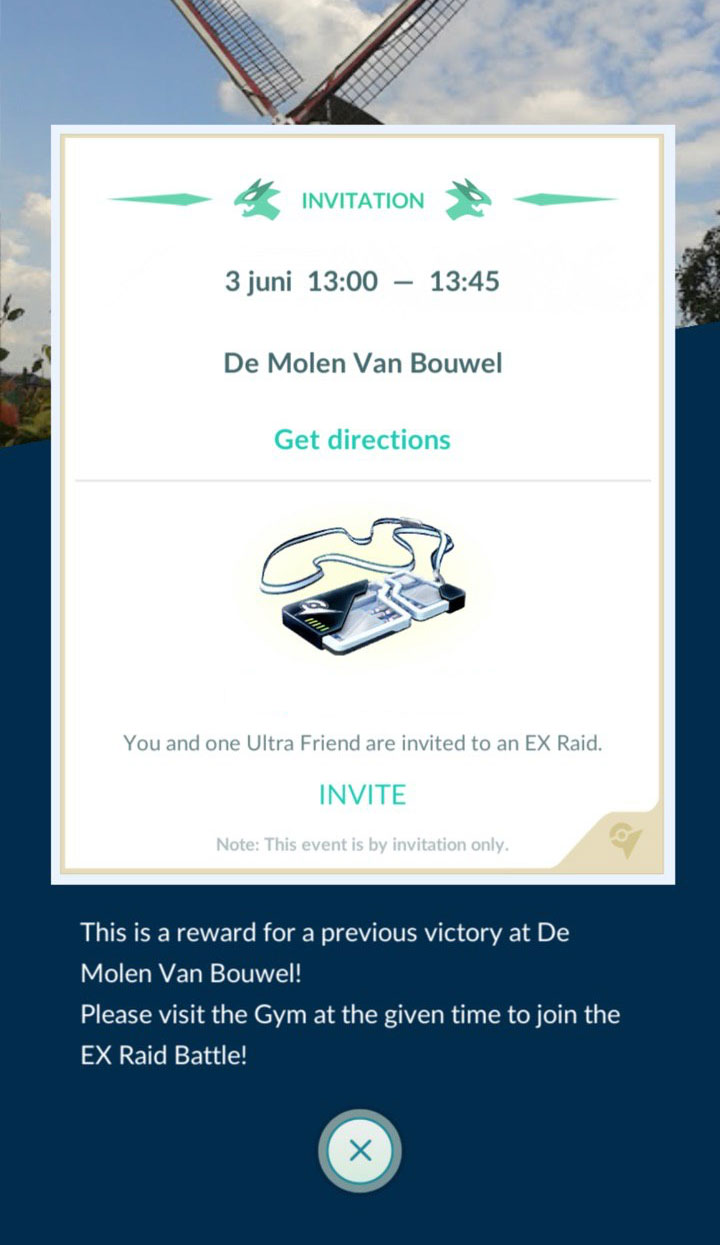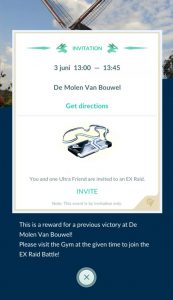 Inviting a Friend
If you received an EX Raid Pass, you get the option to invite a Friend. You can only invite 1 Friend, and you have to be Ultra Friends with that Trainer.
You can be invited if you already have an EX Raid Pass, but not if the EX Raid is on the same date and time-window
You can decline an EX Raid Pass, but the Trainer who invited you will NOT be able to invite somebody else
EX Raid Battle
If you successfully received an EX Raid Pass, you can challenge the EX Raid Boss. Here are some tips and facts about the EX Raid Battle:
Make sure you're on time, the EX Raid Boss can only be battled during the given time-window.
Plan ahead and make sure enough Trainers will be attending the EX Raid.
An EX Raid Gym will close down when the EX Raid starts, and the Raid is only visible for Trainers that carry an EX Raid Pass for that Gym.
You can only battle the EX Raid Boss once during the time-window.
An EX Raid Egg will appear 1 hour before the start, and will last for 45 minutes after the Raid Egg hatches (like regular Raid Battles).
EX Raid Pass Block
If a gym has an active Raid, or a Raid Egg on top of it, it will NOT hand out EX Raid Passes, even though you completed a lot of Raids on that gym. There is nothing you can do to avoid it, besides having a good amount of luck. The only thing you can do is to complete Raids at that Gym again.
EX Raid Cancellation
There is a chance an EX Raid gets canceled. Reasons for cancellation can be:
The removal of an EX Raid Gym.
A bug.
Unforeseen circumstances (like in the example of the Notre Dame fire below).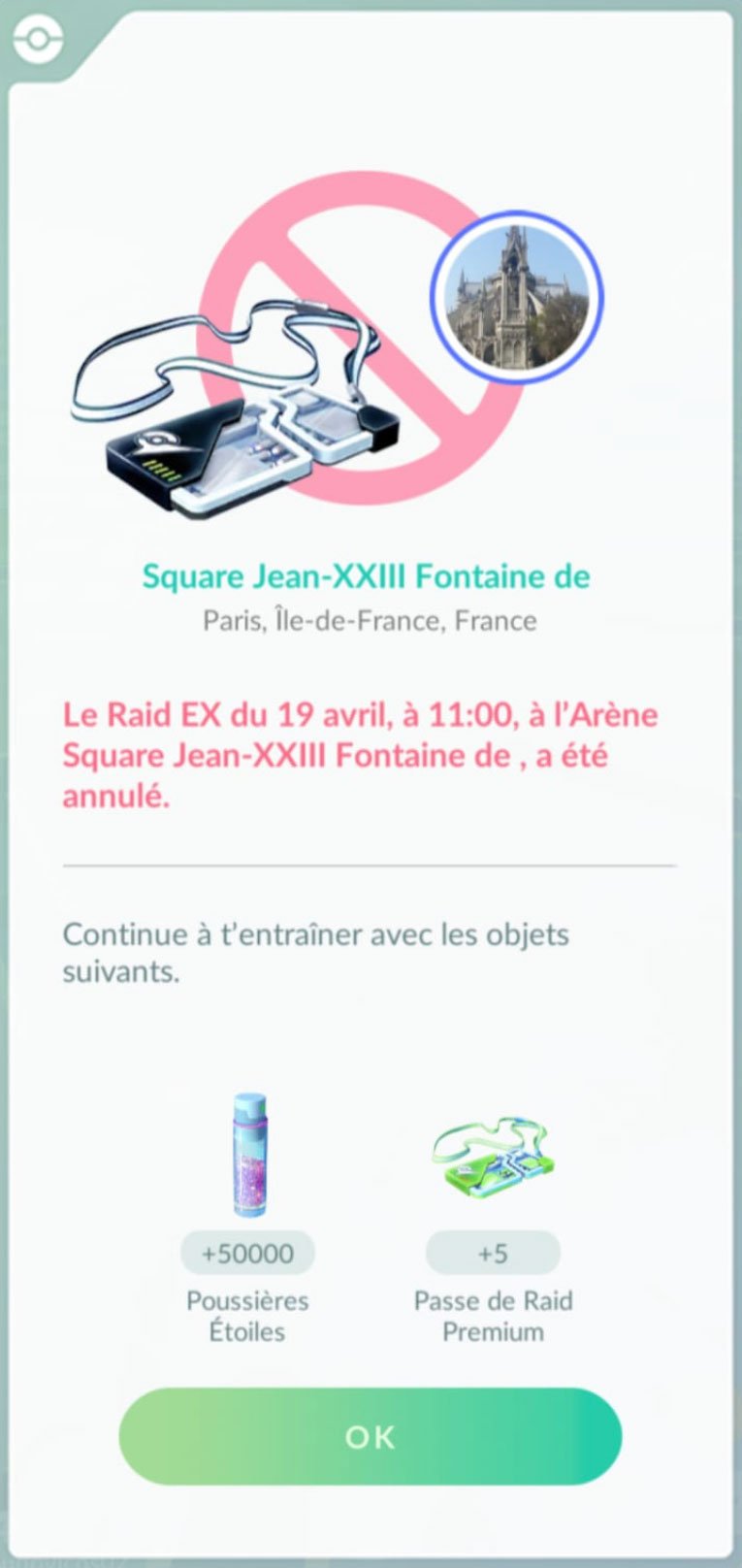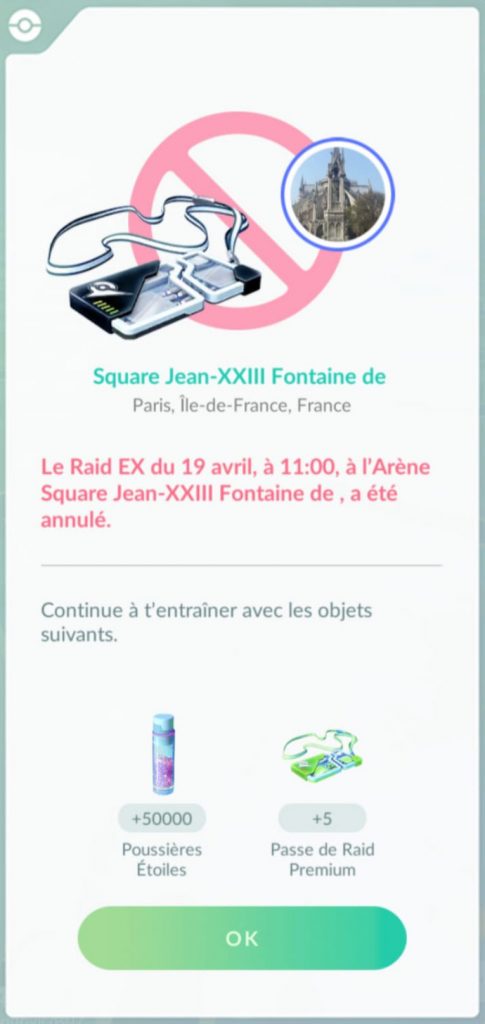 As you can see in the example above, you will be compensated with 50.000 Stardust, and 5 Premium Raid Passes if your planned EX Raid gets canceled.
Impact of Level-13 S2 Cells on EX Raids
From here on off, things get a little more complicated. S2 cells are developer-friendly geographical markers used to map the Earth' surface. S2 cells were invented at Google and are extensively used on Google Maps to perform quick geographical indexes and queries. S2 cells appear in different sizes/levels, each having its own impact on Pokémon GO. To learn more about this, please check this article.
The ones that are important for EX Raids, are level-13 S2 cells. This level of S2 cells determines whether or not an EX Raid Gym will hand out EX Raid Passes. This is because only 1 EX Raid Gym per level-13 S2 cell can distribute passes in each cycle. Let's clear this up with an example:
EX Raids and Level-13 S2 Cells 
Gym A and Gym B are located in the same level-13 S2 cell.
Possible
Raid Pass Cycle 1
Raid Pass Cycle 2
Gym A
EX Pass
–
Gym B
–
EX Pass
NOT Possible
Raid Pass Cycle 1
Raid Pass Cycle 2
Gym A
EX Pass
EX Pass
Gym B
EX Pass
EX Pass
This means completing a lot of Raids on an EX Gym which is in the same level-13 S2 cell as another EX Gym, doesn't guarantee you an EX Raid Pass. You can overlay Google Maps with S2 cells using the region coverer created by Sidewalklabs. This way, you can check whether a Gym is in the same level-13 S2 cell as the Gym on which you completed Raids. To discover the exact location of the Gyms in question, visit the Ingress Intel Map and look for the corresponding Portal.
Summary
To summarize it all, the amazing Orange Heart created this sharable infographic with the most important information on EX Raid Battles.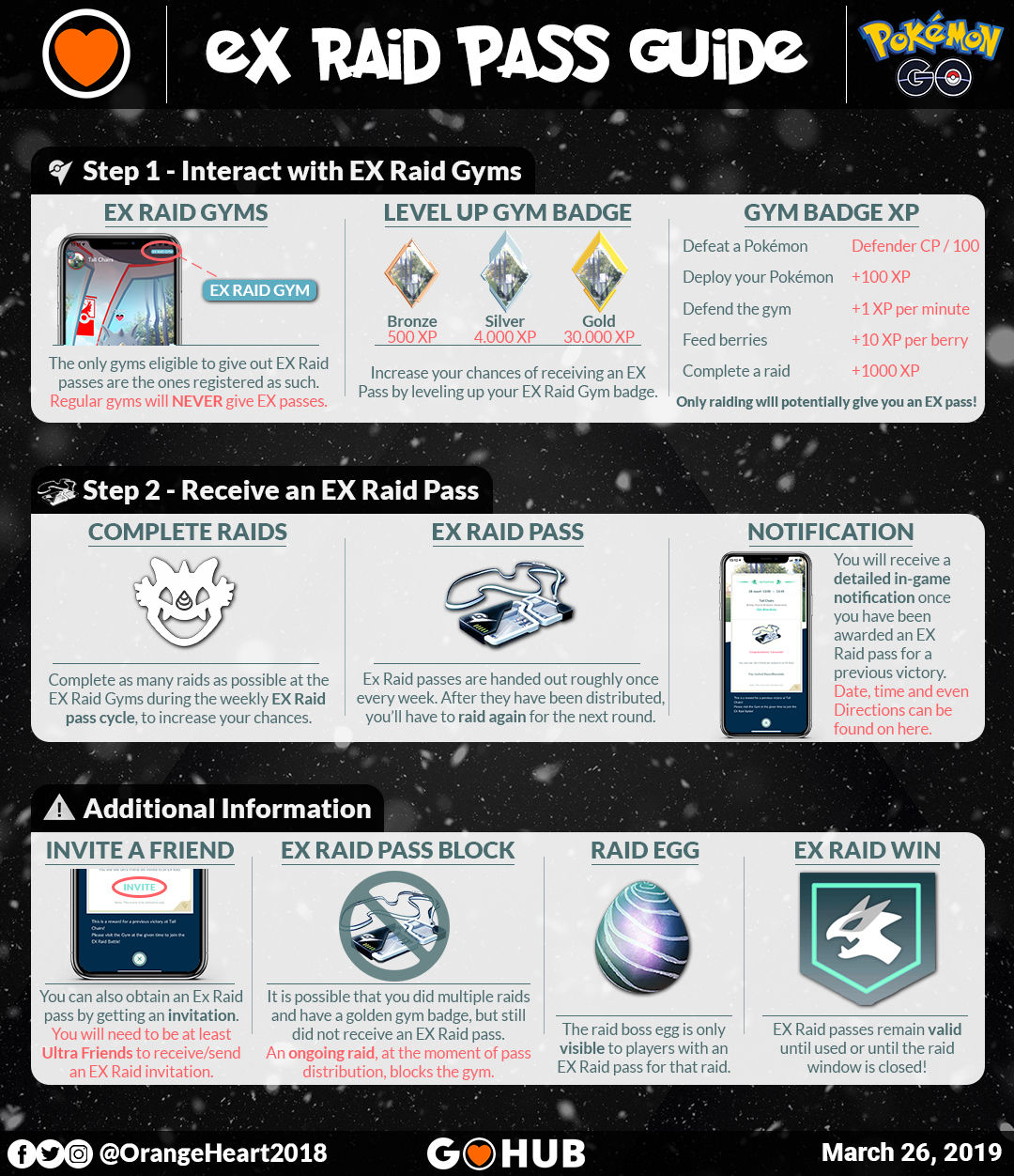 Enjoy your future EX Raids, Trainers!