Trading is Coming, but in What Form?
USER GUIDE | Submitted by carrotking37 on January 10th 2017Players of Pokemon GO have been wondering when trading would debut in the app since it released on July 6th. The original advertisement shows it being available, albeit in an unrealistic form, and since then, speculation has never died down.
A Google News search for 'trading in Pokemon GO' shows almost 100,000 results as of January 9th. The hype is obviously still there, but what to expect?While the trailer showed players trading Pokemon, the feature was otherwise unconfirmed until July 24th, when Niantic CEO John Hanke confirmed that there would indeed be a trading update at San Diego Comic Con 2016.
Further confirmation was received in September when an enterprising Redditor called cokuspocus decided to go datamining on the APK of the then latest update, Pokemon GO 37.1 for Android and v 1.7.1 for IOS.
The APK showed several commands in the code which referenced trading and how it would work. Players would be able to 'trade_search' to find what they wanted, 'trade_offer' to request the transaction, 'trade_response' to other players' offers, and finally see a 'trade_result' when all was agreed upon.
This implies a web-based or server-side system, which would allow players to trade with anyone, or anyone in a certain vicinity.
More Trading details discovered in Niantic patents
Even more recently, YouTuber PatentYogi added another twist to the plot. He discovered a system patented by Niantic as early as 2012, which exacerbated the link between Pokemon GO and the real world. This system would have Pokemon 'travel' on transportation symmetrical to that of the real world to get to a trade.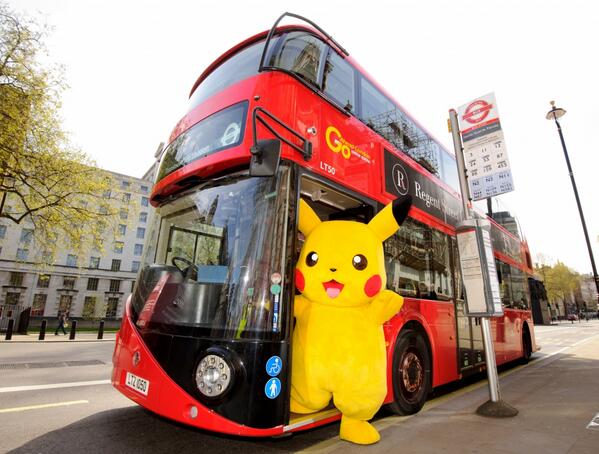 To trade a Pokemon to someone across town, you would go to a bus stop and somehow put the Pokemon on the corresponding virtual bus to reach the other player. While this is hard confirmation, it is an old patent that doesn't quite seem to fit. It would also deliver another blow to rural players, which Niantic at this point cannot afford to do.
NFC Pokémon Trading
A third and final way trading could show up in Pokemon GO is through NFC. NFC, or near-field communication, is a technology fitted in most smartphones designed for contactless payments with Apple Pay or other similar systems. It has been used elsewhere, however, such as in the popular kids console game Skylanders.
This system would see players put their phones close together and confirm, offer, and see the results of the trade. This would fit in with the overall message of Pokemon GO, encouraging players to meet up and move around.
However it shows up, trading will be an integral part of Pokemon GO as it has been in past Pokemon games. It will revolutionize filling the Pokedex and change the game significantly.
Time to stock up on those region exclusives!