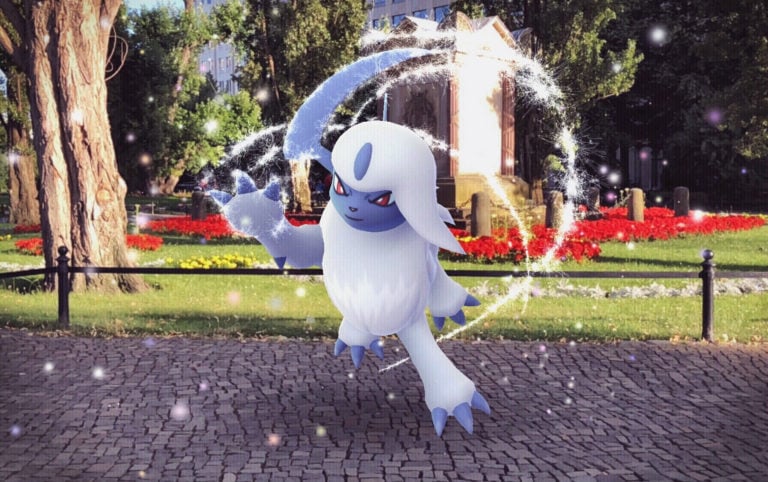 As Pokémon GO advances in the field of AR technology, it only makes sense that Trainers worldwide become more and more interactive in the way they play, and part of this is not only being a Pokémon Trainer, but being an AR Photographer as well.
Throughout this past month, Trainers worldwide have gone out to photograph Pokémon in the wild, and along with photographs, they have brought back a story to tell, in this articles we will take a look at these Photographs, the stories behind them, and the Trainers who took them. These are their photos, these are their stories.
Do you want to join in on the fun but don't know how to take AR pictures? Take a look at our How to Take the Perfect AR Photo article, or talk to our expert AR Masters on Discord!
---
Rats and Tequila
"Everyone around me was drinking some booze while I sat sipping on my Dr Pepper. While staring at the table, I kept praying to myself that an Alolan Ratatta would spawn…that moustache goes so well with Hornitos. So glad I got the opportunity while sucking on some extra lime wedges."
Location: Lake Stevens, WA, United States
Photographer/Creator: Risamazing
Editor's Notes: Well, the photographer is certainly correct about how fitting Alolan Rattata is surrounded by Corona, Hornitos, and other drinks, and although we can only hope Alolan Rattata didn't partake too much, we can see he's certainly interested.
---
Absol-utely Perfect
"We were walking back home when we found a group of trainers fighting against this mighty Absol in front of the main station of Leipzig – Obviously, we decided to stop and help! The nice weather and the beautiful location made for a few good pictures!"
Location: Leipzig, Saxony, Germany
Photographer/Creator: Coll797
Editor's Notes: Although for many the location of this photo may not mean much, as a Psychology student, Leipzig means a lot! Being the birthplace of the first Psychology clinic, I am happy to see such a wonderful coming from a such a wonderful place!
---
A Walk in the Courtyard
"This shiny has the most emotional story behind it, since I had barely an hour to go and look for one of these beauties in the village where my Mom lives. I decided to walk through the local castle park, where many fairytales were told. And when I saw a Roselia on one of the Stops, I knew she was the one."
Location: Valtice, South Moravia, Czech Republic
Photographer/Creator: MaiTai
Editor's Notes: Sometimes, filters and such just aren't necessary, and this is a great example of that, although Shiny Roselia is the star of the picture, the background and foreground fit perfectly around her.
---
The Forgotten Bird
"I was on my way for an EX Raid when I encountered this beautiful bird. With the introduction of the Legendary Birds one more time through research tasks, I felt that most people preferred taking AR photos of them and forget about the normal ones. Then I turned on my AR+, tried to get the best shot possible and it resulted to this."
Location: Sydney, Australia
Photographer/Creator: Dpesh007
Editor's Notes: The photographer here is right, we tend to ignore the more common Pokémon because of their commonness, when even they, can be picture perfect. 
---
Playful Pupper
"After a lot of attempts of taking a great photo of this little guy, and actually getting tangled in a thorn bush in the process… I managed to get this cheerful chap photographed with the most adorable smile ever, being one of my favorite Pokémon I had to take many pictures of this little pupper"
Location: Tamworth, United kingdom
Photographer/Creator: TommysaurusR3x
Editor's Notes: One of the best things about AR Photography, is for the ability of Trainers to create a world around the photo, to create a story or an explanation of how things got there. This picture and its story are a well example of this.
---
Pika-Pool Day
"San Diego was experiencing a heat wave so I decided to sneak into the pool at a local hotel. After grabbing a lounge chair and settling down, I took a quick moment to observe the local wild Pokémon before getting too comfortable. I noticed a Pikachu enjoying the pool too and was able to capture the moment before capturing Pikachu!"
Location: San Diego, CA, United States
Photographer/Creator: lady_jyn_erso
Editor's Notes: Going through this month's AR Photo showcase, I fell in love a bit with this photo. The surroundings and the way that Pikachu stands at the edge of the pool remind me so much of the commonly seen Instagram Pool photos, and things alike.
---
Dark Skies, Bright Fights
"It was the last day of Moltres Raids. The rain was starting to pour while our time was running out. The other teams responded that they would need more power to defeat the legendary Moltres. Luckily they arrived just on time. This was a one chance battle. We had no time for another round. We fought hard and had victory at the end. We did it! Hail CDO raiders! Hail Valor!"
Location: Cagayan de Oro City, Philippines
Photographer/Creator: geojames-lvl39
Editor's Notes: With the dark skies above, Moltres grabs our attention instantly, are the skies grey because of the weather? Or has Moltres brought a fiery-smoky fate upon the ground? We may never know.
---
Prehistoric Sunrise
"As my girlfriend and I were waking up one morning she said "Wow! Look at the sunrise!!" So I jumped out of bed, threw on some shoes, and ran to the field behind my house. There were really no spawns at my house so I began to catch my stockpiled research reward encounters. The third one in was this guy and it fit perfectly with the sunrise."
Location: Hamburg, NY, United States
Photographer/Creator: PoGoJoeBFLO
Editor's Notes: When you can't find the ideal spot for that Pokémon, just find the most beautiful spot! Aerodactyl is a bit hard to situate anywhere, although, it strangely seems fitting with this lovely sunrise.
---
Penalty Kick
"In the midst of the FIFA World Cup hype, it was hard not to get excited when each player made attempts of scoring a goal. At halftime I was catching this Spheal when the background dawned me for a moment. At this angle I was hoping to capture the intense focus that players face when in the midst of making a goal with a penalty kick. The grey skies help intensify this feeling of focus so much that you can't help but imagine that this little Spheal just might make that goal! I can hear the fans screaming in the background! GOAL!"
Location: Sangju, Gyeongsangbukdo, Republic of Korea
Photographer/Creator: HYEMINCRI
Editor's Notes: This is one of those photos that make you go "aww", although the photo itself may not be majestic, the look in Spheals eyes certainly are. We can only hope he made that goal that day.
---
Pikachu's Hawaiian Vacation
"I'm working in Hawaii on a cruise ship for the summer. I just happened to be on Kauai, which is, in my opinion, one of the most picturesque islands. So when a wild Pikachu popped up right next to me on the beach I obviously had to have a beachside photo-shoot!"
Location: Kauai, Hawaii, United States
Photographer/Creator: TheUnworthyThor
Editor's Notes: With the appearance of Summer Pikachu, we were surprised to see less entries than expected for a Beach Pikachu! However, I think this photo best describes what we were expecting.
---
Scream Adrian!
"This was a solo Raid that I did, the gym was located at a Temple where phones are not allowed, but I still managed. After taking 8-9 AR+ pictures, I finally got this, my favorite one, which I now like to call the Perfect KO Punch Photo. "
Location: Ahmedabad, Gujarat, India
Photographer/Creator: humpty
Editor's Notes: For many Trainers, the name of this photo may not mean much, however personally, seeing Machamp working on its Knock-out punches in public, feels like a scene straight out of Rocky. 
---
Psychic Fail
"Having lunch one day an Abra appeared. I had some playing cards with me, so I asked, "How about a card game, Abra?" We played a few games and then on trying to start a new game he used Psyshock and sent the cards flying across the table at me. If you ever play a card game with Abra, maybe let him win once or twice."
Location: Oklahoma City, Oklahoma, United States
Photographer/Creator: InotGoodAtThis
Editor's Notes: You would imagine that a Psychic type Pokémon would be good at mind game, strategy games, and above all else, card games. It doesn't surprise me that Abra got upset, after all, if it can't win a simple card-game, can we really call it Psychic?
---
A Morning Sunrise
"The day started with me waking up naturally while I was travelling in Cingjing, Taiwan. I decided to take a morning walk outside of my homestay (minsu) while enjoying the breathtaking mountainous view. A random Butterfree greeted me a good morning and it was flying around the flowers in search of its delicious nectar! It must be a good day today!"
Location: Cingjing, Taichung, Taiwan
Photographer/Creator: Ceddybear90
Editor's Notes: These are the photos I strive to see, a perfect combination between real-world photography, and AR integration, even if Butterfree wasn't there, this would still be a beautiful photo, but having him feels so much greater.
---
Spooky Scary Duskull Skeletons?
"My group and I were doing a raid in a graveyard for a Registeel so I started walking about, trying to hatch some eggs and a Duskull spawned right by the entrance. I thought it was fate and I had to take an AR shot of it, and with the help of my friends it came out perfect, I couldn't have done it without them."
Location: Terryville, CT, United States
Photographer/Creator: Rogue
Editor's Notes: It is about time that we see a Ghost type pokémon in a showcase! The spooky effects that surround give off just the right vibe, it makes you feel like you just encountered something you shouldn't have. 
---
Gardening Grandma-chu
"After arriving at the (relocated) birthplace of the 17th American President, Andrew Johnson, for a little Scyther hunting and Gym battling, I did as I always do and walked the park to appreciate the scenery. Walking into the small gated farm on the property to witness the diversity of thriving plants, I spotted Grandma-chu tending to her garden before the rain arrived. I think she saw me!"
Location: Raleigh, NC, United States
Photographer/Creator: AR MASTER – DoubleComplex
Editor's Notes: Out of all of the Summer Pikachu applications, this seems to be the most clever, most people imagined Pikachu as being by the pool, on the beach, out in the sun, but DoubleComplex thought of something new; Grandma-Chu.
---
Who's That Pokémon?
Last month we asked Trainers to guess "Who That Pokémon" was, and one Trainer not only managed to find out that it was Houndour, but also managed to take a great picture of it as well!
"Here he was just minding his own business when guess who had to go and bother him-that's right, me. He was upset that I had messed with his relaxation time but THIS Trainer had to go and catch him in a Pokéball just to keep him in his collection. By the end of the day he was not having any of it and went back to relaxing, waiting for the next person who would come along and mess with him"
Location: Plano, TX, United States
Photographer/Creator: warmachine85
Editor's Notes: The competition for this month wasn't that grand, although we hope that by seeing this, Trainers can be inspired to participate, just like the photo above, we only select the very best entry of the "Who's That Pokémon" Pokémon. 
With the announcement of last month's winner, now it's time to announce the Pokémon for this month's "Who's That Pokémon" challenge. Think you know who it is? Why not take a photo and submit it to this month's showcase? We will be selecting the top photo only!
---
Conclusion
Although we can't show them all, we are happy that we can take a moment to recognize the efforts of the Trainers above, as with the rest of the Trainers that submitted entries. AR Photography is only a growing trend, and we can consider these photos and the Trainers behind them to be pioneers in the field of AR Photography.
If you would like to share your photos with us then feel free to send in your pictures to our #Ar_Pictures Channel on Discord, and once you're ready, submit your photos through this Google Form for the chance at appearing in next month's AR Photo Showcase!
Take some great Photos, have some great fun, and stay safe, Trainers!