Trainers, hold on to your seats – we finally have new information about Pokemon GO's fabled PvP mode!
In an interview with the polish magazine Gram, Anne Beuttenmüller, Niantic's Head of Product Marketing in the EMEA region, shared the following (Google Translated):
"Now we are working on the PvP mode, which will soon appear. In addition, we're still working on improving the feature that has just made its debut – it's all about friends, such as the ability to exchange Pokemon in the game. 
We've just introduced an improvement so you can add a note to your friend. The point is that you can have many people on your friends list and do not remember who is who. So you can add a comment to that person. You can also segregate your friends list. 
We are constantly improving the elements that we have available in the game and the next thing that we want to add at the end of this year is the PvP mode."
The interview took place at an Ingress Cassandra Prime Anomaly, from 27 – 29 July in Warsaw Poland.
Beuttenmüller shared some additional info about new Pokemon Generations and current state of the game:
When asked if new Pokemon will be introduced she said: "This day will certainly come, but I can not say what exactly will be added, but yes – we will still add new Pokemon to the game."
When asked about how Pokemon GO changed Niantic, Beuttenmüller explained that the company has grown a lot and now has European headquarters in Hamburg and a studio dealing with AR in London.
Parting words and our thoughts
This is excellent news Trainers! The game has been steadily growing back into the limelight (with some dry patches here and there, khm, "Special Trading event", khm), and PvP is one of those things that will be fundamental to reclaiming the global phenomena status that Pokemon GO once had.
An introduction of any kind of competitive aspect is more than welcomed, especially if it will be released at the end of this year.
Like Beuttenmüller said above, Niantic wants to release PvP at the end of this year, probably as a tie in to Pokemon Let's GO Pikachu and Eevee release. However, it is yet to be seen if they will hit the  targeted release date or not – we strongly believe they will, as cross promotion has always been important for the Pokemon franchise.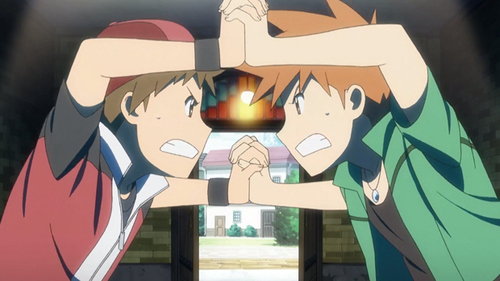 What do we expect from Pokemon GO PvP mode:
limited to local PvP battles, using the same limitations as trading
you'll use a team of six Pokemon, as you use for every other battle in the game
both players will be able to dodge and attack, making this more like Gym battles than raids
could be tied to the Friendship system (or a rivalry system?)
As a bonus reading, we suggest you check out Vena's old article about Trainer Rivalry : Red vs Blue, Ash vs Paul, YOU vs ???. It's an excellent introduction to Rivals and how to handle your in-game opponents even today.