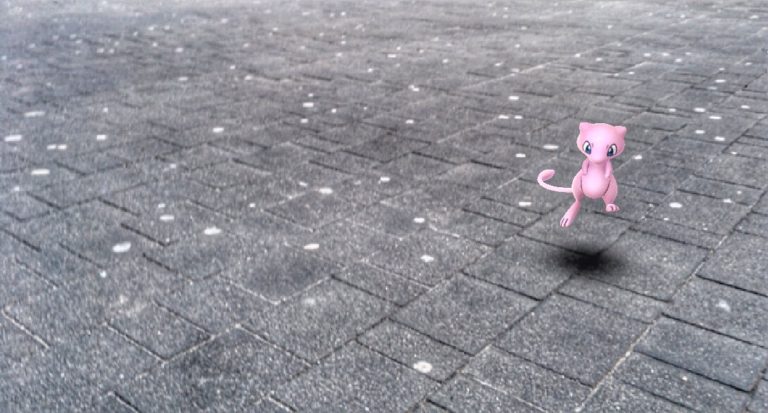 As Pokémon GO advances in the field of AR technology, it only makes sense that Trainers worldwide become more and more interactive in the way they play, and part of this is not only being a Pokémon Trainer, but being an AR Photographer as well.
Throughout this past month, Trainers worldwide have gone out to photograph Pokémon in the wild, and along with this they have brought back stories to tell, in this articles we will take a look at these Photographs, the stories behind them, and the Trainers who took them.
Do you want to join in on the fun but don't know how to take AR pictures? Take a look at our How to Take the Perfect AR Photo Guide for tips and tricks on becoming a better AR Photographer!
---
Take Me to Church
"This time we went to a park to walk out our eggs, do some raids and catch some Yanma. An Azumarill spawned on our screen and I tried to take a picture from behind Azumarill while looking at my girlfriend. At home I edited the colors a little bit and the picture was perfect to me. Then I decided to take more pictures of Pokémon. My goal is to take an AR+ picture of every Pokémon."
Location: Edingen, Belgium
Photographer/Creator: ShinyMajinRobin
Editor's Notes: A blend of both Pokémon and the real world that cannot be replicated anywhere else, this is a truly spectacular use of AR+ and we hope that this Trainer can continue on his Photographic journey .
---
Close Encounters of the Shiny Kind
" I was walking around my town with my friends who play Pokémon Go as well on Community Day. When I encountered my first Shiny Dratini, I wanted to get an AR+ Picture of it because I enjoy taking pictures of Pokémon. After that it was time for me to catch it. Community Day was a lot of fun because I enjoyed playing Pokémon GO with my friends who I call my fellow Trainers!"
Location:  Fayetteville, NY, United States
Photographer/Creator: MikeHunter96
Editor's Notes: Sometimes, you have to forget about everything else except the Pokémon, the first thing that draws your attention are the beautiful pink eyes that just melt your heart away.
---
Fossil Fuels
"That day me and my girlfriend decided to go to the beautiful city 'Gent'. It's a 40 minute drive from where we live. There is a park with a lot of stops and gyms with a chance for an EX pass. A lot of good Pokémon spawn too! I try to take AR+ pictures of the Pokémon with a beautiful background. There is also an animal shelter where you can take a dog for a walk when you play Pokémon Go."
Location:  Gent, Belgium
Photographer/Creator: ShinyMajinRobin
Editor's Notes: I had originally spoken with this Trainer to get his take on another picture, but he was quick to show this to me, and well, I thought it was stunning, the way Armaldo contrast so well with the background just looked amazing.
---
Straight Outta Pallet Town
"After a long day of work, I went out to catch the raid train to grind for XP with the crew. Drove around Jacksonville to hit 5 legendary raids from mainside to downtown only catching 3/5. Once raids stopped I went to the Beirut Memorial (Memorial Gardens) to catch Pokémon and get some research done. 9 miles of walking later, an aggressive Venusaur was guarding a bank in the dark where cops usually camp."
Location:  Jacksonville, NC, United States
Photographer/Creator: RastaKhenan
Editor's Notes: When talking to this Trainer, one thing stood out; a comment made about Venusaur being a thug at night running the streets, well, let's just say that I don't think that Venusaur was "guarding" the bank.
---
Spores
" I finished up collecting the ball from the ground as I put Moltres away. I went to head back towards the town center with my friends but as I crept closer I noticed something in the air… It looked like spores.. and it was then that I fully turned the corner and saw Jumpluff. She was floating there above a bush.. she clearly has no problem with a trainer getting close to her so I took my chance and threw my great ball. The ball fell and clicked closed for me. It was a productive day."
Location: Jacksonville, AL, United States
Photographer/Creator: Brisingr_Blaze
Editor's Notes: This Trainer had mentioned that his inspiration behind the description of the photo was because of TrainerTips, and I can see why. This photo is a perfect example of how story-telling can completely change our perspective of a photo.
---
"Shiny" Aggron
"I was walking along the cliff-side of Santa Monica when I came across two Aggron raids. I decided to raid both and on the second raid the sun behind the tree seemed perfect for a picture."
Location:  Santa Monica, CA, United States
Photographer/Creator: CXLR_Fly
Editor's Notes: Seeing Aggron standing in the bright background is a perfect mix, Aggron naturally having a metallic texture coincides very well with the direct sunlight.
---
Freedom
"It was a typical day of exploring my Town Square like I had done time and time again. Me and my friends would usually hang around the town center spinning stops. I felt like doing a walk around the area to check the gyms and turn their alignment to Valor if they weren't already. I realized I was on my last stamp til my research breakthrough so I looked around in hopes of a spot that would compliment my team's bird. The old doctors office from times passed.. I thought it a fitting spot to showcase it's majestic flight as it soared down to me."
Location: Jacksonville, AL, United States
Photographer/Creator: Brisingr_Blaze
Editor's Notes: Something about this picture just gave me a strong impression, you might find another bird to represent Freedom, but I think if you want a better example, you can take a look at Moltres in this picture.
---
Cobblestone
"I was waiting for my friend, we had made an appointment at the center of Rzeszów. He was a bit late so I decided to complete my special research because I couldn't handle the wait anymore. I fed one last Pokémon a nanab berry, I think it was a Pidgey and then I got my special research prize – the Mythical Mew. At the beginning of the encounter it wasn't invisible so I managed to get this photo. I Then caught my 1300CP Mew."
Location: Rzeszów, Podkarpacie, Poland
Photographer/Creator: Pchajtaczki
Editor's Notes: Many users might dislike this photo for its simplicity, but in my opinion it's perfect, the color of Mew's body really brightens up against the stone ground, it is a beautiful way of bringing the viewers eyes to the Pokémon.
---
Farmer Boy
"It was the last day of the Lunar New Year event. I went to my brother's Baseball game and found a Poochyena. When it wasn't a shiny I decided "why not just take an AR shot of it?""
Location: Los Angeles, CA, United States
Photographer/Creator: CXLR_Fly
Editor's Notes: Sometimes when you're out in the field, you wish you had a little buddy to accompany you, and well I think it is best to say that we think on this occasion, Poochyena was Trainer's best friend.
---
From the Heavens
"It was just another Lugia raid and I had already gotten a 100% Lugia from the previous 2017 Lugia wave, so me and my friends gathered at the gym near my home for the raid but as I was late I had to leave the place with the raid on. The day was extremely cloudy and we thought it was finally gonna rain for once, by mistake AR+ was turned on and I saw Lugia in the open world and I was like "I must. Take. A. Picture." and there you go, you have one of my greatest pictures of all time."
Location: Ahmedabad, India
Photographer/Creator: _instaval0r_
Editor's Notes: Seeing a Trainer take great pride in their Photography is a great thing to see, and with a picture like this, it's no wonder why. This Trainer captured the moment of Lugia descending from the heavens.
---
Splash Zone
"Day 639 of my Pokémon Adventure: After a long day of studying it's nice to get out, walk around and explore new places. I like how Pokémon Go takes me to new stunning places that I can explore. After arriving at the park, I met some new friends and hung out with them while we all played and connected over Pokémon Go. After we all went our separate ways, I wandered into the forest and found this Magikarp splashing around in the creek where I just had to take a picture of it."
Location: Cincinnati, OH, United States
Photographer/Creator: Shelton40
Editor's Notes: In comparison to most Magikarp shots, this Trainer decided to take advantage of Magikarp's splash animation, and by taking a photo of it in an empty creek, it just seems more than fitting for the flailing Karp.
---
Cliff-side Battle
"It was March 23rd, the day of my EX raid. Prior to this moment I had not taken any AR Shot of Mewtwo. I went from the Starbucks where the raid took place at, to the cliff-side and took this amazing picture."
Location: Santa Monica, CA, United States
Photographer/Creator: CXLR_Fly
Editor's Notes: If you aren't in the right place to take an AR Photo, then that just means you have to go somewhere else, this Trainer was not satisfied with photographing Mewtwo until he arrived at this location.
---
Low Flame
"Before the introduction of Ho-Oh, Moltres was the closest Pokémon to the legendary Phoenix. The Fire Bird of Oriental legend. With that in mind, I headed straight for a local Chinese themed park to get a picture of the rare creature…."
Location: Kuching, Sarawak, Malaysia
Photographer/Creator: DARE☆
Editor's Notes: Reports say that this was the last photograph taken by this Trainer before succumbing to a deadly hit to the face by a burning chicken.
---
Lily Landing
"For the last day of my 3-day trip to Barcelona, I planned to visit Parc Güell, as it is an architectural landmark and also a great nature walk. Like every trip I do, I like to play as I walk, farm new stops, collect new gym badges, and take some cool AR shots. As I was going under a bridge I found a Lotad. The plants near me were kind of mixed together so I didn't have a spot for it to look realistic, until I found a small clearing where Lotad fit like a glove. To be honest it might be one of the most awesome AR shots I have ever taken, and it's a great postcard from Barcelona that I brought back home with me."
Location:  Barcelona, Catalonia, Spain
Photographer/Creator: Vlapower94
Editor's Notes: Sometimes a Pokémon just won't fit where you want it to, you might get frustrated or even give up, but unlike that, this Trainer looked until he found the best spot for it, a little clearing with the perfect amount of space to take the perfect AR photo.
---
Street Fighter
"One day on the Santa Monica Pier I came across a wild Breloom. With my photographer's eye I saw the Ferris wheel in the back and just thought I couldn't pass up the opportunity."
Location: Santa Monica, CA, United States
Photographer/Creator: CXLR_Fly
Editor's Notes: When I saw this photo, my first impression was that this felt like a scene straight out of Street Fighter, little did viewers know that Breloom was eyeing down a Machamp for a fight!
---
Temple Gaurdian
"Descending from the heavens – MewTwo needs an interesting backdrop for a photo to work. This little hut, surrounded by a moat was pretty much a location calling for a picture to be taken, and the low angle further accentuates the might of this legendary Pokemon."
Location: Kuching, Sarawak, Malaysia
Photographer/Creator: DARE☆
Editor's Notes: A Legendary Photo meant for a Legendary Pokémon, this Trainer didn't miss the mark on this.
---
Snowball
"I was out playing like I normally do, battled some gyms and catching Pokémon when someone in our local discord group reported that there was going to be a double raid at the hospital, so I walked over and did both raids. When I finished the two raids I started to walk back downtown. A little bit later I saw a wild Glalie on the nearby list so I walked to the Pokéstop. When I got there, I noticed that he was well-matched with all the snow and one of the school's houses in the background that looked a little spooky. Later that day I added some effects and I think the photo turned out very well."
Location: Östersund, Jämtland, Sweden
Photographer/Creator: PheeThee
Editor's Notes: The use of this Trainer's surroundings is phenomenal here, many Trainers who don't have access to snowy weather just take photos in water biomes, but if you have it, use it, and this Trainer did not hold back.
---
Beach Bod
"I was walking along the beach of Santa Monica on Community Day with some friends when I got a shiny Dratini. I took a picture of it to submit to the Pokémon Go Hub."
Location: Santa Monica, CA, United States
Photographer/Creator: CXLR_Fly
Editor's Notes: Let's be honest, summer is for Beach Bods, and although this photo was taken a while ago, let's hope that we can be as confident on the Beach as this Dratini is.
---
Where the Wild Things Are
"I was simply out on a day trip to southwest Illinois with a few of my family members. Our original intention was to do some walking along a river. However, it was far too cold to even step foot out of the car. So we drove around a little bit more in search of a new spot to walk. Then, we had come across a small park with a path right outside of it. So instinctively, I whiped out my phone to check what's on the nearby. Sure enough, a Sableye pops up on a stop not too far from where we had parked. So I walked on over, and I attempted to catch it. However, with how crazy it is as a Pokémon, I tried to snap a photo of it. And sure enough, I did!"
Location: Channahon, IL, United States
Photographer/Creator: PartiallyPossum
Editor's Notes: Seeing that sign next to a crazed Sableye seems fitting in the worst of ways, although it makes for a great photo, let's just cross our fingers that this Trainer turned out okay afterwards.
---
Conclusion
Although we can't show them all, we are happy that we can take a moment to recognize the effort of the Trainers above, AR Photography is only a growing trend, and we can consider these photos and the Trainers behind them to be pioneers in the field of AR Photography.
If you would like to share your photos with us and sign up for next month's AR Photo Showcase, feel free to send in your pictures through our #Ar_Pictures Channel on Discord and look for sign up instructions!
Take some great Photos, have some great fun, and stay safe, Trainers!