Party Play launched globally on October 17th, and is a brand-new feature which involves completing challenges as a group.
I spoke with a fellow GO Hub writer, PogoWatson, to talk about our thoughts and experience with Party Play after the first week of the feature being live. Here's what we think!
With Party Play, Trainers can play and complete challenges together—all in one shared in-game experience. Party Play lets four total Trainers—level 15 and above—adventure as a party together. You'll even get to see your friends' avatars on your in-game map. Whether you're looking to represent your team, take on new challenges, or capture memories while catching Pokémon, Party Play makes it possible.
You'll be able to work together in Party Play to complete Party Challenges together, gain access to Party Play Power to help you defeat raids with new boosted power, share your success with activity summaries and experience a whole new way to play with your friends and fellow trainers.
Special Research
Party Play brings with it a new Special Research quest line! You'll need to collaborate with your friends and local community to complete this Special Research, using the new Party Play mode to earn Stardust, XP, Pokémon encounters, and new avatar items!
This is Special Research, so does not expire or run out. To partake in the new Party Play you must be level 15 and above, and you can work together in a group of four trainers, for an hour at a time.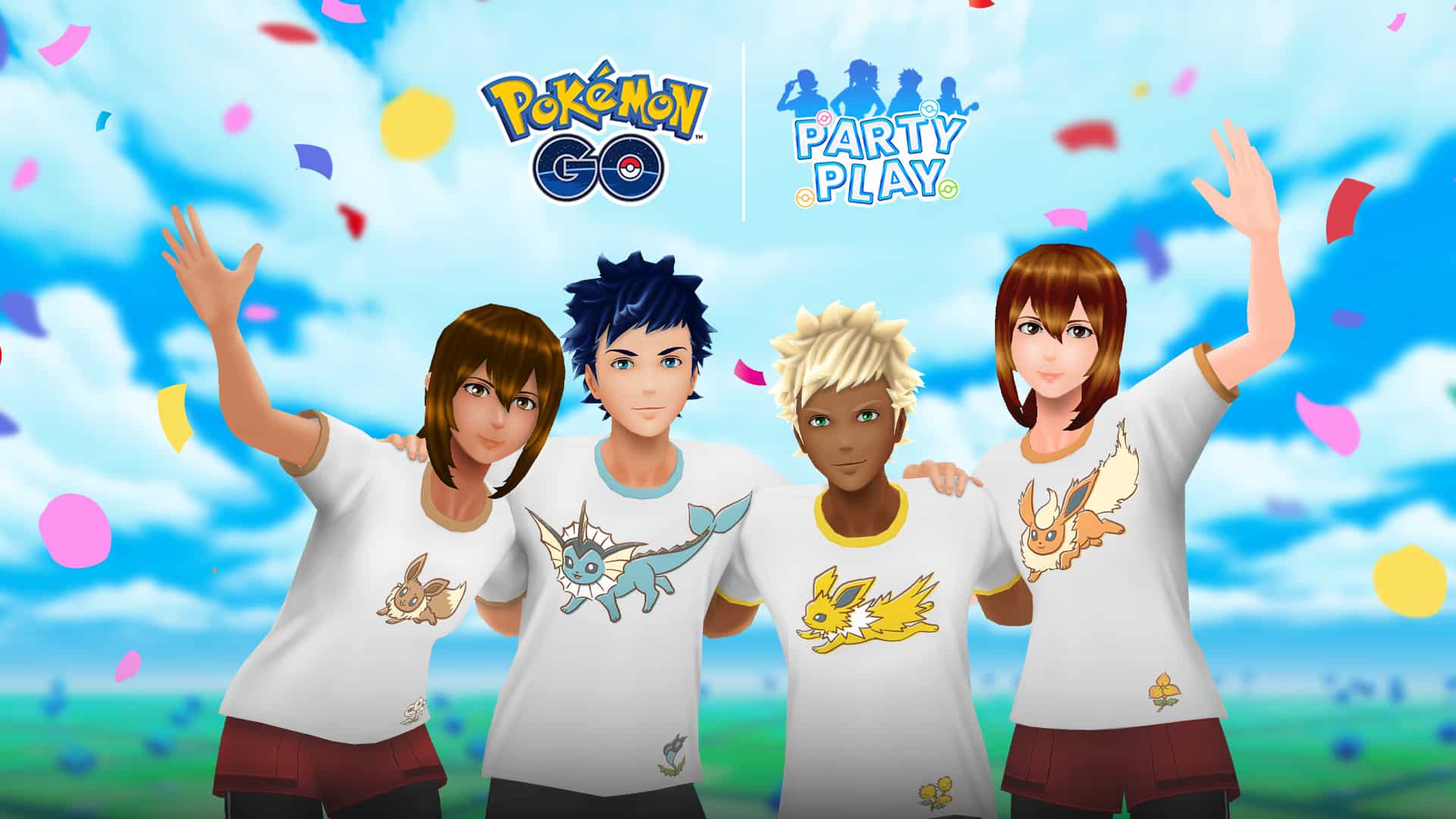 Completing 70 Party Play challenges overall is quite the task, but I love the eeveelution-themed avatar t-shirts available from this research. A lot of the Party Play challenges are easy to complete in the background, so this research should be nice to casually grind!
There are some known issues you might experience as this is a fairly new feature and Niantic is still working on improvement. If you experience any other issues, please be sure to let Niantic know! We have a Known Issues article which you can check out!
Some other bugs that players have reported that aren't on Niantic's known issues page include:
Saved Parties and GO+ Plus settings being wiped
Being soft locked on the 7th Party with the same Trainers (unsure on cooldown for this)
Overall Party Play seems like it works pretty well on launch! I was apprehensive at first after the rollout of Routes, but everything worked smoothly. It was great to see that there aren't any issues with exiting and reopening the app, or with interacting with other parts of the game such as GO Rocket Battles or your Buddy whilst part of a party.
Starting a Party
It's really simple to start or join a Party. Using a QR code or short number string is super handy and worked very seamlessly for me when both joining and setting up a party.
Party Play
One party session lasts only an hour. An hour is enough to get around 2-4 challenges completed on average if you're playing actively throughout and in a built-up area. I would say this works for walking to School or Town with a friend, intended more for shorter walks, rather than for longer walks dedicated to being out to play Pokémon GO.
Pretty much the only gripe I have with Party Play is that despite this hour time limit, there is no timer anywhere within the game. There is a 9-minute 'warning' but that's it. It would be great if we had a timer in the Party tab during an active party. I would also love it if the maximum Party duration could be increased, to save having to rejoin a Party after an hour. It feels like this could get clunky during Community Day or other events where Trainers are out for more than an hour. We could benefit from a slightly longer Party duration but given it all works pretty smoothly right now, I definitely don't want to seem as if I'm complaining!

Raid Bonus
The Party Play raid bonus wasn't very noticeable, though it might have sped up our takedown by a few seconds. However, this feature might be able to make a difference for Trainers in more remote areas that are very close to being able to take down a Raid Boss, irrespective of tier.
Completing Challenges
Completing challenges together is a great feature! I thrive most in Pokémon GO when I've got some Special or Timed research to work towards, so these small and attainable goals are very useful for giving me motivation to catch whilst out on a walk.
A note from PogoWatson that I 100% agree with is that the challenges could be improved as not everyone is able to walk 5km (say if you've got a Party of two) or win 2 raids. To be more inclusive to those with disabilities, rural trainers or trainers that can't get out and about for long because of work commitments, it would be great if challenges could be skipped or rerolled. Especially at the moment as there is no timer, its tricky to choose a challenge when you know you're towards the end of the hour to work out what you might actually have time to complete.
The challenge rewards, however… leave a lot to be desired. Below is a screenshot of being rewarded 1 Max Potion for 20 excellent throws. Other rewards include 1 Max Revive, and 10 Mega Energy among other low-value items such as Pokéballs, Razzberries and Pinap Berries.
It would be great if we could have access to more sought-after items such as Rare Candy (or dare I even say XL Rare Candy) or a Pokémon encounter as a reward, even if these are locked behind a more time-consuming challenge. Alternatively, they could introduce tiers, where once you've completed a certain number of challenges with these low-level rewards, you unlock the chance of challenges with better rewards.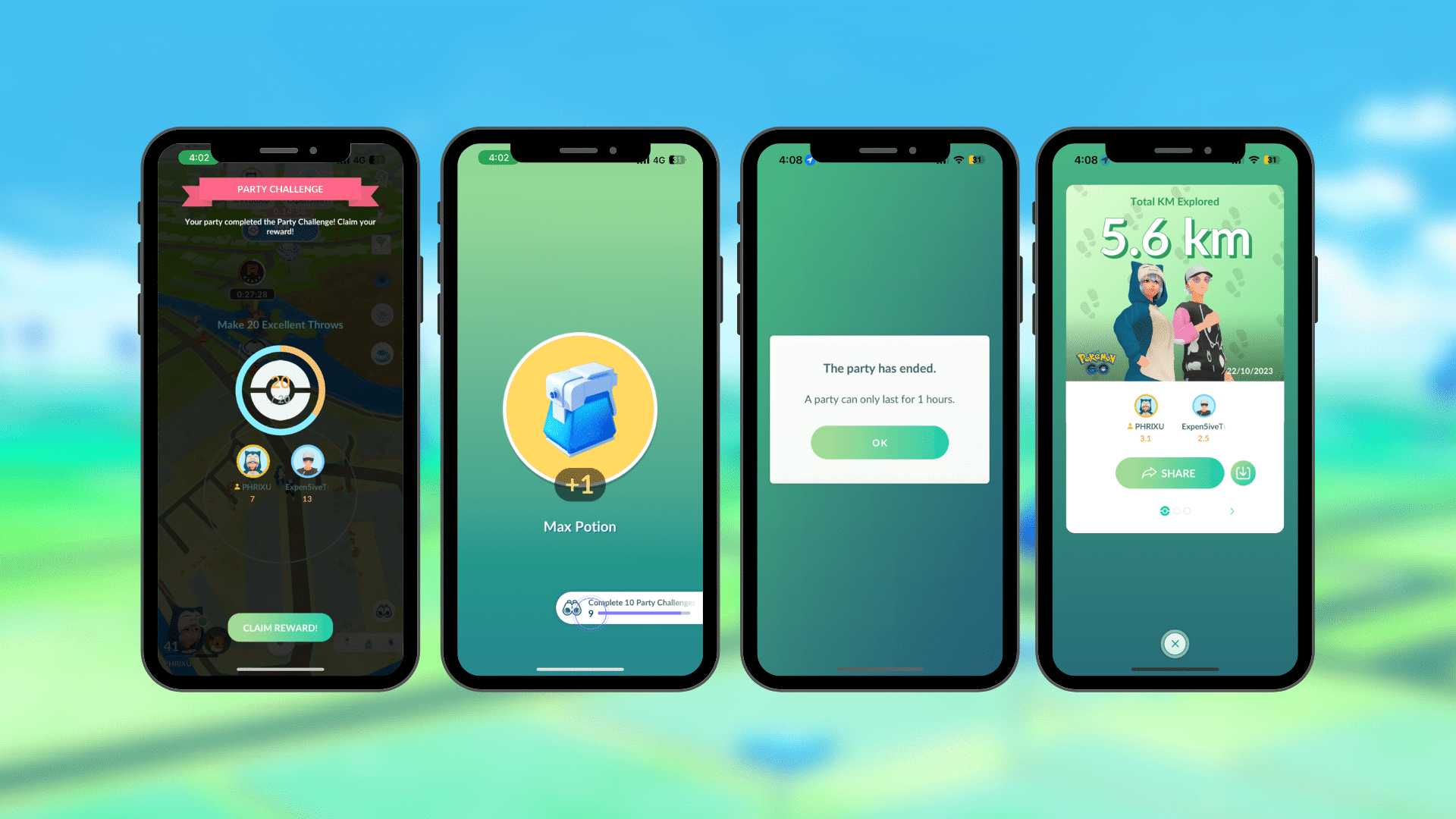 Routes
Finally the Party Play mode has been updated and you can now follow Routes with your friends. A much needed quality of life update! Most trainers are probably most likely to follow Routes when with their friends, so to launch this without the ability to do both was an odd choice, but we can happily say the two work together now.
With this feature, Shadow Raids and Routes all introduced this year alongside remote raiding nerf, it feels that Niantic is really pushing going out in person. I'd be really interested to see player statistics from late last year to now, to see if this campaign is driving people out more, or if people are just using the features when it's convenient for them. I don't personally feel any of these things have made me want to go out more, I've just worked them around my usual routines during Community Days and other events.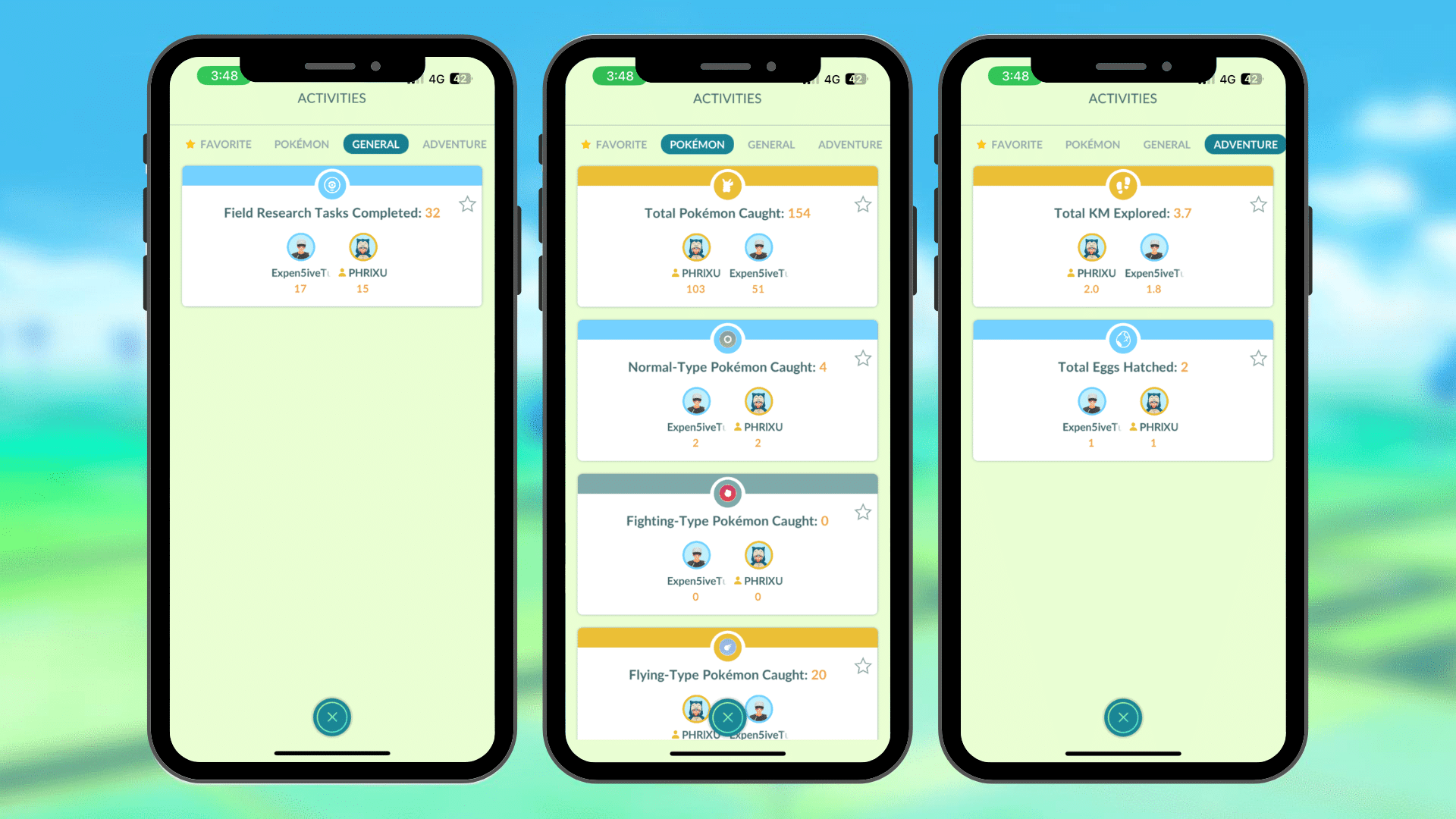 The 'Activities' page definitely makes me feel competitive. The point of Party Play is to work together to complete challenges but that will not stop me from catching every Pokémon in sight to get as high stats as possible. The end of the Party screen is also really well done, hats off for that one!
I am out with my partner the majority of the time that I'm playing PoGO, so going forward I will be setting up parties as there's no harm in doing so. I remember saying before that I would love it if you could see the people you were walking with, and it adds an extra layer of interact-ability with the game and now we have it!
I'd love to see one incense working for the entire party in the future, along with some other features to make it feel like there's more connectivity between the Party and the group existing in real life. Generally, there might need to be a bit more of an incentive other than just a raid boost and the current challenge rewards. There are lots of people who don't raid, so this feature won't mean much to them unless there's something specific that they can gain from it (think Zygarde cells).
There have been more assets datamined that seem to be linked to Party Play, so I am looking forward to seeing where this feature can go. Honestly, I can see myself using it quite a lot even just for the novelty of seeing my friends' avatars on my map. Maybe this is the idea but it definitely makes me feel more connected and part of something when I can see my friends on the map, rather than just me.
Your Thoughts
That's all from us this time, Trainers. We'd love to hear from you! Have you tried out Party Play yet? Did you enjoy it and do you think you'll use it going forward?