Trainers, we would like to take this opportunity to announce a new monthly series here on GO Hub. Giving Back: The Charity Work of Local Communities! This is a celebration of all good deeds done by you, the players, during Community Day. This will be a once-monthly segment whereby I will be shining the spotlight on Communities and individuals that give back and do good deeds for their local areas all while racking up their shiny Pokémon!
The idea for the series came about whilst one of my previous articles was being edited: Shiny Meltan – A Relationship Refresher! There is a section mentioning how TSR's Reddit user, /RmKruger organized and hosted a food donation drive for his local shelter in exchange for Mystery Boxes from Pokémon Let's Go.
It was unanimous amongst my fellow GO Hub writers and the editors, that this was an extremely worthwhile reward for what actually required little in return. Seeing as most good deeds go unnoticed, a monthly showcase of all the great work that goes on behind the scenes was requested. It is our hope to celebrate and share all of the amazing stories of hope that are shared with us and inspire others to do the same.
Didn't GO Hub's Discord Have A Channel For That Sort Of Thing?!
For those of you who are members of the GoHub Discord Server, you may recall a time when we would request your photos from Community Day in your area. We were inundated with amazing pictures of local groups getting out there and doing some good to benefit others as well as themselves. We had to eventually close the channel because we didn't have the capacity to do anything with the sheer volume of photos we received and it was a shame to waste them. But now, we will be reviving the feature and are requesting photos once again with a brief explanation so we may start posting them in this article series once a month.
Giving Back: How to Take Part
We want to use your photos and stories! With the recently announced Go Snapshot feature – we think that now is the perfect opportunity to ask you to send in pictures from your local Community days where players have gone above and beyond – So that we may feature them in this article series.
In order to take part in our "Giving Back" series, please fill out our Google Form here to submit your own Charity Photos & Information for consideration! Every month we will Spotlight one of the submissions to feature in a "Giving Back" article. If your entry is chosen you will be contacted so that we may interview you for the article on your community's event.
*Please refrain from sending in AR shots of Pokémon only, as we have a monthly AR Showcase where you can display those.
The first installments of this series will see us interviewing two spearhead figures in the Pokémon Go Charity Scene: RmKruger & TealRose. These two wonderful people have individually organized a wealth of events for their local communities and we can't wait to share more details of their good deeds. It's their hope that it will inspire others to do the same.
Giving Back: Advice & Tips
We also want to offer some advice and tips on how you can get involved and host your own Community Day charitable event. Some simple pointers to help anyone who is as inspired as we are to do something beneficial for others on the next Community Day.
Start Small – It doesn't have to be a grand gesture to be worthwhile! Within my local community, I organize a competition whereby whoever finds the highest or lowest IV Shiny on Community Day wins a prize. This helps to gel our community as a whole, gives the younger players something to help compete fairly in and also prevents any one person from having a distinct advantage over another. See the graphic I've used for this Community Day below: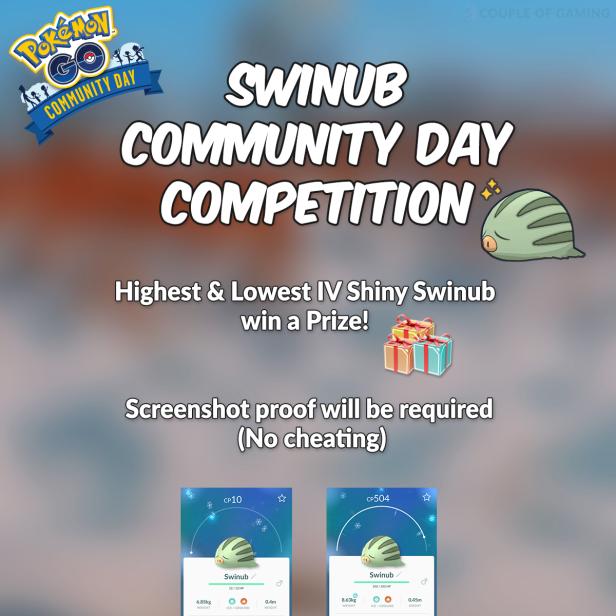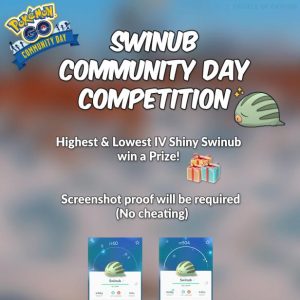 No Donation is Too Small – Another great idea would be to collect one long-life food item from each trainer in your community to add to a box before donating it to a local shelter or food bank. This sort of small gesture may also inspire others.
Litter Removal – Not to everyone's tastes but as we saw with the Project Blue event, collecting litter from the world's shorelines and helping to clean up the environment is a very rewarding experience. We hope Niantic bring back the Planet Blue event this year.
Voluntary Work – Trainers across the globe are probably well versed in doing a bit of voluntary work. I know of an older player in our local community that offers to walk trainers dogs for free during Community Day hours as it helps him to get out and about and keeps him active.
Pokémon Let's Go – As mentioned above, players could offer access to the mystery box in exchange for food donations, blankets, clothing or anything that would benefit local charities.
Parting Thoughts
We hope that the Giving Back series gives communities that go above and beyond some well-deserved applause and acts as a catalyst to spur more individuals to get involved! The Swinub Community Day was a great opportunity – here's to the next one!