Trainers, having only recently published an article about the Pokémon Go / Let's Go connectivity and its state in the current game (Article can be found here), it was abundantly clear that Niantic and The Pokémon Company needed to do something to refresh that dwindling relationship. They have done so in the form of a limited time Shiny Meltan Event.
For those who want a recap, we mentioned that the game was only being connected for the sake of the Mystery Meltan Box once a week and, in some cases, once the player had a Melmetal, not at all.
Shaking Things Up
Almost as if Niantic read our article and agreed it was time to shake things up, shiny Meltan has been released via the Mystery Box! It's given players (and my community, for one) an opportunity to reconnect with one another again and seek out those that own a Switch to help them out. In some cases (like the below) Boxes are being handed out "in-exchange" for Charity Work!
Shiny Meltan Event Infographic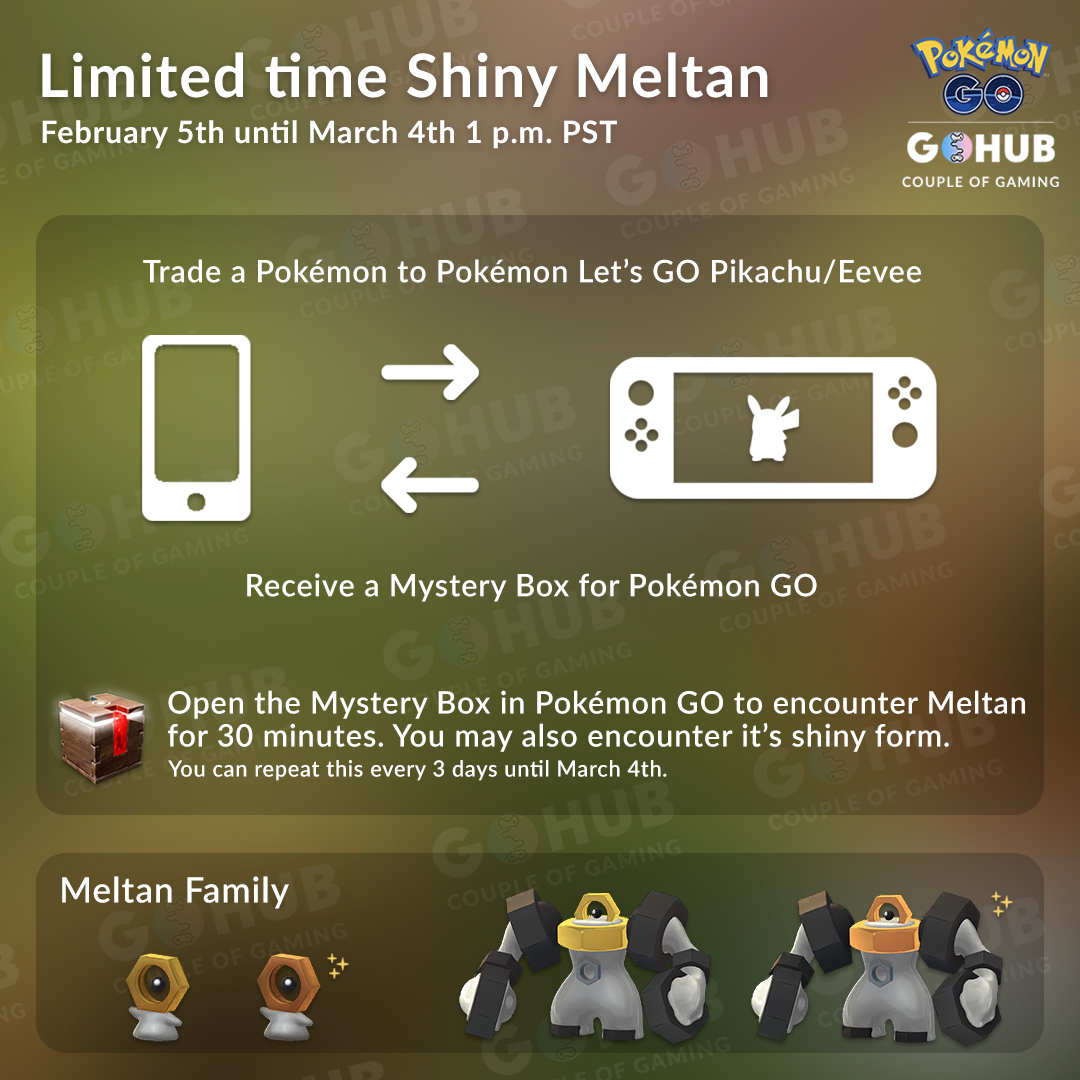 Using Boxes in Exchange for Charity Work?!
Reddit User /Rmkruger posted to The Silph Road Subreddit about how his local community plans to offer up players a Mystery Meltan Box in exchange for donating food parcels (with a minimum weight of Approx. 2KG) to a local community charity.
We at GoHub think this is a wonderful idea and believe that future events should encourage a similar mentality whereby Charity and Pokémon Go exist hand-in-hand.
Of course, this isn't the first time we've seen good deeds come from Pokémon Go:
Niantic's Previous Good Deeds
In April last year, Niantic announced the Earth Day Cleanup partnered with Mission Blue. This gave trainers an incentivized opportunity to help clean the world's shorelines and also earned global rewards of bonus Stardust depending upon the number of attendees.
It is safe to say that the goals were smashed wide open and there was plentiful bonus Stardust for all!
Parting Thoughts
Pairing Pokémon Go – An active game with one of the largest active user bases for any mobile game – with doing voluntary work for the greater good of local communities, charities and/or the Planet itself is a wonderful idea that not only helps everyone out but gives players a reason to get out and make a difference.
We think more events like Mission Blue should be in the pipeline for 2019!
Thoughts, Trainers?