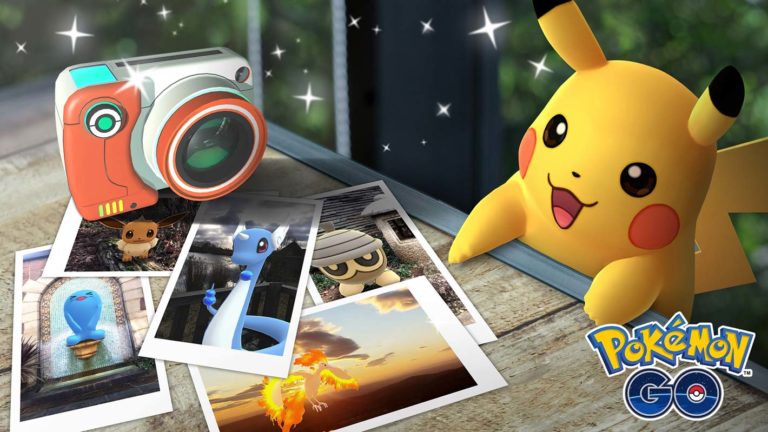 GO Snapshot is a new AR experience coming to Pokémon GO! GO Snapshot allows players to take amazing AR pictures of Pokémon they caught previously, without having to encounter them in the wild. In other words, with GO Snapshot you can finally take a picture of any Pokémon in your bag, at any location, and at any time!
The idea behind GO Snapshot is to give players a better way to interact and connect with their Pokémon in AR. You can activate GO Snapshot by tapping on the new Pokéball icon on the Pokémon details page. In the new Snapshot mode you can:
Search for a flat area to place your Pokémon.
Select a flat area and wait for your Pokémon to appear from a Pokéball.
Take Photos of your Pokémon from any angle you wish, as Pokémon in GO. Snapshot stay "glued" to the surface and orientation you placed them. This works in the same way as the AR Plus feature, minus the flee mechanic.
You can tap on your Pokémon and activate its animation sequence.
You can return the Pokémon to its Pokéball and reposition it with ease.
You can share Photos of your Pokémon via your device's built-in sharing menu.
The images taken with GO Snapshot have a distinct polaroid style frame which can be used to draw your signature or share a quick note about the Pokémon you just "snapped". Similarly to AR Plus, the GO Snapshot feature has the exact same technical requirements. If your device does not support AR Plus, well, you're out of luck again.
We look forward to seeing how our regular AR Masters use the new feature, especially now that you can plan your photo session in meticulous details! GO Snapshot is expected to go live soon, with the release date still being unknown.
P.S. remember when John Hanke teased this feature back in October 2018? We do – Niantic CEO teases Pokemon GO AR playground mode!
#NianticDay Taking a friend out for a walk in the park @ Roppongi Hills pic.twitter.com/zSdXnlME3H

— John Hanke (@johnhanke) October 13, 2018
GO Hub's take
GO Snapshot is a fundamental step forward in increasing Pokémon GO's AR capabilities and, inadvertently, presence on social media. Harkening back to the days of Pokémon Snap, GO Snapshot enables you to set the stage for incredible AR photography and finally take truly amazing photos of your Pokémon.
We hope that Niantic will keep developing the feature further as there's a lot of potential here! From using berries to feed your Pokémon in AR to potential group photos, we really hope that development on Snapshot won't stop with its initial release.
Share your thoughts in the comment section below!