Exciting news, a brand new version of Incense is here, Daily Adventure Incense. It appears to be part of Niantic's new plan to get us outdoors and moving, and for once, it helps rural players just as much as city players! And most excitingly, you may encounter Pokémon not frequently seen in the wild, such as Galarian Birds!
Daily Adventure Incense is available worldwide to all Trainers, it lasts 15 minutes and it allows Trainers to have burst play sessions tied tightly to movement.
What is Daily Adventure Incense?
You will only receive one Daily Adventure Incense per day and can only hold one at a time.
Daily Adventure Incense lasts for 15 minutes once activated. While exploring during this time, you may encounter Pokémon not frequently seen in the wild.
The key thing with the Daily Incense is to move. If you are not moving, you will not spawn a single Pokémon, you have to be walking.
So far we have seen reports of Pokémon including Espurr, Jangmo-o, local regionals, and most awesomely, Galarian Zapdos, Moltres and Articuno!
The three Galarian forms of the Kanto Legendary birds have extremely high flee rates and catch rates, making them very difficult to catch in the wild.
They have a base catch rate of 0.3%, and a flee rate of 90%. Your best bet is to Golden Razz Berry, Ultra Ball, and pray to Arceus!
Additional Details
You will not be able to use another Incense while Daily Adventure Incense is active.
The reverse is also true: if you activate another Incense, you will not be able to activate Daily Adventure Incense at the same time.
In order to begin using Daily Adventure Incense, you will first need to complete the associated Special Research. This Special Research will teach you how to use Daily Adventure Incense and will also reward XP!
How to activate Daily Adventure Incense
Daily Adventure Incense can be activated in the same way you would any other Incense.
First, locate Daily Adventure Incense in your Item Bag or tap the icon in the upper right of the in-game map. From there, swipe on Daily Adventure Incense to use it. A blue fog will surround your avatar while Daily Adventure Incense is active.
After use, Daily Adventure Incense will be removed from your Item Bag (*) until the next day.
(*) Daily Adventure Incense is not included in the total number of items you can keep in your Item Bag.
How to catch Pokémon when Daily Adventure Incense is Active
While Daily Adventure Incense is active, wild Pokémon will be attracted to your location so long as you are moving!
Movement is key here: no movement, no spawns. Below are two screenshots from some of our GOHub crew who tried out the Incense from home showing how it is affected by movement, top from Lawaii, bottom from JellyBean.
Lawaii, no movement made while using Daily Incense:

JellyBean, made 257 meters while using Daily Incense: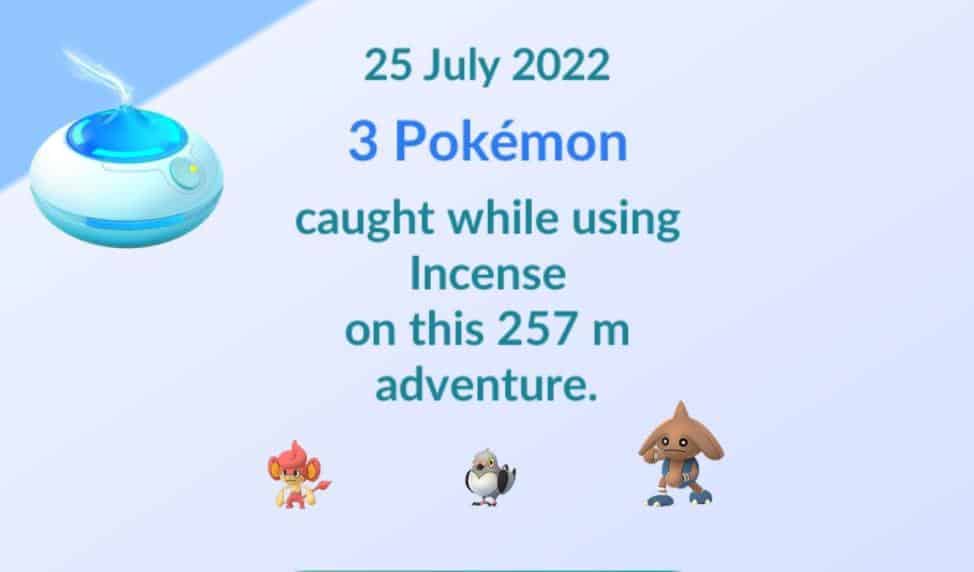 Interestingly the top screenshot from Lawaii shows 0m, they behaved how they usually do when playing Pikmin Bloom, but as Pikmin tracks via steps, and Pokémon GO via GPS distance, it wasn't effective.
So dancing on the spot, treadmills etc, don't work for the Pokémon GO Daily Incense. You must physically travel and move location.
How many Pokémon you encounter will depend on your movement, but it appears that spawns can occur more than once per minute, potentially every 30 seconds, so long as you keep moving.
Daily Adventure Incense looks much like regular Incense, it forms a blue cloudy circle around you, and around the incense spawn, and encountered spawns have a Daily Adventure Incense mark to show they are from the Incense.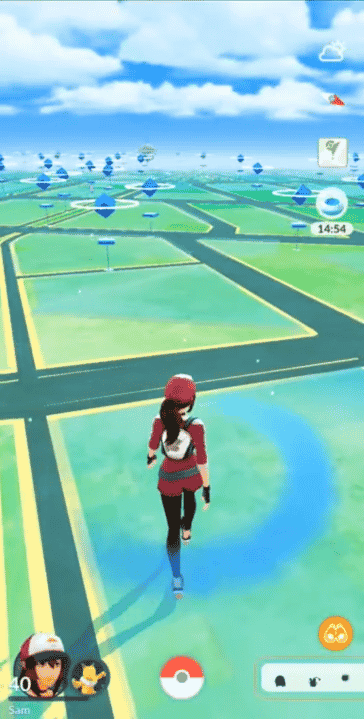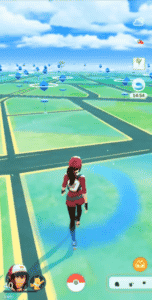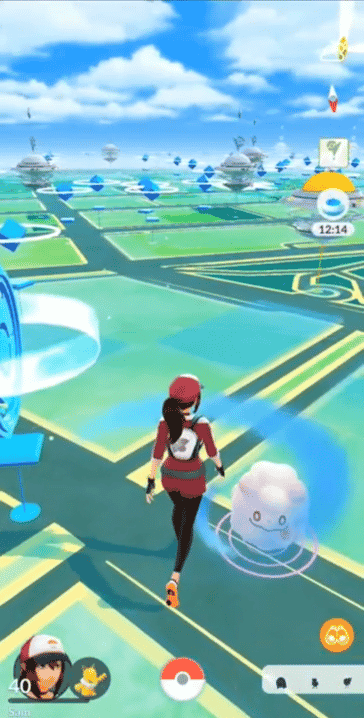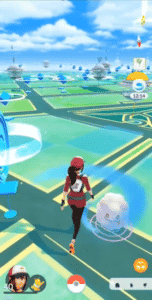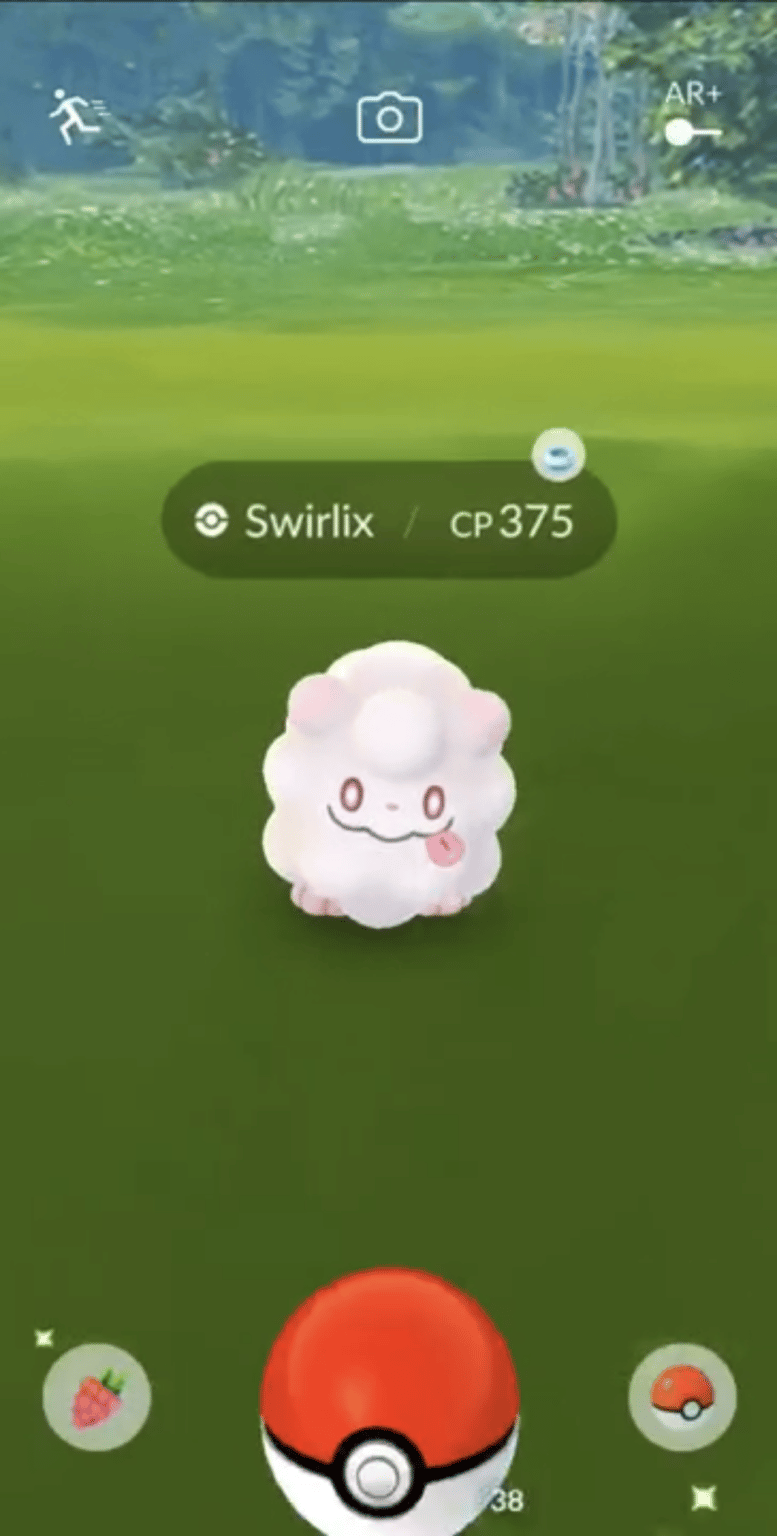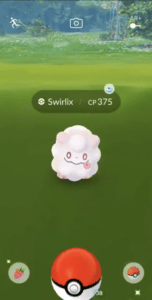 Car Note 💡 – It looks like the Daily Adventure Incense works in a car. We do not advise playing while driving, but if you are a passenger, you might as well activate it.
General Tips & Tricks
Movement is key, tracking is via GPS location, not steps, so the further distance you cover, the more potential for spawns.
Walking in a straight line will optimise the distance covered.
The quicker you walk the better, as more distance will be covered between spawns. Powerwalk time!
It looks as though there is a maximum of one spawn every 30 seconds, depending on your distance covered.
Don't double back on yourself! The distance won't count and you'll lose spawns.
Don't pause to catch, any pauses mean less distance and less spawns'
Unless it is a Legendary Bird, then you should absolutely pause to catch!
If you see a Legendary Bird, using a Golden Razz Berry and Ultra Ball is your best chance to catch it, and try to get at least a Great Curveball Throw. An Excellent Curveball Throw is the best, but with tricky movement animations and small circles, it may be worth getting a Great, rather than trying for the Excellent and missing the catch circle. Expect that it will likely flee, and try not to be too gutted!
If you are leaving from somewhere you are connected to WiFi, turn off your WiFi before you trigger your Incense. This way your connection will stay stable, and there won't be any gaps in your service that could cause you to lose spawns.
If you can 'quick catch', we recommend using Great or Ultra balls to ensure the catch.
Compare and Share your Adventure
If you catch any Pokémon during the 15 minutes that Daily Adventure Incense is active, you will be presented with a recap showing all the Pokémon you caught. You can easily share this recap on social media.
Rather interestingly, Pokémon will show as shiny on this screen, as seen by the shiny Hoppip I caught using my Daily Adventure Incense for the first time.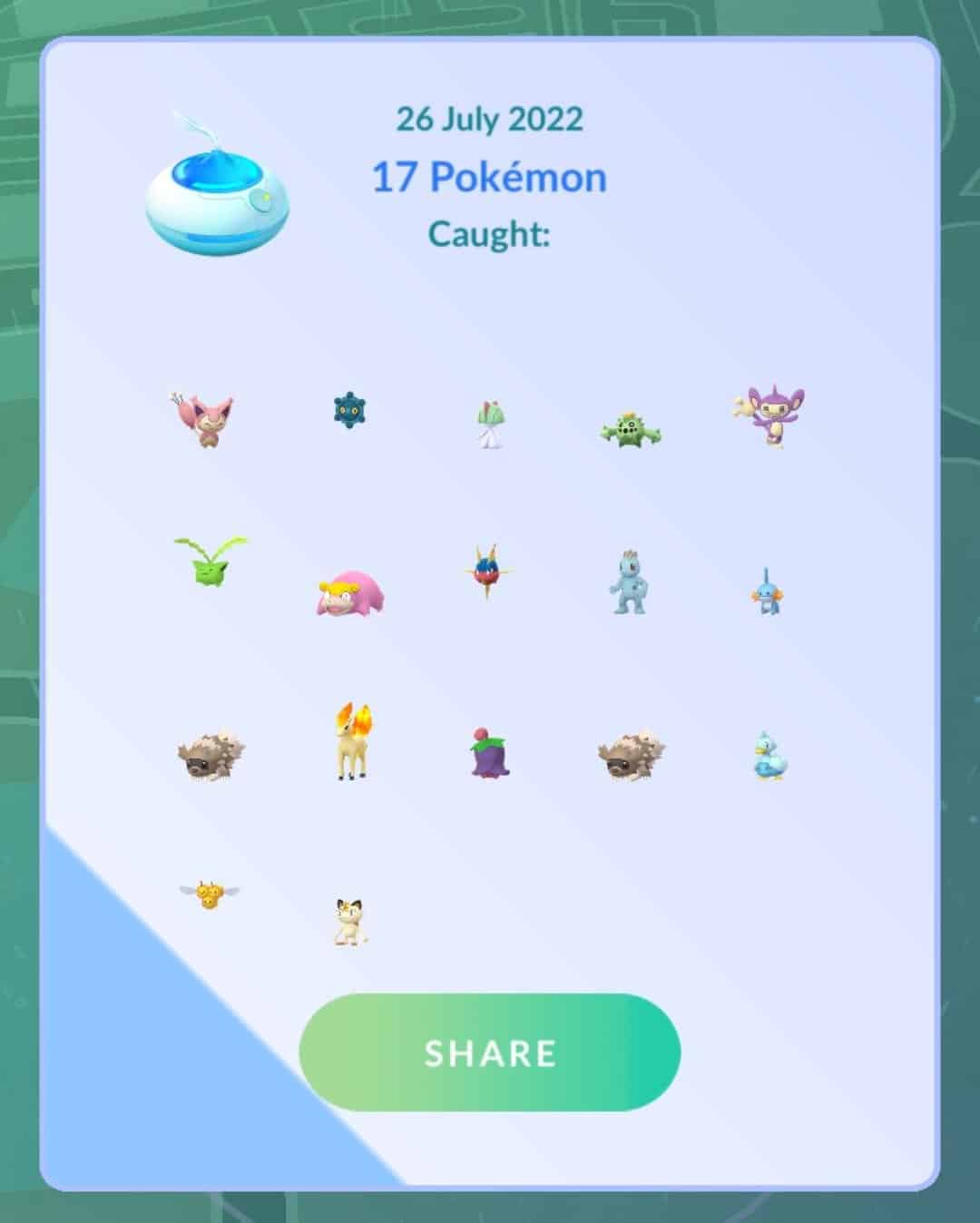 Daily Adventure Incense and Daily Poké Balls
"We want to ensure all Trainers enjoy this new Incense—even those running low on Poké Balls!". In a great step for rural players, Niantic have added in a PokéBall bonus for players running low on them.
If you have fewer than or exactly 30 total PokéBalls, Great Balls, and Ultra Balls, you will receive 30 PokéBalls when you activate Daily Adventure Incense.
If you have more than 30 total PokéBalls, Great Balls, and Ultra Balls, you will not receive any additional PokéBalls.
Daily Adventure Incense Special Research
A Mysterious Incense Part 1
Task
Rewards
Claim Reward!

1000

x

XP
A Mysterious Incense Part 2
Stage 1
Task
Rewards
Use 1 Daily Adventure Incense

25

x

Poké Ball

Use Daily Adventure Incense to help catch 10 Pokémon

Ponyta

Walk 1km

500

x

Stardust
Stage 2
Task
Rewards
Use 6 Daily Adventure Incense

2500

x

XP

Use Daily Adventure Incense to help catch 100 Pokémon

Dodrio

Walk 10kmkm

2500

x

Stardust