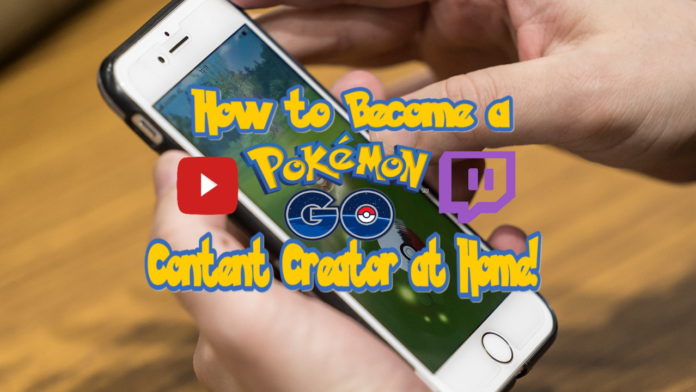 Becoming a Pokémon GO content creator is an excellent way to show off your creativity and to produce something positive into the world. Anyone can get started on their journey to make Pokémon GO related content.
With the current worldwide situation, making Pokémon GO content can be tricky. With this article, I hope to inform and encourage you to take the leap and realise that it is still possible to do and all from the comfort and safety of your own home.
While there are still many places around the world on lockdown, keeping your body/mind active is a great way to keep your mental health intact and also to feel good about yourself knowing you've created something special.
What better way to put yourself to the challenge then to become a content creator alongside being a role model to others. It's time show the world what you created during these uncertain times!
Today we will be going through the necessary steps needed in order to start creating Pokémon GO related YouTube videos from home and also how to get started streaming on Twitch.tv.
The Equipment
Disclaimer: Content creation is possible without the use of this equipment, however, these items will create a more professional setting for your videos/streams. Keep in mind that live-streaming your phone does require an internet upload speed of 5MBPS or higher and a decent phone.
PC/Laptop
Webcam
Tripod (Optional)
Microphone / Headset
Lighting
Background Setting
Capture Card
HDMI Splitter
USB-C/Lightning to Female HDMI Cable
With the use of these items, having access to them will generate a wider audience and will create a higher chance of return viewers. While the right equipment is an important factor for becoming a content creator, it is equally just as important about the software and how you use/manage the programs for your channel.
The PC Programs
There are many different programs that allow you to stream/record Pokémon GO from your mobile device, however, I will be covering OBS, which is one of the more popular programs out there. I'll be going through the basics of how to get started with content creation using them.
OBS Studio — The top choice for many novice content creators, OBS Studio is a free, open-source streaming software with cross-platform compatibility.
Streamlabs OBS — The Streamlabs version of OBS has some great features that might help you monetize your channel. It's only available on Windows, though.
I'll be going through 3 different processes in order to start creating Pokémon GO content. Using a capture card will grant you the clearest and highest quality when it comes to streaming, but there are also ways of streaming/making videos without.
Capture Card Option
Streamlabs OBS paired with a capture card can allow you to broadcast your phone live to the world while having your own personalised setup and best possible quality. You'll want to decide if you want to invest in a Capture Card to mirror your gameplay on your computer to OBS.
These can be pricey but if you're serious about becoming a content creator and are looking to have a professional-looking stream or video, then a capture card will be worth the investment.
In order to stream/make videos using your phone via a capture card, you will need a USB-C/Lightning to Female HDMI Cable depending on what phone you have. If you're using an Android device, you will also need an HDMI splitter which will allow you to mirror your gameplay to a computer.
Depending on what brand your capture card is, there will be free software to download that will allow you to set your phone up in order to capture gameplay and get started streaming/creating videos.
Screen Mirroring Option
Screen Mirroring software is a great alternative to using a capture card. It requires an app downloaded both on your mobile phone alongside your PC/Laptop in order to display your phone screen and cast it onto your monitor.
Using a Screen Mirroring software can allow you to record/live-stream Pokémon GO and is specifically good for PvP content from home since you can connect it up to Streamlabs with your custom layout/settings.
Some popular Screen Mirroring applications that provide a no-lag experience and that work well with several content creators include:
Mobile Phone Option
If you don't have access to any of the above-mentioned equipment but still want to be able to create Pokémon GO content, then this is the way for you.
Streamlabs can be downloaded on both Apple and Android devices and is perfect for creating on the go VLOG's/Commentaries. The setup is easy to get started with and customisation is made simple. In order to get started with streaming by just using your phone, here is a step-by-step guide that will get you started on your content creation journey.
1. Download the Streamlabs Mobile Live Stream app on your Android or iPhone.
2. Open the Streamlabs app and login with your Twitch account.
3. Once logged in, give the camera and mic access to the Streamlabs Mobile Live Stream app.
4. Once you Streamlabs using your phone's camera, select the icon on the top right that looks like a screen with an arrow pointing right. This will allow Streamlabs to stream your phone screen.
5. Before live-streaming gameplay ensure the volume of your phone is turned up, and the mic symbol in the Streamlabs app is red.
6. To begin your mobile game live stream select the red broadcast button located in the bottom right of the Streamlabs app.
In regards to recording videos, most modern phones will have a "Screen Capture" option usually located on the dropdown bar. This will be the perfect tool to create YouTube videos, which you can freely commentate over and edit until it suits your style.
---
Channel Personalization
This is especially important for future content creators to keep in mind. Having your own personalised YouTube/Twitch channel layout will create a more professional look and having your own eye-catching banner and layout will add up when it comes to generating viewers.
The best part about channel personalisation is that there are no right or wrong ways to it. It is completely up to you and should reflect your personality and the content you are displaying.
Keep in mind that the ideal sizing for a Twitch banner is 1980 x 480 pixels if you plan on designing your own banner. There are many sites out there if you're looking for an easy way to create your own banners using templates that are fully customisable. One of the more popular ones is Snappa which have customisable free graphics for every layout.
Remember to be yourself here, people love originality. Your channel represents you, make it eye-catching and it will help your channel stand out from the rest. Be creative!
Tips & Tricks
Interact with your viewers
People are watching YOU, if you're live-streaming then be sure to talk to your chat and try not to exclude anyone. Answer questions and do your best to make conversation to your viewers, this will create an online friendship and will show off your personality traits.
If you're uploading to YouTube, then be sure to read your comments and reply to as many as you can.
Be Consistent
Find a time that suits you and stick with it. Having a consistent schedule will give your viewers something to look forward too and you will gain a larger following. If things do come up, be sure to let people know about the change to not leave anyone waiting.
Be Enthusiastic
No one wants to watch a boring and dull stream. Make sure if something good does happen in your game, then show it. Just got a shiny? Great! Show off your reaction and excitement towards this. Showing emotion towards your content creates positive energy and rubs off on your viewers, why not brighten up someone else's day?
Respect the Rules
Stick by the rules and guidelines by either Twitch and YouTube. You wouldn't want to get in trouble by playing copyrighted music or showing graphic content. Everyone likes a good laugh, just remember to keep any offensive jokes/banter to yourself. No one wants to be disrespected.
Parting Words
Starting off will be the hardest part of becoming a content creator. With time, your mistakes will turn into strengths. Thankfully, from experience, the Pokémon GO community is accepting and encouraging for new and original content creators.
Will you take the leap and begin your content creator career? You may never know the joys of expressing who you are online until you try it.
Show off what you're capable of, create something special, and last but not least, prove to yourself that you can achieve anything you set your mind too.
Until next time.