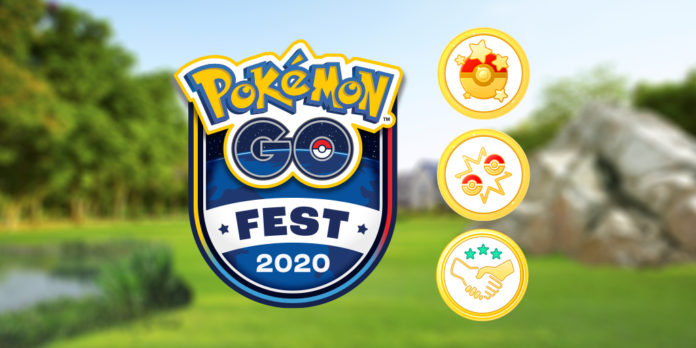 Hello trainers!
Typically around this time, we're talking about Go Fest.  The lucky among us are making travel plans, booking flights and hotels, planning road trips, coordinating with long-distance friends on what trades we're going to make.
Unfortunately, the reality of the times is that there won't be any in-person Go Fest's this year.  While this is disappointing for many, Niantic has grand plans for a Go Fest at Home.  This new experience is sure to be unique, and with any luck, we will be able to experience as much of the Go Fest experience from the comfort of our very own homes.
With Go Fest fast approaching, here are some tips to make sure you're as prepared as possible.
Clear out your Pokébox in advance.
Sort through and clean out any unwanted or unnecessary Pokémon.  As mentioned above, you're going to be catching a lot of Pokémon so having the space ready and waiting is your best bet.  500 open spots is a good start, but you'll need more.
Take some time after day 1 and clean out your unwanted Pokémon again to make room for day 2.
Organize Trades
Organize with some friends who are also playing during Go Fest to meet up and do some mass trades after Day 1, and Day 2.  This will give you an excellent chance at getting some lucky Pokémon with those trades, and this will allow you to dump the excess traded Pokémon that don't turn out with the IV's your looking for to make room for Day 2.
Stock up on Pokéballs
Pokéballs, Great Balls, Ultra Balls!!  I can't stress this enough, start stocking up on Pokéballs now.   You're going to go through a lot of them, so it's best to be prepared.  Especially if your plan is to spend the majority of the event at home.
Incense!
Another item you should stock up on is Incense.   The boost to Incense should still be active during GoFest, so they'll spawn Pokémon at exceptional rates.  More Pokémon means more chances at shinies, more stardust and more candies!
Berries
If you're someone who uses berries to catch Pokémon, it would be a good idea to stock up on berries as well.
Check the Schedule
Pokémon Go Fest day 1 will "habits" that will rotate every hour.  These habitats will feature different Pokémon spawning during each one.  They are fire, water, grass, battle, and friendship.  If you're after specific Pokémon, check the schedule so you know which hours that you want to focus on.
Formulate your plan of attack
Are you going to shiny hunt?  Are you planning on catching everything?  Do you want to focus on certain species?  Come up with the plan now, this will save you time at the start.
If you're going outside
Social Distance
Make sure you're keeping your distance from others, and traversing the outdoors safely in accordance with the recommendations of health officials and your local governments.
Find your route and get there early
Plan your route, or your playing area before hand.  Just like community days, you'll want an area that has a lot of natural spawns to take advantage of the event.  Get there a little ahead of when the event starts and get set up.
Don't catch anything in the 15 to 20 minutes ahead of the event, those spawns might change into Go Fest spawns when the event starts.
Pace yourself
Don't over extend yourself, especially if you're living somewhere where the weather will be warm and your planning on venturing outside.
Take Breaks
Take breaks, pack a lunch and snacks, or make plans to get lunch, drink lots of water.
Gear Up!
If the weather is going to be warm and sunny, use Sunscreen.  If the weather calls for rain, bring an umbrella.
Wear comfortable footwear
You're going to be on your feet for a while, so make sure the shoes your wearing are comfortable.  You might think those flip flops are comfortable, but take into account how long you'll be on your feet and all the walking your going to be doing.
Stay Close to home
Stay close to home so you can go home if you need to for supplies, or just to take a break.
Charge your phone / bring a portable charger
If you have a portable charger, and your planning on going out, make sure it's charged the night before and ready for Go Fest.   Charge it again after, so you're ready for day 2.
Final Thoughts
Did we miss anything?  If you have some tips we didn't cover, let us know in the comments.  Spawns for Go Fest are sure to be great so find a place and take advantage of it.
Please be safe if you are venturing outside, abide by your local guidelines and distancing rules and abide by the recommendations of the health departments.  Stay safe out there trainers, and go catch em all!