Niantic Support shared that they're investigating a series of reports that some players are being incorrectly flagged by Niantic's automated ban system. The tweet went out three hours prior to writing this post, and we wanted to share some more information collected through Reddit and Discord reports.
What's going on?
The gist of it: Niantic's automated cheating detection system is picking up false positives on iOS 12, 11, 10 and 9. Players are reporting being banned for 7 days for no apparent reason.
A bit more information:
Players are being incorrectly flagged for Policy violation and receiving "first-strike" punishment on their accounts.
Most of the incorrectly flagged players are iOS players who haven't updated to iOS 13
This issue is relatively new, with earliest reports being two weeks old, but tracking down the exact date when this started is next to impossible
Most of the strikes were issued in the past 48 hours, introducing panic and concern among affected players
There's a flurry of posts on Reddit's /r/pokemongo and /r/thesilphroad subreddits
Why is this a problem?
According to the App Store, Pokemon GO is supported by iOS 9 and above. Although iOS update adoption vastly outperforms Android's, there is still ~5% of iOS players who are on iOS 12, 11, 10 and even 9.
These players are being automatically picked up and issued a first-strike warning.
How does the warning look like?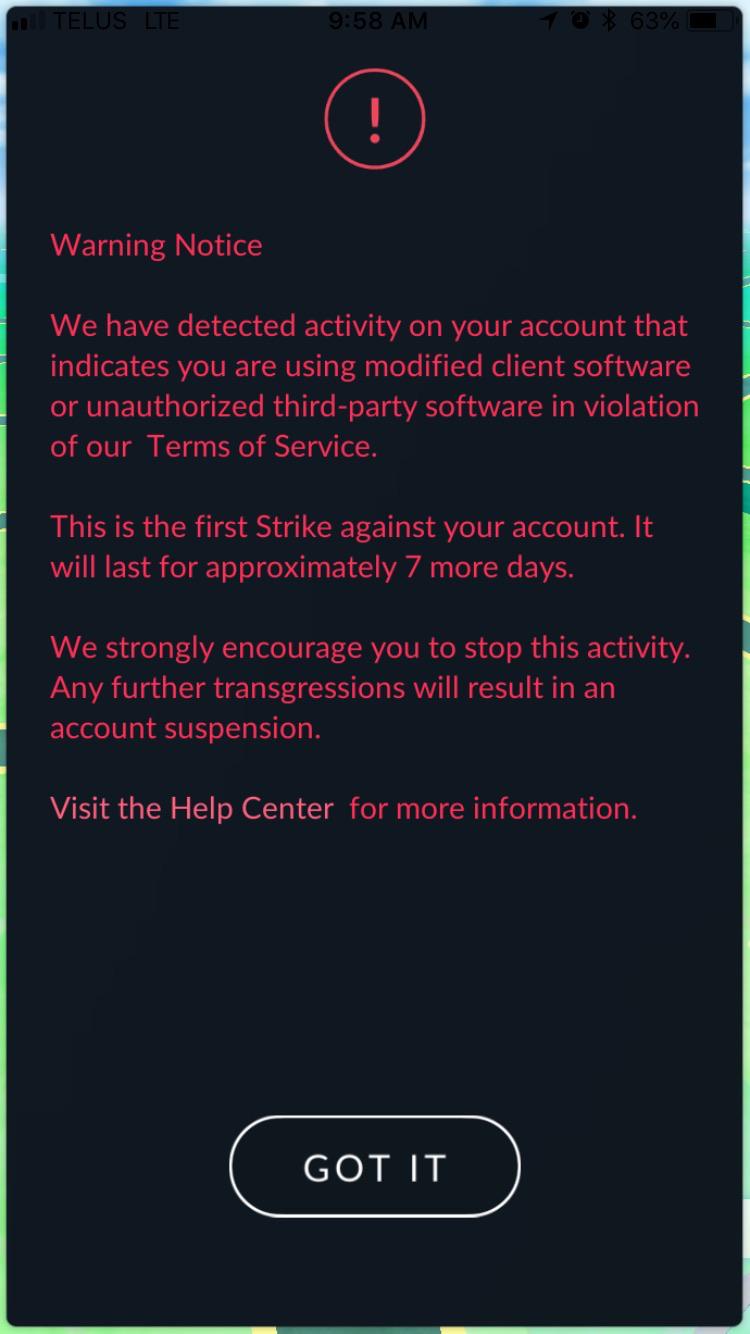 In text:
We have detected activity on your account that indicates you are using modified client software or unauthorized third-party software in violation of our Terms of Service.

This is the first Strike against your account. It will last for approximately 7 more days.

We strongly encourage you to stop this activity. Any further transgressions will result in an account suspension.

Visit the Help Center for more information.
What's Niantic doing?
We're investigating reports that some players are being incorrectly flagged by our systems and receiving punishments on their accounts. We will share an update as soon as we are able.

— Niantic Support (@NianticHelp) June 15, 2020
What should I do if I'm affected?
Wait it out. It will take some time for Niantic to conduct their investigation, figure out what is causing the warnings, collect a list of players who were affected and (potentially) revert the warnings.
We urge our readers not to react impulsively:
Do not create second accounts
Do open a support ticket for your affected account
Do follow Niantic Support (@NianticHelp) on Twitter for first-party updates on the issues. We are always slower than Twitter.
We don't know yet if the issue is reproducible and if the warnings will be reverted, but we'll keep you updated as best as we can.