Trainers, buckle up, the Generation IV hype train is about to depart the station! Niantic has just push a worldwide update with version number 0.123.1, touted internally as the "Sinnoh update". The official patch notes are as follows:
Pokemon originally discovered in the Sinnoh region are arriving in Pokemon GO
Pokemon GO AR+ is now available on select Android devices
Friend Requests and Gift notifications will now stack
You can now select multiple Pokemon at a time when preparing to battle at a Gym or participate in a Raid battle
Various bug fixes and performance updates
And here's what's not publicly available but is hidden in the APK. Hope you're ready for this – because we weren't. A huge shout out goes to Soloking21 who sent us the 0.123.1 APK before it was available on APK Mirror. You can also download it here.
---
18 New moves incoming
18 brand new moves were added in this update, ranging from Meteor Mash all the way to Super Power! The majority of these moves are still missing their animations and sound files, but Niantic is showing clearly which new moves we can expect moving forwards.
.V0301_MOVE_METEOR_MASH
.V0302_MOVE_SKULL_BASH
.V0303_MOVE_ACID_SPRAY
.V0304_MOVE_EARTH_POWER
.V0305_MOVE_CRABHAMMER
.V0306_MOVE_LUNGE
.V0307_MOVE_CRUSH_CLAW
.V0308_MOVE_OCTAZOOKA
.V0309_MOVE_MIRROR_SHOT

.V0311_MOVE_FELL_STINGER
.V0312_MOVE_LEAF_TORNADO
.V0313_MOVE_LEECH_LIFE
.V0314_MOVE_DRAIN_PUNCH
.V0315_MOVE_SHADOW_BONE
.V0316_MOVE_MUDDY_WATER
.V0317_MOVE_BLAZE_KICK
.V0318_MOVE_RAZOR_SHELL
.V0310_MOVE_SUPER_POWER
It's interesting to see moves like Octazooka being added (Octillery signature move), as they hint that Niantic is not yet happy with Pokemon GO's move selection and battle system.
We don't want to "suggest" anything, but it's possible that a move shakeup could also occur when the CP formula changes in the coming weeks. A number of Generation 1 and 2 Pokemon can learn the moves listed above by leveling, which is usually what Niantic has used before to construct Pokemon move pools.
Time will tell.
New Generation IV Pokemon added
In addition to the moves, Generation IV Pokemon references were also added in this APK, ranging from Turtwig (#387) to Arceus (#493). We won't be listing all of the new Pokemon, you can check the full list on our Database website.
.V0387_POKEMON_TURTWIG
.V0388_POKEMON_GROTLE
.V0389_POKEMON_TORTERRA
.V0390_POKEMON_CHIMCHAR
.V0391_POKEMON_MONFERNO
.V0392_POKEMON_INFERNAPE
.V0393_POKEMON_PIPLUP
…

…
.V0486_POKEMON_REGIGIGAS
.V0487_POKEMON_GIRATINA
.V0488_POKEMON_CRESSELIA
.V0489_POKEMON_PHIONE
.V0490_POKEMON_MANAPHY
.V0491_POKEMON_DARKRAI
.V0492_POKEMON_SHAYMIN
.V0493_POKEMON_ARCEUS
Curiously, cries for all of of these Pokemon are already added in the APK and available for extraction – which is exactly what we did. Expect to see / hear them soon.
Of course, new forms for select Generation IV Pokemon are also available in the APK (Rotom, Wormadam, Giratina, Shaymin, Cherrim, Shellos, Gastrodon and Arceus):
.ROTOM_NORMAL
.ROTOM_FROST
.ROTOM_FAN
.ROTOM_MOW
.ROTOM_WASH
.ROTOM_HEAT
.WORMADAM_PLANT
.WORMADAM_SANDY
.WORMADAM_TRASH
.GIRATINA_ALTERED
.GIRATINA_ORIGIN
.SHAYMIN_SKY
.SHAYMIN_LAND
.CHERRIM_OVERCAST
.CHERRIM_SUNNY
.SHELLOS_WEST_SEA
.SHELLOS_EAST_SEA
.GASTRODON_WEST_SEA

.GASTRODON_EAST_SEA
.ARCEUS_NORMAL
.ARCEUS_FIGHTING
.ARCEUS_FLYING
.ARCEUS_POISON
.ARCEUS_GROUND
.ARCEUS_ROCK
.ARCEUS_BUG
.ARCEUS_GHOST
.ARCEUS_STEEL
.ARCEUS_FIRE
.ARCEUS_WATER
.ARCEUS_GRASS
.ARCEUS_ELECTRIC
.ARCEUS_PSYCHIC
.ARCEUS_ICE
.ARCEUS_DRAGON
.ARCEUS_DARK
.ARCEUS_FAIRY
Generation IV Pokedex badge
Of course, a new badge will soon be available:
.BADGE_POKEDEX_ENTRIES_GEN4
However, no visual asset has been found for this badge, meaning we could be missing an additional APK update before Gen IV gets released. The badge is currently "bugged" when you open the game, and it displays as a Pokeball on your Pokedex screen:
New background tracking modes
Continuing on last APK's theme of background tracking and Weekly fitness goals (see our Pokemon GO 0.119.5 update analysis: weekly fitness goals, Meteor Mash, leaked Fall event and more), there are three new background tracking modes present in the APK:
.BGMODE_EGG_HATCH
.BGMODE_BUDDY_CANDY
.BGMODE_WEEKLY_FITNESS_REPORT
Two new Meltan related cries discovered
Two new cry files have appeared, hinting at Meltan and his recently hinted evolution:
The pv###.wav files are files that contain Pokemon cries and all of them follow the same naming structure: pv followed by three digit Pokemon number. "PV" stands for Pokemon voice and the three digit number corresponds with Pokemon's Pokedex ID.
Update: According to Serebii.net's Joe Merrick, although the in-game asset IDs are 891 and 892, these will not be actual Kanto regional IDs  – these are yet to be revealed. Joe Merrick went in depth about the issue here.
If this rule is still maintained, Meltan is number 891 and Meltan's evolution is 892. Meltan's evolution (we don't think it's a form) was hinted in a trailer posted this morning (check our Meltan Mystery Box announced: new Special Research coming, new videos, new mystery article for more information):
New box incoming?
A new box sprite was silently added, titled Localbox.png. Interpret the name as you wish, here's the sprite in question: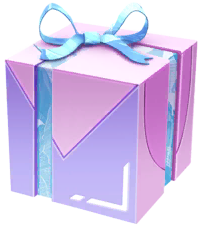 We have no clue where or how this will be used, but it looks special. Maybe this is a reward from PvP? Only Hanke knows.
AR+ on Android
The official patch notes state that AR+ is now available on select Android devices. In order for AR+ to work on Android, a Pokemon GO player first needs to install Google's ARCore platform, as dictated by the app:
.set_IsArPromptShowing
.OnInject
.set_NativeArAvailable
.get_ShouldShowArPrompt
.DisplayInstallArCoreModal
.DisplayUpdateArCoreModal
Once installed (you could have it already on your device), your phone could be AR+ capable if it's one of the following devices (list taken directly from Google's ARCore website):
Manufacturer
Model
Notes
Acer
Chromebook Tab 10
Requires ChromeOS stable builds 69 or later
Asus
ROG Phone
Zenfone AR
Zenfone ARES
Google
Nexus 5X
Requires Android 8.0 or later
Nexus 6P
Requires Android 8.0 or later
Pixel, Pixel XL
Pixel 2, Pixel 2 XL
HMD Global
Nokia 6 (2018)
Also known as Nokia 6.1
Nokia 6.1 Plus
Nokia 7 Plus
Nokia 8
Requires Android 8.0 or later
Nokia 8 Sirocco
Huawei
Honor 10
nova 3, nova 3i
P20, P20 Pro
Porsche Design Mate RS
Mate 20 Lite
Y9 2019
LG
G6
Requires Android 8.0 or later
G7 ThinQ
Q6
Q8
V30, V30+, V30+ JOJO
Requires Android 8.0 or later
V35 ThinQ
Motorola
Moto G5S Plus
Moto G6
Moto G6 Plus
Moto X4
Requires Android 8.0 or later
Moto Z2 Force
Moto Z3
Moto Z3 Play
OnePlus
OnePlus 3T
Requires Android 8.0 or later
OnePlus 5
OnePlus 5T
OnePlus 6
Samsung
Galaxy A5 (2017)
Galaxy A6 (2018)
Galaxy A7 (2017)
Galaxy A8, Galaxy A8+ (2018)
Galaxy Note8
Galaxy Note9
Galaxy S7, Galaxy S7 edge
Galaxy S8, Galaxy S8+
Galaxy S9, Galaxy S9+
Galaxy Tab S3
Galaxy Tab S4
Sony
Xperia XZ Premium
Requires Android 8.0 or later
Xperia XZ1, Xperia XZ1 Compact
Requires Android 8.0 or later
Xperia XZ2, Xperia XZ2 Compact, Xperia XZ2 Premium
Requires Android 8.0 or later with software update after Aug 2018 (security patch level 2018-08-05 or later)
Vivo
NEX A
NEX S
X23
Xiaomi
Mi 8
Mi 8 SE
Mi Mix 2S
Pocophone F1
We wrote "could be" intentionally as we don't know if Niantic is supporting all of these Android devices. We couldn't get AR+ to run on our OnePlus 3T. In other words, the table above is an "extended list" and Niantic is likely supporting only a subset of these devices.
Update: we made it work on our One Plus 3T! Here's what we did:
Clean app data and cached storage, log out and log back in
Upon logging back in we started a Pokemon encounter, the AR+ prompt appeared and we started catching it
It was a Slowpoke and it fled. This thing is rough on older Android devices!
---
Parting words
Gen IV, 18 new moves, a new box, two new Pokemon and a whole lot of bug fixes, AR+ changes and performance fixes. Is this a big Pokemon GO update? It sure is. By the sheer scope of it, we're expecting at least one or two minor releases following this one, mainly focused on various device specific bug fixes and hard-to-reproduce errors.
And what do we think about Gen IV? Let's just say this: winter will be very, very interesting. And that's not just the APK speaking. Until next time, see ya!