November 2019 brings three big events to Pokémon: Supereffective Week, Terrakion in five-star raids and Friend Fest. Here are all the details on the upcoming November events in Pokémon GO.
Supereffective Week
Supereffective Week is an action packed event that promotes the idea of type advantages and learning more about Pokémon types. The event features increased Stardust from Trainer Battles, Charged TMs from more difficult raids and, finally, a way to restock on Revives in peace. Shiny Tentacool is just a cherry on top!
Shiny Tentacool and Tentacruel

| | |
| --- | --- |
| | |
Date + Time
From Tuesday, November 19, 2019, at 1 p.m. PST
To Tuesday, November 26, 2019, at 1 p.m. PST (GMT −8)
Features
Pokémon that might be strong partners in battle against Team GO Rocket and other Trainers will be appearing more often in the wild, in raids, and in Field Research!
If you're lucky, you might encounter a Shiny Tentacool.
Bonuses
2× Stardust from Trainer Battles
More Potions and Revives from PokéStops
Guaranteed Charged TM from three-star (or higher) raids
Flavor text
Did you know that Fairy-type moves are super effective in battle against Fighting-type Pokémon? Or that Psychic-type Pokémon are weak to Bug-type moves? Take part in Supereffective Week to learn more about Pokémon types, and you might discover an exciting Pokémon to partner up with in battle against Team GO Rocket!
Terrakion charges into five-star raids!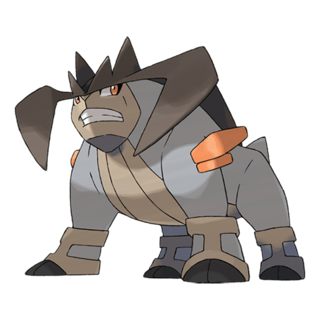 Terrakion
Chop chop, Terrakion is coming! Following Cobalion joining Pokémon GO Raids, another member of the Swords of Justice is arriving on November 26th. Terrakion is an interesting Pokémon, with Rock and Fighting type and a wild move pool. It's hard to figure it out right now, but we're sure will find a place for it in the meta somewhere.
Date + Time
From Tuesday, November 26, 2019, at 1 p.m. PST
To Tuesday, December 17, 2019, at 1 p.m. PST (GMT −8)
Features
Terrakion will make its debut in five-star raids.
Flavor text
Terrakion, the Cavern Pokémon, is coming to five-star raids! This Rock- and Fighting-type Legendary Pokémon is said to be strong enough to destroy an entire castle! It'll be in your favor to challenge it with Water-, Grass-, Fighting-, Ground-, Psychic-, Steel-, and Fairy-type Pokémon.
Friend Fest
Niantic is calling this event Friend Fest, but we're calling it Trade Fest, because that's exactly what it is! Two special trades per day and half the Dust per trade makes this event a lucrative Lucky Pokémon hunting ground. Bring those old legendary Pokémon, it's time to flip em!
Date + Time
From Wednesday, November 27, 2019, at 1 p.m. PST
To Monday, December 2, 2019, at 1 p.m. PST (GMT −8)
Features
Encounter family-themed Pokémon—such as Nidoran F, Nidoran M, their Evolutions, and more—in the wild and in research tasks.
Bonuses
1/2 Stardust trade cost
You can make two special trades per day
Attack boost when you raid with friends
Flavor text
Celebrate the spirit of family and friendship with the first-ever Friend Fest!
Special Research
There will be monthly Giovanni Special Research, that's all we can say for now.