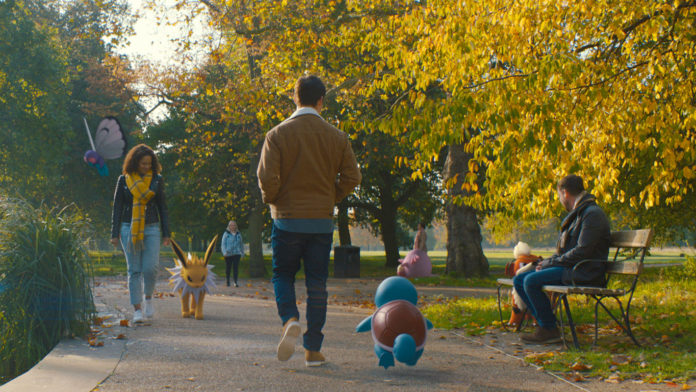 Trainers, Niantic is aggressively moving towards releasing the shared AR Buddy Adventure experience! For now, the feature is only available as a beta version for select Trainers in various countries around the world.
The roll-out started with Canada, continued with Sweden, Italy, Netherlands… and many more followed. The feature seems to be in good shape, as early adopters reported stable interaction on various devices and actually having fun with the new capabilities.
A redditor named Samerz460 shared his and his friend's experience on The Silph Road subreddit:
Beside the Play button on your buddy screen. There's a new button! Once you download a small update you can choose to scan or create a QR code.

Once your friend scans the code you can hit GO to start. It's a little bit of a process to get started – stand in a line, move phones left and right together. Then you each throw your buddy! You can feed your buddy (not theirs) berries. You can see their buddy eat berries if they're fed. I'll have a pic up soon!

We're on iOS and Android – she's on the newest update, I'm not. You know it's a good feature when you keep instinctively looking up to see them in real life 😂
There are two pictures showcasing the new feature:
Niantic is introducing some next generation AR sharing technologies to support the Shared AR mode, and we're very keen to investigate it further in the upcoming weeks. Stay tuned for updates!
Budy Adventure Shared AR beta is currently available for select players in Canada, Sweden, Italy, Netherlands, Mexico, Germany, Taiwan, United Kingdom, South Korea, Australia, New Zealand, Papua New Guinea, Malaysia, Singapore, and Indonesia.
Official tweet:
The new Shared AR Experience is in beta for select Trainers in Canada! 📸 To ensure stability for all Trainers, we are rolling out this feature gradually. We plan to make this available globally over the next week for all Trainers.
Thanks for your patience. #PokemonGOBuddy

— Pokémon GO (@PokemonGoApp) December 20, 2019