If you are one of the Trainers who is still struggling to get to level 50, and you haven't passed level 41, then it will cost you even more to level up…like if it wasn't hard enough!
Niantic has published on its official Twitter account, that one of its requirements to rise to level 42 will be updated on June 9 at 10 AM PT to include evolving an Eevee to Sylveon.
In the past, the missions that had to be completed to gain level 42, in addition to gathering the necessary experience, were:
Pokémon GO Level 42 Tasks and Rewards
Level-up Tasks
Rewards

Evolve Eevee into each of its unique Evolutions

Use items to evolve Pokémon 15 times

Make 3 Excellent Throws

Use 200 Berries to help catch Pokémon

20 Ultra Balls,

20 Max Potions,

20 Max Revives,

20 Nanab Berries

1 Incubator,

1 Premium Raid ticket

1 XL Candy
Evolving Eevee at each of her evolutions required the tedious and arduous task of evolving Jolteon, Vaporeon, Flareon, Umbreon, Espeon, Glaceon, and Leafeon.
Sylveon will now join that list, and remember that evolving Sylveon is not an easy thing, so the path to level 42 will be even more difficult than before.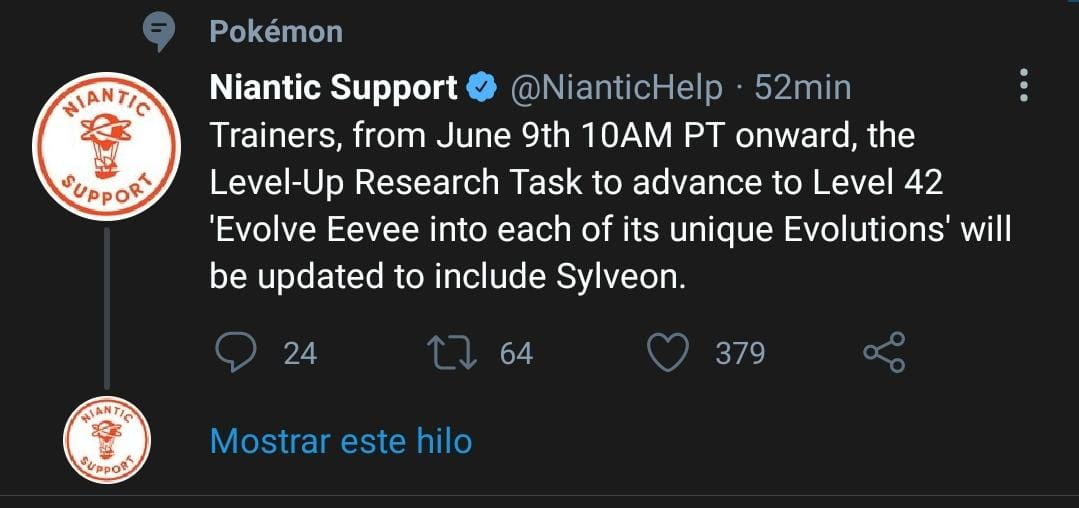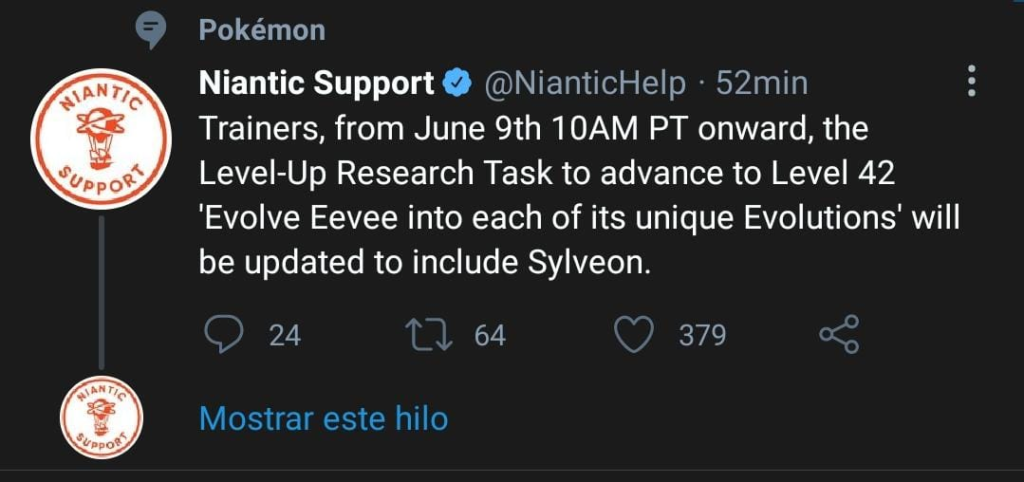 How to Evolve Eevee to Sylveon
In case you are wondering what are the steps to evolve an Eevee into Sylveon, you must name your Eevee Kira before evolving. This only works once.
Afterwards, you will need to:
Have 25 Eevee Candy
Earn 70 Hearts with Eevee as your Buddy
While is still your buddy, evolve Eevee to have Sylveon.
Does this mean I have to evolve to Sylveon now if I'm on level 41 right now?
Not at all. Everything remains the same for you, as Niantic clearly said if you are right now on Level 41, it does not affect anything.