Hello Trainers! This article is all speculation based on leaks and data mines at this point. There is no official announcement from either the Pokémon Company or Niantic about the existence of anything in this article.
So please read through this with a grain of salt, and take it at face value. This could all amount to nothing. Usually these "leaks" are just rumours, and not much else.
With that said… Here we go!
The Coin Pokémon
A few months ago known and respected leakers for the upcoming Pokémon Scarlet and Violet mentioned that there was going to be a new Ghost / Steel type Pokémon coming that would be "The Coin Pokémon."
This information came from known leaker "Riddler_Khu" whose riddle was solved by Twitter user jk18351354: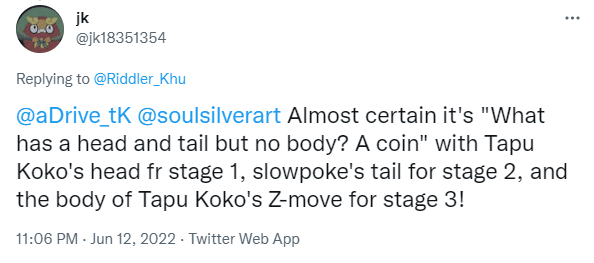 You can read the entire thread here. Riddler_Khu also tweeted on October 6th that the Coin Pokémon was also revealed in a trailer, hidden behind the Camera Controls.
The rumors are that this Pokémon will have a side quest similar to Spiritomb in Pokémon Legends Arceus, presumably collecting rare coins scattered all over the map to be able to summon or spawn this Pokémon.
Coin, not formal form. pic.twitter.com/CezijIUdrJ

— Zodiac Khuller (@Riddler_Khu) October 6, 2022
This brings us to today when the PokéMiners found this in a recent update: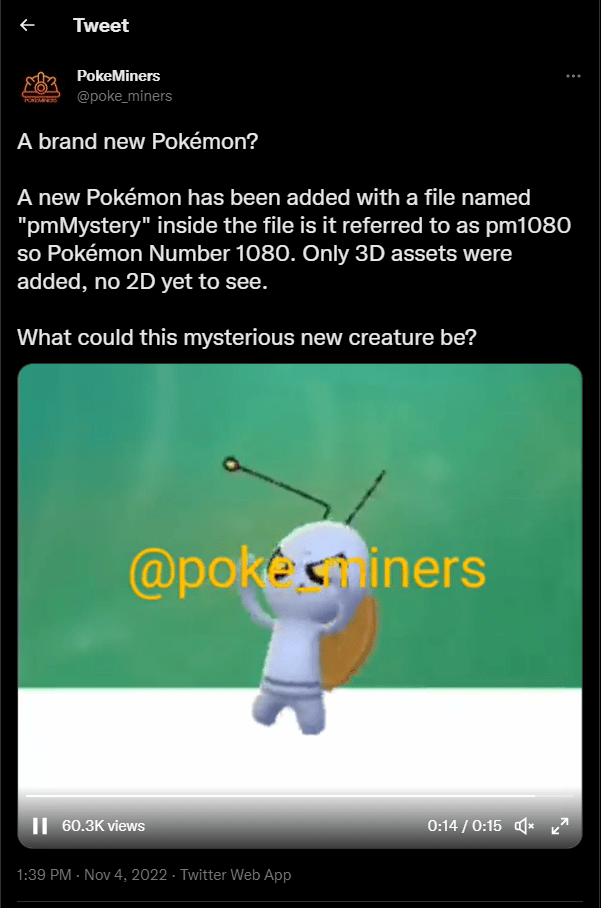 Labeled as pm1080 this little guy looks suspiciously like the Pokémon that Riddler_Khu hinted at and then later revealed in October. Now 1080 doesn't necessarily mean that it will be National Dex #1080, Meltan's asset number was different than its actual dex number. So we'll have to see.
In the most recent update to Pokémon Go, the PokéMiners also found assets for a coin that we were unsure of the use for, but now it all makes sense.
The PokéMiners also found a few new assets in the game as well, including an asset for an NPC called "WillowB" a Hologram device, and an icon named "WillowB_phone." The PokéMiners have discovered that WillowB is actually Mr. Jacq from Scarlet and Violet.
This lends more credence to the idea that we're going to be getting some sort of tie-in event with the release of Scarlet and Violet, and it's going to involve a hologram call from Mr. Jacq, who is the homeroom/biology teacher from Scarlet and Violet.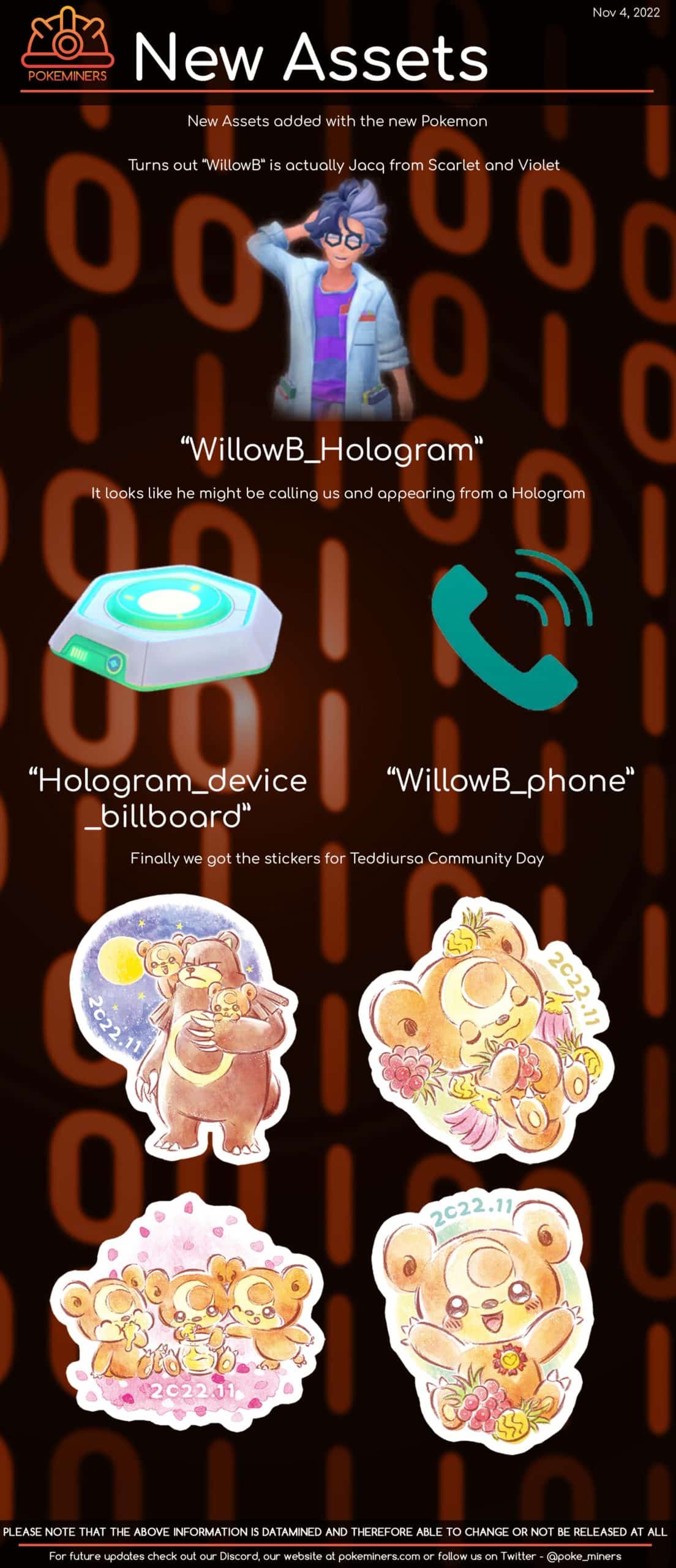 Could this be related to the Mystery Event that is coming to Pokémon go on November 27th? The release date for Scarlet and Violet is November 18th, so the timing lines up. If this Pokémon is going to be so difficult to obtain in Scarlet and Violet it see released in Pokémon Go.
I suspect we'll get special research that will give us 1 of them, and it won't be transferable to Home for quite a while. Perhaps as part of an event where we see the regional variants of Pokémon that are already released in Pokémon Go, like how we got the Alolan variants before the actual release of the Alolan region Pokémon.
What are your thoughts on this? Are you excited about the release of Scarlet and Violet? Do you think we'll get a tie-in promotional event in Pokémon Go? What Pokémon from Scarlet and Violet are you most excited about? Let us know.
Until next time Trainers, Stay safe out there.